When you are looking for good knives, you must visit the booth of spyderco at the SHOT Show 2017. This company from Golden, Colorado/USA, presented a bunch of new knives at the gun-fair in Las Vegas, but two of them are really flagships for the guys of Spyderco. 
Features of the Spyderco C223GP PARA 3 folding knife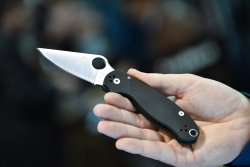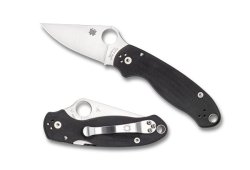 First there is the C223 GP Para 3. For those who prefer short blades or live in areas with blade-length-restrictions, the answer is this three inch blade knife. It's blade is precision machined from premium CPM S30V particle metallurgy stainless steel. It includes a textured index-finger choil and thumb ramp that provide a solid purchase for a forward grip and offer enhanced control during precise cutting tasks. The blade's signature hole clearly brands it as a member of the Spyderco family and is fully accessible to allow quick, positive, one-handed opening with either hand. 
The C223 GP Para 3 weights 3.4 oz (96 g) and has an overall length of 7.24 in (184 mm). It's blade length is about 2.95 in (75 mm). To keep the Para 3 slim and pocket friendly, it features a lightweight, open-backed construction style and its stainless steel liners are nested into machined recesses in the textured G-10 scales. 

The MSRP is $ 199,95.
| | |
| --- | --- |
| Overall length  | 7,24'' (184 mm) |
| Length (closed)  | 4,29'' (109 mm) |
| Blade length  | 2,95'' (75 mm) |
| Blade thickness  | 0,157'' (4,0 mm) |
| Blade | CPM S30V |
| Weight | 3,4 oz. (96 g) |
| RRP | 199,95 US-Dollar |
Another new product: Spyderco C215 GP Euro Edge folding knife

Another brand-new product of Spyderco is the C215GP Euro Edge knife. Inspired by his extensive research of historical cutlery, Ed Schempp´s EuroEdge pays homage to the fuller that was the secret of the strength and light weight of many of Europe´s best swords and daggers.  The blade is precision machined from CPM S30V particle metallurgy stainless steel and features several fullers to reduce its weight and strengthen it. The blade's single cutting edge is balanced by a long swedge (unsharpened bevel) and Spyderco's round hole for quick, one-handed opening. The overall length is 8.96 in (228 mm), the weigth 6.0 oz (170 g). 
The MSRP is $ 369,95.
| | |
| --- | --- |
| Overall length  | 8,96'' (228 mm) |
| Length (closed)  | 5,06'' (129 mm) |
| Blade length  | 3,9'' (99 mm) |
| Blade thickness  | 0,145'' (3,8 mm) |
| Blade | CPM S30V |
| Weight | 6,0 oz. (170 g) |
| RRP | 369,95 US-Dollar |