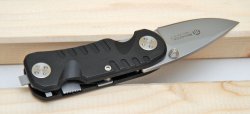 The Maserin Tool Knife 212 is a liner lock pocket knife with a satin finished 45 mm long, 440 stainless steel blade. Handle is built from anodized aluminium with a matte black finish, 75 mm long.  
On the edge of the handle, the Tool Knife features a three size flat screwdriver tool with an indipendent liner lock sistem. 
Screwdrivers blades rotate 360 degrees allowing the user to choose fom 3, 4 and 5 mm width. When not in use, screwdrivers are completely hidden inside the handle.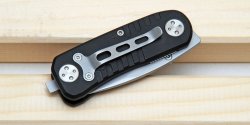 The screwdriver sizes are compatible with most of the adjustable rear sights available on modern pistols and revolvers.
Overall lenght of the Maserin Tool Knife is 124 mm, weight is a mere 68 grams (2,4 ounces). A stainless steel clip allows for tip up carry.
The Maserin Tool Knife is a perfect companion to bring along to the shooting range or in the hunting fields, a slim gentleman knife that if needed be can help the shooter to adjust the gun open sights easily and safely. Just remember to keep the blade closed when using the screwdriver.
Like any other Maserin knife, the Tool Knife is warranted for ten years against defects in material and workmanship. Manufacturer's suggested retail price is 45 Euros.