The Coltellerie Maserin was established in Maniago in 1960 by Fervido Maserin who immediately set himself the goal of offering on the market knives built with quality materials and with great technical expertise.
Coltellerie Maserin, a history of success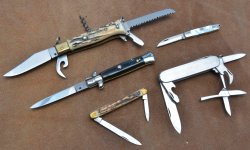 As with many other companies that have grown successfully, initially Fervido's laboratory was located in his cellar, where he essentially built switchblades, the famous "Italian stilettos" known today all over the world.
The manufacturing of blades, but also of agricultural tools such as scythes, hoes and billhooks belongs to the history of Maniago since the Middle Ages, so much it's called "the town of knives". In the second half of the twentieth century to the knack for the production of work blades, sports blades were added too.
Over the years, the Coltellerie Maserin have expanded and enlarged, including different types of sports, hunting, military and kitchen knives. Almost sixty years after their establishment, today the Coltellerie Maserin are managed by Gianfranco, Maurizio and Claudia, Fervido's sons, who carry out with renewed commitment the initial mission, that is the search for the highest quality. Coltellerie Maserin was one of the first companies to use for the design of its "custom" knives great names such as Santino Ballestra, Sergio Consoli, Attilio Morotti, as well as independent designers such as Tommaso Rumici, Giacomo Toncelli, Alessandro Zanin and Ettore Zanon.
This video has been hidden because of an external service (YouTube) that could potentially collect personal data.Allow video services for the duration of the visitAllow video servicesStop allowing video services
Thanks to the happy coexistence of modern CNC machines and traditional tools, the Coltellerie Maserin can guarantee the highest quality of manufacturing with all the materials used, from tropical wood to titanium, from G10 to aluminum.
In this video we want to tell you briefly the history, the present and the future of this proudly Italian company, which with its presence at the main international exhibitions has contributed to the great reputation of the "made in Italy" knives around the world.