Building, fighting, surviving: a man lost in a hostile environment can survive for days without eating or drinking, but could succumb within a few hours in the absence of adequate shelter. Therefore, those who venture into dangerous or hostile weather environments need a more effective tool than a knife that – notwithstanding its good quality – can be damaged by a use it is not designed for, such as cutting thick branches. Moreover, if this tool can be also used for self-defense, all the better. From these considerations comes the concept of battle axe proposed at IWA by Coltellerie Maserin with their B.A.C.
Maserin Battle Axe Concept: no compromise
Called B.A.C., or Battle Axe Concept, this fighting axe example made by the Maserin Cutlery was designed by Alessandro Zanin. The design focuses on the ergonomics of the users' hand and its construction features high quality materials and techniques.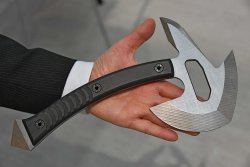 The shape of the axe head is characterized by the asymmetric design of the front and the hooked rear appendix. The axe cutting capacity is enhanced by the particular blade profile that can also be used for some functions typical of a knife, almost like an "Ulu", the typical Inuit crescent-shaped knife.
The pointed rear appendix can inflict very effective blows, useful both to create escape routes through resistant materials and for extreme defense.
The body of the Battle Axe Concept is made from N690 stainless steel with a reassuring thickness of 0.23 in / 6 mm. The slightly curved handle is almost completely covered by a pair of G10 grips. At the base of the grip there is also a pyramidal appendix that can be used for piercing blows.
The Battle axe Concept is sold with a Kydex sheath with M.O.L.L.E. retention system at a price of 245 euro.
Maserin Battle Axe Concept: technical data
| | |
| --- | --- |
| Designer:  | Alessandro Zanin |
| Type:  | axe |
| Purpose: | survival |
| Blade material: | N690 steel |
| Blade thickness: | 0.23 in / 6 mm |
| Blade length:  | 8.6 in / 220 mm |
| Overall length: | 13.4 in / 340 mm |
| Sheath: | Kydex |
| Price:  | 245 euro |