Bonus is the stage name of Alessandro Olivetto, a designer and graphic designer who lives and works in Maniago, the Italian "Knife City" par excellence. The Maserin In-Estro knife is the result of the collaboration between Bonus and Coltellerie Maserin, a philosophy that intends to involve national designers and knife makers in order to create products that are 100% "Made in Italy", with completely Italian design and manufacturing.
Maserin In-Estro folding knife – Features and details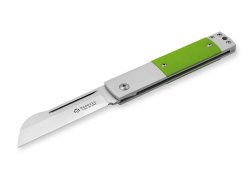 The Maserin In-Estro folding knife is quite original, and traditional elements coexist in it alongside other very modern ones. The D2 tool carbon steel blade is reminiscent of a grafting knife, a peasant tool belonging to the Maniago tradition. The profile of the blade is of the sheepsfoot type, with smooth edge, polished finish and a long nail grip that makes it easy to open.
The profile of the sheepsfoot blade provides that the cutting edge of the blade is absolutely straight, with a tip created by a curvature of the back spine. This design is particularly suitable for short, high-precision cuts such as those required for plant grafting.
The blade is 3.14"/80 mm long with a thickness of 0.1"/2.5 mm. The open knife is 7.2"/185 mm long.

Consistent with tradition, the Maserin In-Estro features a simple slip joint mechanism. It's a very light knife (just 2.54 oz/72 grams) and practical to carry thanks to its steel clip. The handle is anodized aluminum with olive wood and bocote or Micarta inserts. The retail price of the In-Estro knife is 79 euro (price may vary in your country due to VAT and import duties).
Maserin In-Estro knife – Technical data and price

| | |
| --- | --- |
| Manufacturer: | Coltellerie Maserin |
| Model: | In Estro |
| Type: | Folding EDC |
| Mechanism: | Slip joint |
| Blade profile: | Sheepsfoot |
| Blade material: | D2 carbon steel |
| Blade length: | 3.14"/80 mm |
| Overall length: | 7.2"/185 mm |
| Handle: | aluminum with wood or micarta inserts |
| Weight: | 2.54 oz/72 g |
| Clip: | stainless steel |
| Price: | 79 euro |