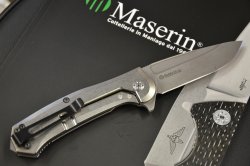 Maserin Police folding knives are were designed by critically acclaimed writer Nicolai Lilin, author of the successful novel "Siberian education". 
Lilin is also a combat expert and a tattoo artist and poured some of its design skills in this folding knife with a stone washed  110 mm (4") long blade.  Steel is N690 produced by Böhler with matt stone wash finish. 
Blade opens smoothly on stainless steel ball bearing by pulling back the flipper and is locked by a sturdy frame lock system. Handle is titanium with G10 scales and features a glass breaker pin and a steel skeletonized clip. Scales are available in black, green and coyote.  Weight is 170 grams (6 ounces), overall length is 230 mm.