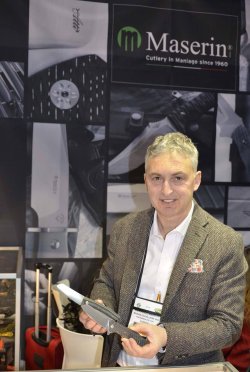 In 2008 Coltellerie Maserin started a cooperation with the Italian knifemaker Attilio Morotti "Atti". Following many successful knives, this year Maserin introduces a new model designed by Attilio. It is an elegant folder dedicated to those who want a beautiful and personal, everyday carry knife.
This new model is characterized by the sleek line of the handle obtained by ​​using the latest generation CNC machines and new materials such as black carbon fiber, pao santo wood, titanium/carbon fiber composite or grey/black G10. Carry clip is carbon fiber.
Blade is N690 stainless tempered to 59/60 HRC Rockwell for superior cutting edge retention. Blade can be quickly and easily opened pushing the flipper on its tang and features a liner lock safety. Blade length is 115 mm, overall length is 210 mm, weight is 140 gr.