With this step, both enterprises are expanding their existing and successful cooperation. "In Ferkinghoff, a family-run company, we have found a reliable partner with a great deal of technical understanding and close relationship with our products. This allows us to better establish ourselves in the European market", states Frank Harris, VP, Sales & Marketing Kahr Firearms Group.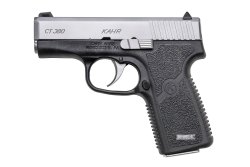 This centralized acquisition and distribution will allow us to greatly improve the availability of our products. Manager Achim Ferkinghoff is convinced that the joint efforts for Europe will create positive successes for all parties. A joint appearance and presentation of latest developments for international specialized dealers will take place at the IWA show 2015 in Nuremberg, Germany, hall 1-126, and stresses their matured cooperation.
Information regarding the wide range of models as well as the comprehensive accessories program can be found at www.waffen-ferkinghoff.com. Furthermore, the Europe-wide dealership network will be published here soon. Interested specialized dealers can register themselves at the protected dealer domain to receive the latest information around the clock.