In 2023, the IWA OutdoorClassics (March 2 to 5) and Enforce Tac (February 28 to March 1) will once again join forces – all4shooters.com has already reported on what is planned in detail, that is the Enforce Tac and IWA programs. The most important in a nutshell: the new IWA Director Thomas Preutenborbeck, Member of the Management Board-NürnbergMesse, has drawn clear lines. Discussions about the "End-Consumer Day" topic have thus come to an end, as in future IWA wants to concentrate primarily on the actual core business and offer a stage for the international industry, i.e. manufacturers, specialist dealers and importers. Here you can find the current exhibitor list of IWA OutdoorClassics. A statement by IWA CEO Preutenborbeck can be found further down in this article. 
How to deal with the definitive official statement that IWA does not want to introduce its own end-user day, bearing in mind that previous attempts to do so have not been successful? This topic is certainly capable of providing the industry with some material for debate, however. There are, after all, some companies which, on the basis of their own experience with the marketing of new products, have made a strong case for it, while others oppose it. At this point, a note from an observer's point of view seems necessary: those who go to IWA because it takes place the way it does have good reasons for doing so. Those who don't go to the IWA because the end-user day is not being introduced or because they decided otherwise also have valid reasons for their decision. The decision in one direction or the other should not lead to open rifts – there are business concepts behind this, not personal animosities. Discussing this topic, which is considered to be a sensitive one, can therefore only mean talking about the issue, not ranting about each other. Therefore, the following is specifically about listing the arguments of both sides and thus showing the current state of affairs – no more, no less. In addition, a good part of the interviewees asked for anonymity – this request is summarily taken into account here.
Arguments for and against an end-user day during IWA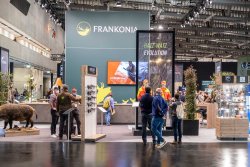 © NürnbergMesse / Thomas Geiger
What the conversations with the specialized trade revealed, and quite surprised the questioner, is the fact that most were relieved that the discussed end-consumer day has now been dropped. "In recent years, as is well known, end-users have always come to the trade fair, many were there officially through their trade associations, and for some this probably also happened officially thourgh the mediation of this or that specialist dealer. That was different in 2022," said one of the interviewees, "so we could talk business in a much more focused way." Another importer and wholesaler representative made the same argument: "How am I supposed to be able to talk openly about discounts and wholesale prices to a gunsmith or a fellow dealer when there is a group of end-users behind them, all of whom are pricking up their ears to listen to confidential agreements that are, if you'll pardon the expression, none of their business?"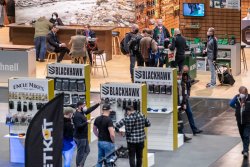 © NürnbergMesse / Thomas Geiger
The aspect of finally (after the pandemic-related restrictions) being able to re-establish direct contact with business partners from the EU area and Germany's neighboring countries and having them "all together in one place in Nuremberg, so to speak"  was repeatedly mentioned. "Otherwise we would rather not do it," as one interviewee put it bluntly.
++ In summary: the subject of direct contact and direct consultation with other representatives of the industry was thus named as the second most important aspect for participation as an exhibitor or for travel as a trade visitor.
However, there are also manufacturers and wholesalers who have canceled participation in the IWA or will at least travel to Nuremberg with a very critical eye and in a much smaller form (fewer employees, less exhibition space or office space instead of an exhibition booth). As is well known, a larger German group of companies of well-known hunting rifle brands has cancelled – the reason is to be seen in the contact with the end-user, which is not regarded as adequate. But it is exactly this contact that these companies consider indispensable with regard to their presentation and marketing. Since the end-consumer day is not coming, these companies therefore will not not take part.
But that has consequences: there will probably be some missing companies from the circle of those which are to be counted among the major optic and hunting gun manufacturers. With the consequence that there will probably be various specialist dealers and gunsmiths "who do not go there". If, however, these gunsmiths and retailers are absent, then also the employee passes, with which some "opinion leaders" among the hunters and shooters have so far been able to get to the fair, will not be applied for. Their participation, however, was fundamental for some association representatives, "because we directly noticed what is going on at the sporting level or in the gamekeepers' associations, and we were able to gather a concentrated hodgepodge of opinions, ideas and suggestions such as nowhere else a similar platform could offer."
For some association representatives, however, this also leads to a consequence: "We're going there in 2023 also to see how the whole thing feels after the pandemic. But if, in our view, there is too little feedback from and too little contact with our members, We'll consider whether we'll get involved in a different way in 2024."
One aspect also came to light during the discussions with the specialized trade and importers – namely, the composition of the group that has canceled participation in the IWA or only confirmed it again with reservations. This means the category of manufacturers, importers and specialist dealers whose business focus is in the field of hunting products, be it firearms, optics, accessories and hunting apparel. It is precisely for this group that exhibition platforms have increasingly emerged in Germany in recent years, such as Jagd & Hund in Dortmund, Hohe Jagd in Salzburg, Jagen & Fischen in Augsburg: all of them are trade fairs with direct contact to the end-consumer, which suits the respective marketing concept. In addition, some of these trade shows take place before the IWA, so they are ideally suited for presenting the respective new products at the beginning of the year – as is common practice in all industries – and thus also for taking orders directly.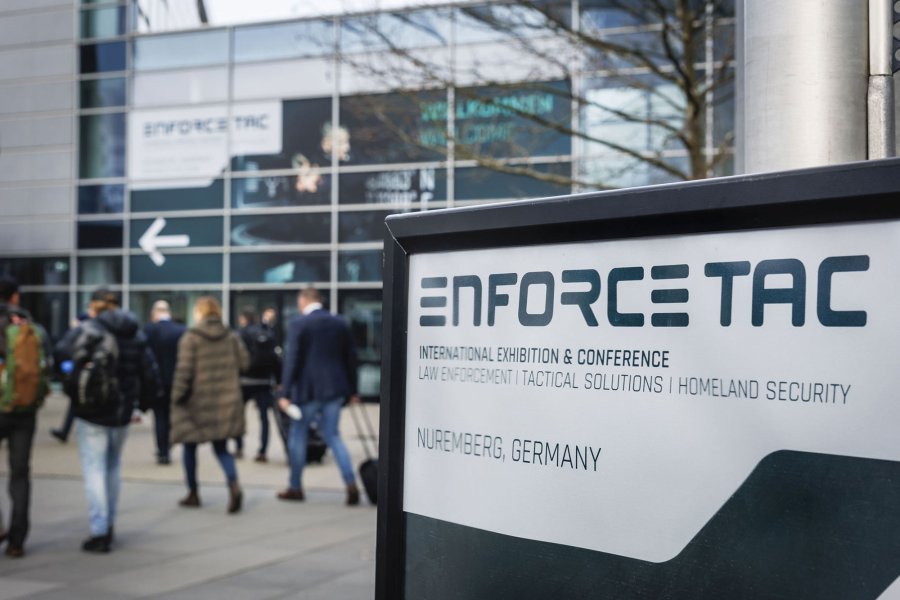 © NürnbergMesse / Heiko Stahl
On the other hand, this seems to be the case in the other sectors of "our" industry: for the military-law enforcement sector, all the questions about the trade show also arise, just not the one about the end-consumers. Because here the lion's share of potential customers is to be seen in representatives of governmental agencies, per se a specialist audience. But that doesn't mean that there are no end-users – especially in the case of equipment and accessories, a large part of the market goes to the civilian sector, e.g. to military collectors, hunters and outdoor enthusiasts.
But the technical discussions held over the past four or five years show that the question of end-consumers and a visiting day set up for this clientele does not arise here to the same extent as is the case with the hunting-oriented manufacturers. This is also shown by the fact that the concept of the Enforce Tac has always shown growth in recent years, and more can be expected in the future.
That leaves the area of the sports-oriented dealers and interested parties. And they are now sitting between a rock and a hard place: unlike the hunting-oriented sector, they cannot, or can only with difficulty, switch to other trade fair offers and exhibition forms (apart from the dealer booths at this or that major shooting competition). "If we want to present ourselves, we can only do so at a trade show like the IWA, that's the good thing, because everything in the world is concentrated there, because it's an international platform, which is located in Germany, but where business from people in Asia meets with business from Latin America," said one of the interviewees: "The bad thing is that we lack contact with the grassroots, but we urgently need it, especially after Corona, so that we don't buy past the market and end up sitting on our goods later."
What follows from all this? Law enforcement-military exhibitors are satisfied with the concept around the IWA / Enforce Tac, with reference to the simplification that is unavoidable here. Hunting-oriented manufacturers and companies specializing in optics have a greater degree of alternative options, which they are increasingly taking advantage of in view of the direct marketing they desire. The shooting-oriented manufacturers need the IWA as a platform, as do almost all associations. The response from these circles was therefore mixed – on the one hand, the aspects mentioned at the beginning to be able to talk specifically and confidentially without interference from end-users; on the other hand, the objection that the IWA has always offered the opportunity to maintain direct contact with the proverbial base and that one would have liked to see this expanded after the pandemic years.
So, no uniform picture. But one in which every interviewee was able to present valid arguments for his or her point of view.
Data + Facts: is IWA an international trade fair?
But with all this, let's also make one thing clear: the foregoing is a very German view of things, referring to the local relationship between specialized trade, industry, gunsmiths and importers, sure, and end-consumers of course. The question is, how relevant is this with regard to IWA as a whole? To this end, all4shooters.com asked the trade show and promptly received a multi-page compilation of various graphics that resulted from different aspects in the analysis of the trade show.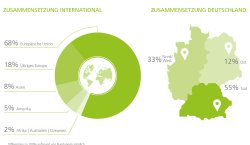 The first, quite surprising finding was that only 41 percent of the visitors came from Germany, while 59 percent came from abroad. In total, they traveled to Nuremberg from 110 countries. This was then broken down even further: 68 percent of the visitors came from the EU, 18 percent from the rest of Europe, 8 percent from Asia, 5 percent from America, 2 percent from Oceania or Africa.
What can be deduced from this? Well, according to its name, the IWA is a trade show that is clearly international in scope, with an unmistakable European focus, given the fact that 86 percent of the visitors came from Europe. Because the manufacturers and dealers among these do not usually sell directly to Germany, it is obvious that the focus here is clearly on the B2B sector, i.e. on the contact between trade visitors and trade visitors, or trade fair participants and trade fair participants. In other words, this is where Scots do business with Swedes, Danes with Slovenes – and Germany offers the platform for this – but that's it. End-users are not usually involved in this stage of business arrangements, so for these exhibitors/visitors at IWA they are not of direct concern in this business environment either.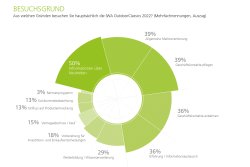 A similar conclusion can be drawn from a look at the composition of the visitors and the visitor sectors: 86 percent of the visitors fall into the category of so-called decision-makers, which in turn indicates that they are probably only rarely in direct contact with the end-consumer. At 37 percent, the specialized/wholesale trade forms the fattest chunk, so to speak, followed by 21 percent representing authorities (police, military, judiciary), 19 percent manufacturers/suppliers, 14 percent services and 4 percent accounted for by "other specialized authorities". That also means that, for end-users, at most the first third mentioned would be of direct relevance, from which however approximately 60 percent of foreign exhibitors are to be excluded. This, in turn, further reduces the importance of direct contact with German end-users at a trade fair such as the IWA from the point of view of these foreign exhibitors and visitors.
IWA OutdoorClassics strategic orientation: a statement by Exhibition Director Thomas Preutenborbeck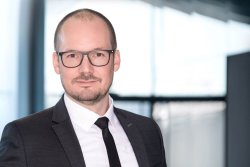 "When it comes to the near future of IWA OutdoorClassics, there is often talk in the media, as well as among exhibitors or trade visitors, of an 'urgent' change that this trade show needs. We see things in a more differentiated way and take the opportunity below to classify the different voices.
One thing in advance: in its almost 50-year history, IWA OutdoorClassics has always been a trade show and thus a protected meeting place for manufacturers and the international trade. It is considered an important 'workroom' where our industry meets and a driver for an international business network. It is not for nothing that IWA attracts many hundreds of international exhibitors and thousands of international trade visitors to Nuremberg every year. From our point of view, IWA still has this role. In fact, we will sharpen its profile even further in this respect: in the future, IWA OutdoorClassics will continue to be the place where the trade will exchange views with manufacturers, for example, on the consequences of the impending tightening of gun laws in Germany or how to deal with the consequences of the Ukraine war in terms of supply chains. So we remain true to our B2B core. This makes us a consistent, strategic partner for the specialist trade and industry.
However, this attitude on our part in no way means that we do not strive for steady progress of our event. We also know that a trade fair does not live on the success of past years alone. For this very reason, we have already made two adjustments in particular for the coming edition of IWA OutdoorClassics. These two developments will continue to be our focus in the future.
On the one hand, there is the political focus. As the world's leading trade show, we have always kept an eye on global market events. For this reason, we will continue to create more offerings on transnational debates and conflicts at IWA in the future. This year, for example, we are already achieving this through closer cooperation with the World Forum on Shooting Activities (WFSA) [see editor's note below], in addition to other national and international interest groups. For example, this year's IWA Stage will feature high-profile presentations and discussions on 'the international threat of a lead ban' or 'the EU Directive 258 on the export, import and transit of firearms'. We very much welcome this development. As a clear goal, we have in mind that the IWA in the future is not only the place where dealers and manufacturers together form an opinion, but beyond that can be worked with politics on approaches to solutions. In this way, we are significantly increasing the interest of all industry players in the IWA OutdoorClassics trade fair and are jointly building the guard rails at the IWA so that dealers and manufacturers can continue to successfully play the international markets together in the future.
The second major adjustment is the optimization of the trade fair experience on site. Trade shows are changing in different ways: from digital enhancements to a complete eventization of trade shows, some different approaches can currently be observed at international events. We, too, would like to further promote the visitor and exhibitor experience at IWA OutdoorClassics in the future and are therefore working specifically on new formats that are closely oriented to the products and segments. This year alone, we welcome three new special areas at IWA OutdoorClassics in the sectors of optics, cutlery and airsoft. With unique test opportunities and live demonstrations on site, we are not only optimizing the experience character of the trade show from the visitor's point of view, much more than this we are also creating new presentation opportunities for our exhibitors. Furthermore, with formats such as the new 'IWA HappyHour', we are creating new meeting spaces to further promote networking among each other. All in all, we will create a new 'experience' at IWA that will inspire.
At the end of the day, there is only one thing left to say: my entire team and I challenge ourselves every year anew to get the best possible out of the IWA OutdoorClassics. So the above-mentioned adjustments are not and will not remain the only ones. We are starting on our new path with IWA 2023 and are looking forward to the feedback from the participants on site. Because one thing is also certain: we still don't do the trade show for ourselves, but for the industry we are privileged to serve. And we do so with full passion."
IWA and politics: the World Forum on Shooting Activities (WSFA) holds its General Assembly in Nuremberg. The WSFA is an official non-governmental organization recognized by the UN. The WSFA has members all over the world and represents more than 100 million hunters and sport shooters. The forum has used IWA and Enforce Tac as the setting for its important meetings for years. For example, on February 28, 2023, the WSFA Committees and Executive Committee meetings will be held. On March 1, 2023, the WSFA General Assembly and Plenary Session will also meet during the exhibition in Nuremberg. The World Forum will contribute to the IWA social program this year through the presentation "Update on Firearms and Ammunition Issues Under Discussion at the United Nations" by James Baranowski (Executive Secretary US/WFSA) and a discussion with WSFA 2023 Ambassador Award recipient Steven Rinella (both on March 2, 2023).
---
For more information on both shows please visit the respective websites for Enforce Tac and IWA OutdoorClassics. And for all fans who can not attend the IWA 2023 as a trade visitor: as always, we from all4shooters.com will be there with our international team and will report on the most exciting innovations in words, pictures and with many videos. From fans for fans – just as you are used to from us.
---
You can learn more about the WSFA on its website here.