Even if, as always, you came across many of the classics mentioned above, the dominant theme of the SHOT Show 2020 was the particularly large number of new products from the rimfire segment. And there was not a single issue of the SHOT Daily - the print daily publication handed out at SHOT Show - that didn't feature news about new rimfire products. Here is a brief overview of the caliber that seems to be experiencing a real revival, even in the land of (almost) unlimited firearm options. Due to the abundance of novelties, however, we have not listed everything. Otherwise, we would simply go beyond the scope of this article.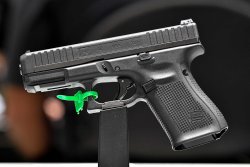 Franco Palamaro, © F.PALAMARO
The first GLOCK rimfire pistol: the G 44

Presented shortly before the SHOT Show, with the G44 the Austrians are rounding off their range of calibers at the bottom end. In the USA the new pistol was very well received too, and many hands wanted to touch the new GLOCK. "It's a cheap way to train with a gun because the ammunition is not so expensive," said one of the visitors at the GLOCK stand. The advantages are obvious: lower ammo costs but with a large caliber pistol size. You have already discovered everything about this gun here on all4shooters.com.

The GLOCK 44 was no exception, but is fully in line with the trend towards the small rimfire .22 LR caliber also for handguns. Want more examples?
KelTec P17 – A new pistol in .22 LR
A total of 17 rounds fit into this pistol, which is said to cost just 199 US dollars. Unloaded, the gun weighs 306 grams with a 100 mm barrel. Here on all4shooters.com you will find all the details in our article.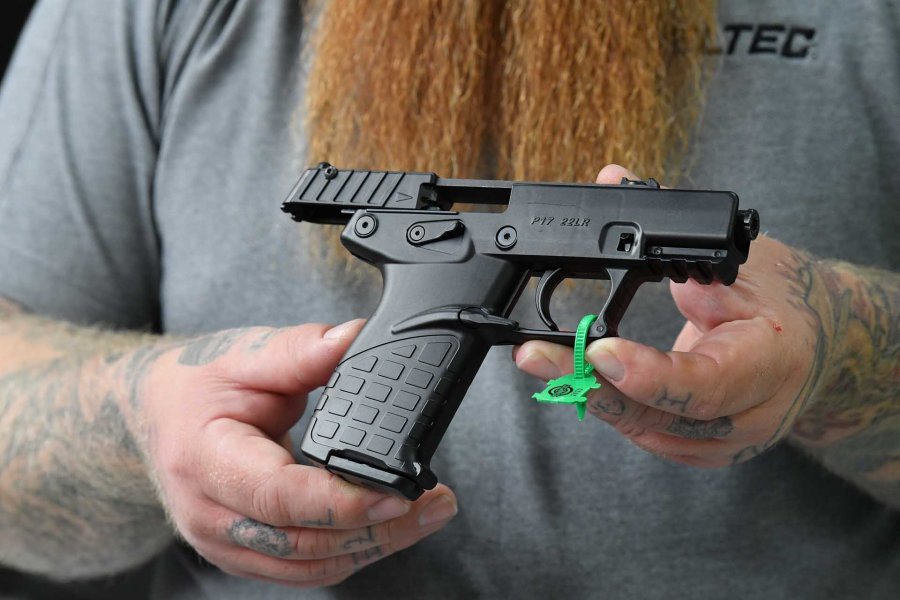 Franco Palamaro, © F.PALAMARO
Ruger Mark IV Target and Lite Rack LCP II

Ruger showcased its new Mark IV, which got the name Target. The special thing about this pistol in caliber .22 LR is surely the so-called Bull Barrel. Slightly top-heavy when shooting, but this gun impresses with its shooting behavior and accuracy. In addition, with the Lite Rack LCP II Ruger offers a .22 LR version of its concealed carry model in .380 ACP.  Although the pistol is very compact, it has a capacity of 10+1 rounds. The price in the USA is only 350 USD, making the gun an inexpensive training tool.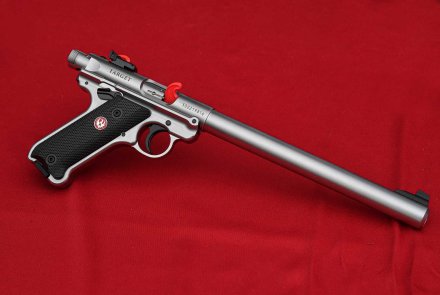 But there were also many rimfire rifle versions to see. The reason is actually understandable. The NRL 22 (National Rifle League) shooting discipline is very popular in the USA and finds more and more followers. But also the growing enthusiasm for PRS matches leads to many shooters preparing for competitions with the smaller .22 LR. 
Here are some new rifles from the SHOT Show 2020: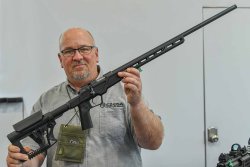 Franco Palamaro, © F.PALAMARO
CZ 457 Varmint in .22 LR
At the SHOT Show 2020 CZ-USA introduced their first light alloy chassis bolt-action rifle in the form of the 457 Varmint Precision Chassis model in .22 Long Rifle. 
The rimfire rifle is available with 16.5"/420 mm and 24"/610 mm barrel lengths - for only 999 US dollars (see here for more details). That is a bargain and we are curious about availability and prices in Europe.

Savage Arms B22 and A22 rimfire rifles 
The new bolt-action B22 rifle is available in .17 Hornady Magnum Rimfire (HMR), .22 Long Rifle and .22 Winchester Magnum Rimfire (WMR). Being a semi-automatic .22 LR rifle, the other model is called A22. Both the B22 and A22 are available in new "Precision" versions with MDT light alloy chassis as well as with adjustable stock. Both models cost 599 dollars in the USA.
Volquartsen Firearms Summit rifle – Also in .17 WSM caliber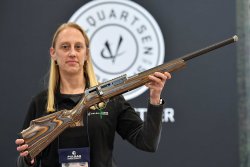 Franco Palamaro, © F.PALAMARO
IIt has even been described as the "rimfire miracle". The US company positioned itself many years ago as a rimfire specialist, offering both rimfire handguns and rifles. 
The new Summit is based on the Ruger 10/22, so Ruger magazines and other parts fit the Volquartsen too. Designed for small game hunting, the prices vary from 1135 USD to 1383 USD. The Volquartsen Summit is also available in another rimfire caliber, the .17 WSM.
Kriss Vector – A new variant in .22 LR 


Kriss company also presented a new version of the Vector in caliber .22 LR. This .22  rifle impresses above all with its futuristic look. We shot it at the Industry Day at the Range and we can say that it's a fine and well-balanced gun, especially suitable for plinking and fun shooting.


This is the first bolt-action rifle from the Spanish manufacturer in .22 LR. The model is built on a Remington 700 base. The stock is fully adjustable and fits all the usual parts of a Remington 700. The gun features match quality and costs about 1150 USD in the USA.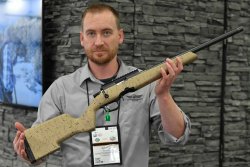 Franco Palamaro, © F.PALAMARO
Christensen Arms Ranger 22 – A high-end model in .22 LR
For under 800 USD you can get a very interesting high-end rifle from Christensen Arms. The new model is not based on a Remington 700 design, but is a complete in-house development for small game hunting and target shooting. The look impresses with a carbon fiber stock and the barrel is also carbon fiber. The price is a bang for the buck.
With regard to ammunition there are new offers from US manufacturers too, which fuel the current trend towards the .22 LR caliber
Federal brought a whole range of new ammunition types in the rimfire segment to the SHOT Show 2020, sometimes just new packagings, but also real innovations. Under the Remington brand there are new rimfire subsonic cartridges with a 40-gr HP bullet, available in packs of 50 or 100. These cost 5.27 and 10.49 USD respectively – cheap prices that will bring tears to your eyes in Europe. But also Browning did not stand and watch and brought to Las Vegas two new ammo types in its rimfire range.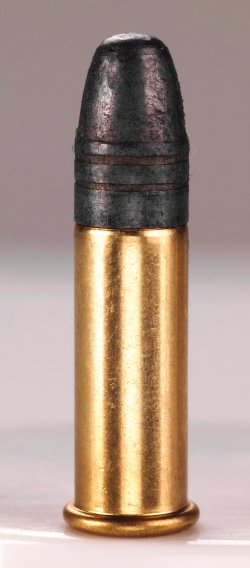 New products in .22 LR caliber: our trend analysis from the SHOT Show 2020
Even if it seems like a lot now, these were not even all the new products in the rimfire segment that we came across at the SHOT Show 2020. But of course we talked with a lot of Americans at the show about the special fascination of rimfire shooting. We found out different reasons, which we analyzed:
One is the fun

One of our interlocutors said that it is incredibly fun to go into the garden, put up cans and practice your shooting skills from 50 or 80 meters. This is what they call plinking in the USA. But it also works on a shooting range and on paper targets – and is pure fun.
Another aspect is training

You can train with rimfire gun as well as with centerfire ones, especially with regard to handling and manipulation.
A particular focus: cost

All this can also be done with the .22 LR caliber – but at a fraction of the cost of centerfire ammunition. The Americans also use rimfire ammo for hunting, for example squirrels.

They in fact appreciate smaller calibers. Even though in some US states a lot of things are (still) freely available, many Americans prefer rimfire cartridges simply because they want to have fun and they see a benefit in hunting or training at low cost. Many also use this small caliber to teach their youngsters how to shoot.
It will be interesting to see whether the trend will continue, whether it will come to Europe to the same extent, or whether another hype is already emerging next year. The next IWA is scheduled for March 2020. Will the upswing in the .22 LR segment also continue there?

We are staying on the ball and are curious to know which of the new models presented here will actually find their way to Europe.