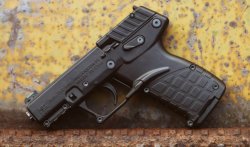 "The reliable, accurate, and compact pistol you didn't know you wanted" : this is how KelTec introduces its new .22LR pistol, the P17. Founded in 1991 by the Swedish designer George Kellgren who also designed firearms for Husqvarna, Swedish Interdynamics AB, Intratec and Grendel, KelTec always distinguished itself for its innovative products, from pistols to rifles and shotguns. The P17 makes no exception: at a 199.00 USD MSRP shipped with three 16-round magazines, the 17-round P17 – you guessed it, the name comes from the 16+1 capacity – is undoubtedly an affordable handgun. 
Weighing only 397 g / 14 ounces fully-loaded and "just slightly longer than a dollar bill",  it sports a 3.93" / 100 mm threaded barrel, a Picatinny-style accessory rail, an ambidextrous safety and an ambidextrous magazine release. A fiber optic front sight and adjustable rear sight complete the package.
KelTec P17, a good training tool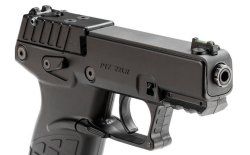 With an overall length of 6.65″ / 169 mm, the P17 would be great for concealed carry thanks to its size and reduced weight – as long as you consider the .22LR a suitable self-defense cartridge of course, which is not a widespread view. In fact, if you really need a gun for self-defense but you don't want to spend too much, for the same price you'll be probably able to find a more effective second-hand pistol chambered in a more powerful caliber. In any case, the P17 is also a good entry-level firearm or training tool for shooters on a budget, as duly pointed out by the manufacturer. Will it be imported to the EU? We don't know at the moment. But being an innovative little gun at a price "you can't refuse", it's definitely a sort of "game-changer" in the market of inexpensive pistols.