Three days after the official end of the IWA OutdoorClassics 2023, we also conclude our trade show coverage with the following news. There was much to see in the Nuremberg exhibition halls and even more to report on. Over the past six days, our international team from all4shooters.com has recorded a total of more than 100 videos – more than half in English – about the highlights that we were able to spot at IWA 2023, and we are already looking forward to next year's edition of this leading trade show that is so important for the firearms industry. And the fact that next year it will be an exceptional exhibition with special highlights is certainly not due to the fact that it starts on a 29th February, because 2024 is not only a leap year but also an anniversary year for IWA, which will then celebrate its 50th birthday. That's why the organizer NürnbergMesse GmbH has already announced that it "will put together a program to mark the occasion".

So you and we can already be excited. In any case, we have already marked the event period of the IWA OutdoorClassics 2024, from February 29 to March 3, on our calendar, so that we from all4shooters.com can be live on site for you again next year to report from this anniversary exhibition.

BUL SAS II SAW and Radical, two flagship pistols for dynamic shooting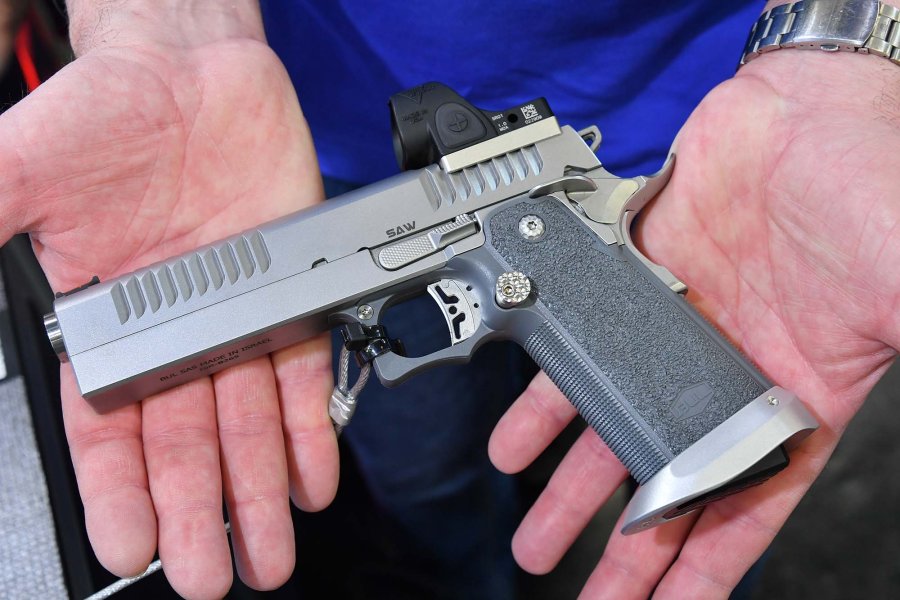 Franco Palamaro, © F.PALAMARO
One of the latest products from Israeli company BUL is the SAS II SAW semi-automatic pistol designed for athletes competing in the IPSC and USPSA Limited and Limited Optics divisions. Built on a polymer and stainless steel composite frame with full-length dust cover, the SAW is available in 9mm Para (9x19) and .40 Smith & Wesson calibers with magazine capacities of 19 and 18 rounds, respectively. The stainless steel slide has front and rear grip serrations and mounts a set of sights consisting of a dovetail-mounted and thus drift adjustable front sight with fiber optic insert and a micrometric rear sight, which in turn is mounted on a removable Trijicon RMR footprint plate.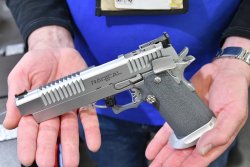 Franco Palamaro, © F.PALAMARO
The thick barrel of the BUL SAW is 5 inches (125 mm) long, with integral feed ramp. The spring guide rod is one-piece and houses a recoil spring weighing 11 pounds for the 9mm caliber and 12 pounds for the .40. All controls on the frame are oversized, starting with the magazine release. At the base of the grip we find a large aluminum mini-magwell that makes quick magazine changes easier. The trigger is a modular type, with a lightly curved blade: the factory pull weight is around 900-1,100 grams (2.-2.5 pounds). In the other hand, the unloaded gun weight is 1,098 grams.
The Radical model shares most of the features of the SAW, including caliber availability and magazine capacity, but mounts a 5.4-inch (137 mm) barrel for those seeking that extra bit of sight radius, accuracy and weight. In fact, the BUL Radical weighs 1,136 grams. Again, the slide, which has intriguing millings on its top as well, is mini-red dot ready. Controls are oversized, but the safety lever on the frame is of the "shielded" type to prevents finger contact with the slide. These are two guns that can be used in competition out of the box, richly accesorized and taking us back to the charm of IPSC shooting guns based on John Moses Browning's timeless design, more than a century old but still competitive.

The young company KMR Precision with sporting guns for beginners and professionals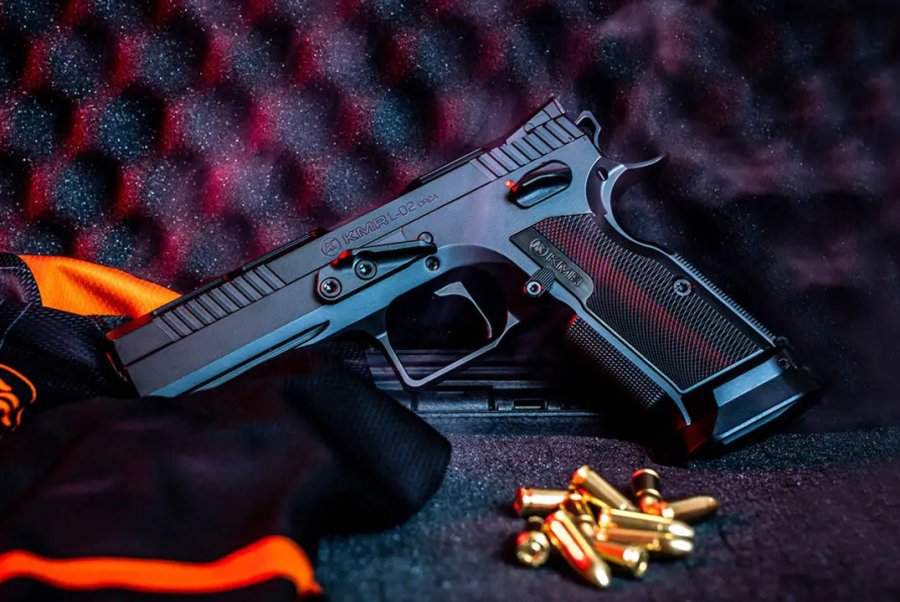 The company KMR was founded only last year. At the IWA 2023, they had their complete product range. Basically, the company's pistols are positioned in the top range, which means that the shooter gets very high quality at premium prices.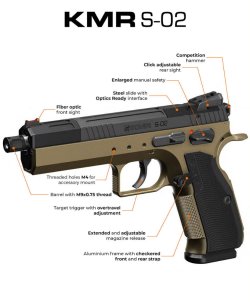 All KMR weapons are CNC machined from forged steel billets. This also applies to small parts inside the gun. Thus, there are no MIM or cast parts on or in the guns. A gunsmith assembles each firearm. Many of the guns come optics ready, although for country- or discipline-specific reasons, models are of course offered without optic cuts – such as the Orca, the pistol designed for the IPSC Standard Division. On the other hand, KMR offers, for example, the 6-inch pistol with a three-position sight, while still being optic ready. The KMRs are available in 9mm Luger caliber and – depending on the model – in 9x21, .40 S&W and .45 ACP.
Then there is the S-02 model in .22 LR. It features an aluminum frame and is also optics ready. The S-02 comes with three different spring sets. As a result, it works with all types of ammunition – from subsonic to standard and HV cartridges – as confirmed by KMR's in-house tests. The rimfire pistol costs 1,350 euros. Its centerfire siblings, on the other hand, start at 2,790 euros for the 9mm with aluminum frame and 2,850 euros for those with steel frame.

VIDEO: InfiRay ZH50 V2  monocular thermal imager and TOM binoculars combo
This video has been hidden because of an external service (YouTube) that could potentially collect personal data.Allow video services for the duration of the visitAllow video servicesStop allowing video services
InfiRay showed its new ZH50 V2 handheld monocular thermal imager at IWA 2023. With this model, InfiRay is launching the second generation of its thermal imaging optics with dual field of view. This means that with the new ZH50 V2, you can now switch from a 25 mm focal length with a large field of view to a larger focal length of 50 mm with a smaller field of view even more quickly and intuitively. This is done simply by moving a large knob, located at the top of the housing for the 50 focal length setting, a quarter turn counterclockwise while observing. This knob also serves as a focusing wheel and is much easier to use than the previous solution using a focusing ring on the eyepiece. By the way, when switching between the two focal lengths, the previously focused image does not need to be refocused. The InfiRay ZH50 V2 uses a 640x512 pixel sensor with a 12 µm pitch and brings a NEDT of ≤ 20 mK. It has a full-HD AMOLED display with 1,440x1,080 pixels and comes with two standard battery packs, each with a runtime of up to 10 hours. The field of view is 31x23 m at 100 m in 25 mm focal length mode and 15x12 m at 100 m at 50 mm focal length. The dimensions of the device, which weighs about 700 g, are 220x59x75 mm. The ZH50 V2 is already available in stores.
In addition, InfiRay also gave us a sneak peek at one of its brand-new combined thermal imaging daylight optics with integrated laser rangefinder, which is scheduled to hit the market in two to three months. The handheld TOM binoculars combine InfiRay's usual thermal imaging quality with high-intensity daylight optics and a laser rangefinder with a range of up to 1,000 m in a package that looks more like a classic pair of binoculars or field glasses than a state-of-the-art thermal imaging optic. As soon as we find out more, we'll post the info on InfiRay's new TOM on all4hunters.com.

Kershaw Interstellar, the manual out-the-front knife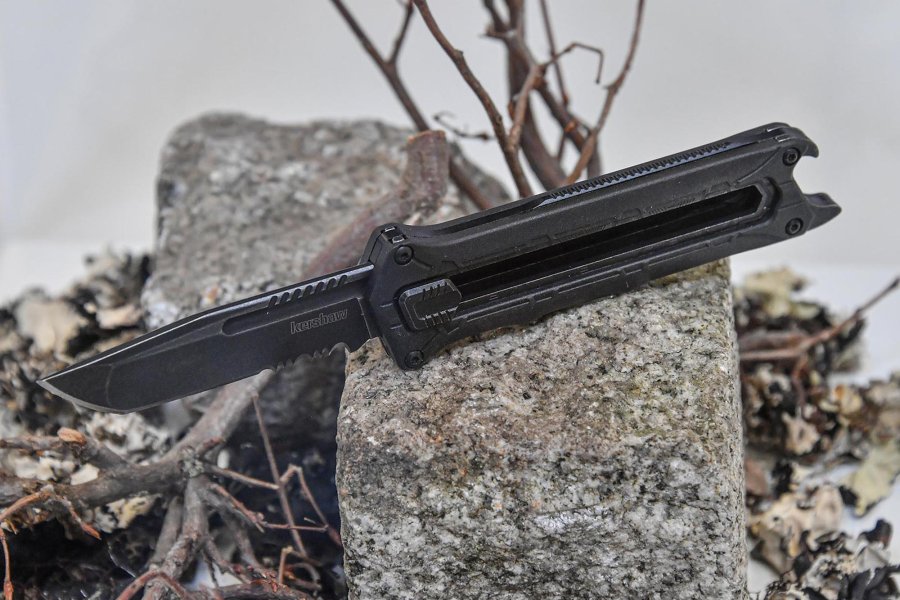 Franco Palamaro, © F.PALAMARO
It looks like an out-the-front switchblade knife, but in fact it is not. The Kershaw Intestellar was designed precisely so that it could be carried in those countries where there are severe restrictions against switchblades. The system is very simple and could be compared to that of cutters: the blade slides axially inside the handle and when it is fully deployed it is firmly locked by a push-button system. To close the blade again, it is necessary to press the button and then pull it back. Since there is no spring, from a legal standpoint the knife is a manual lock type, but the speed with which it can be opened is more than enough for a variety of tasks. The fiberglass-reinforced nylon handle provides a firm grip thanks to the pads on the underside and the knurled steel ridge. A steel bottle opener is integrated on the back end of the handle.
The blade with a modified "American Tanto" profile is made of 8Cr13MoV stainless steel with a blackwash finish. The edge is flat with a short serrated section toward the ricasso. The blade length is 69 millimeters, for an open knife length of 175 millimeters. When closed, the Kershaw Intestellar measures 108 millimeters; the weight is only 88 grams. On the opposite side of the handle, not visible in the photo, we find a clip that allows it to be carried "tip up". The retail price of the Kershaw Intestellar is about 70 euros. It may not be a great innovation, but it is still interesting to observe the evolution of modern sports knives, which despite their simplicity show great adaptability.