SunOptics, a well-known optics manufacturer in the USA whose claim is "we bring the very best to the shooting community at an affordable price", becomes SOUSA. As announced in a press release, it slips under the umbrella of the brand maker Jack Biegel, owner of CMC Trigger and Santan Tactical brands.
It's not just a name change, however: the manufacturer's catalog will be soon expanded with new higher-quality optics. "Our clear goal is to raise the bar in the optical range and to inspire our customers in every form," says Stephen Morgan, CEO of SOUSA. 
The cooperation with Waffen Ferkinghoff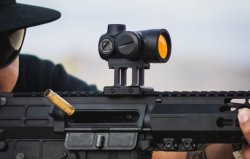 German wholesaler Waffen Ferkinghoff – the importer of other renowned American brands such as Auto Ordnance, Birchwood Casey, Kahr Arms, Kimber, Lyman, Trijicon to name a few – will take over SOUSA's European representation. "The Ferkinghoff International team is pleased about the cooperation, as SOUSA stands for excellent optics in the lower and middle price segment", they explain in the same press release. "With Stephen Morgan, SOUSA has a developer and CEO on board who, thanks to his many years of experience at VORTEX, has the necessary know-how to bring the brand forward", says Andrea Ferkinghoff about the extended partnership.
"We are pleased to have a strong and competent partner in Ferkinghoff International, who does a lot to raise awareness of many offered American brands, and now for SOUSA. It makes us all the more proud to conquer the European market together, and to work together so successfully", adds Stephen Morgan.
The first products have already arrived in Germany and are ready to ship immediately, including the new reflex sights from the R.A.I.D series – a new generation of optics specifically designed for long guns as well as for handguns, for both hunters and competitive shooters.