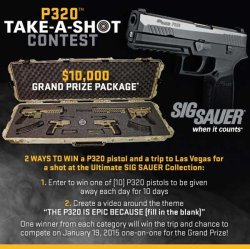 SIG SAUER, Inc. − the north-American branch of the SIG Sauer GmbH company, owhed by the L&O Group − launched the "P320 Take-a-SHOT Contest" that give twenty lucky contestants a chance to win one of twenty P320 Carry pistols.

Plus, two lucky semi-finalists will get a change to trip to Las Vegas, for the 2015 SHOT Show, in order to compete at the SIG SAUER VIP Range Day for the Ultimate SIG SAUER Collection: a grand prize package of firearms, ammunition and accessories, including the brand-new SIG MCX carbine and a SIG MPX pistol, worth 10.000 U.S. Dollars.
The contest is open to all U.S. citizens or legal residents, aged 21 or older, who are not barred from owning firearms by local, State, or Federal laws or regulations.
There will be two ways to enter the contest on the www.sigsauer.com website.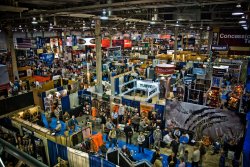 Those willing to enter the Sweepstakes will have to fill up the form on the SIG SAUER Inc. website, ending November 30th, 2014.
Ten winners will be drawn each day at 3:20pm for 10 business days from December 1st to December 12th, 2014; each will get a P320 "Carry" pistol.
Those willing to take part in the Video Contest will have to create a video (60 sec or less) around the theme "The P320 is Epic because (fill in the blank)".

The video should then be submitted before November 30th, 2014 through this link. No SIG SAUER P320 pistol is required to be present in the video submission in order to win or to be accepted

The top ten video entrants, as chosen by SIG SAUER, will each win a P320 "Carry" pistol; the Top 10 videos will also be posted on the 9mm pistol  Top 10 videos will be posted on the "P320 Take-a-SHOT Contest" Video Voting Gallery on December 5th, 2014.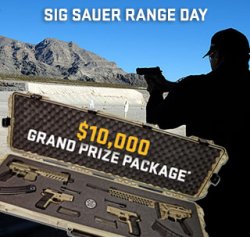 The two semifinalists (one from the Sweepstakes Drawing and one from the Video Contest) will win 5 days and 4 nights in Las Vegas to compete one-on-one at the SIG SAUER Range Day on January 19, 2015 in the "P320 Take-a-SHOT Contest" for the Grand Prize: The Ultimate SIG SAUER Collection, a custom Pelican Case containing:
SIG MPX PSB 9x19mm semi-automatic pistol with two extra magazines and stabilizing brace;

SIG MCX .300-AAC "Blackout" semi-automatic carbine with extra magazines;
M11-A1 9x19mm pistol in Flat Dark Earth;
MK25 9x19mm pistol in Flat Dark Earth;
P226 9x19mm pistol with threaded barrel;
M11-A1 9x19mm with threaded barrel;
One case of 9x19mm SIG V-Crown™ JHP Elite Performance Ammunition;
One case of .300-AAC "Blackout" Elite Performance Ammunition
One SIG patch.

To qualify for the $10,000-worth Grand Prize, contenders will have to agree to Terms & Conditions and be available to travel on January 18th, 2015 to Las Vegas (Nevada, USA) for the "P320 Take-a-SHOT Contest" on January 19th, 2015.
---