Working with a shotgun coach starts your journey into clay shooting on an informed and positive note. Your coach will teach you how to look for a target and how to shoot it well and will support your shooting progression. A shotgun coach is a skilled pair of eyes trained to watch over you by studying your preparation and breathing, set-up and how you approach and shoot targets.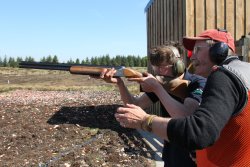 Linda Mellor Photography, © Linda Mellor Photography
Having someone applaud your ability to hit the same targets over and over again may be a great boost for your ego, but if you are serious about your shooting and wish to progress you need a coach who will stretch you and accurately analyse faults and help you rectify them. Iain said, "all coaches see the same thing but a less experienced coach will not necessarily know what they're seeing."
What to expect from a good shotgun coach
A shotgun coach should be encouraging the shooter to get out of his or her comfort zone and strive to advance and develop their skills and support a steady growth in their abilities. Iain said, "Coaches should be pushing shooters onto targets they can't hit." If a shooter misses a target, they may or may not know where they missed it but an experienced coach will direct them and explain where and why they missed it and remedy the fault. A less experienced coach will be unable to do so. Each shooting lesson should leave you feeling more knowledgeable about your shooting skills and a little further on your shooting journey and keen to practice and book your next lesson.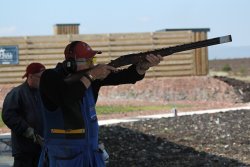 Linda Mellor Photography, © Linda Mellor Photography
Sought after Coaches have many years of experience in different shooting environments and can answer questions and recommend suitable cartridges, the correct ear and eye protection and gun care and cleaning.
Linda filmed a short video with Shotgun Coach Iain working with David, a left-handed shooter, at the National Shooting Centre, Falkirk, Scotland. Iain discusses identifying pick-up points, breaking zone and the barrel target relationship.
Click here to read the first chapter about the importance of having a good shotgun coach of Linda Mellor working with Shotgun Coach Iain MacGregor on all4shooters.com
Click here to read the second chapter about the importance of a pattern plate of Linda Mellor working with Shotgun Coach Iain MacGregor on all4shooters.com
The third chapter explain why a correctly fitting gun is important: "Gun fit with shotgun coach Iain MacGregor and Linda Mellor".
---
Who is our author Linda Mellor?
Linda Mellor is one of Scotland's foremost shooting, fishing and hunting female writers and photographers. She is the product Ambassador for Venator Pro, a premier hunting company and stockist of the European brand Hillman. With a lifetime of countryside experience, Linda's passion, enthusiasm and respect for the outdoors and hunting is explored and shared across her writing and photography. 
For more information on Linda Mellor, please visit Linda Mellor's website, Twitter (LindaMellor) and instagram (linda_mellor).