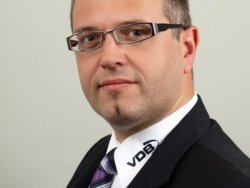 IWA OutdoorClassics actually originated in 1974 from an exhibition accompanying the annual general meeting of gunsmiths and firearms dealers with just under 100 exhibitors. It owes its international name, IWA OutdoorClassics, to its rapidly growing importance beyond Germany's borders, as well as to its multi-thematic offering, which spans the arc between traditional craftsmanship and innovative ideas for hunting and sporting firearms, outdoor and safety equipment. 
The German Firearms and Ammunition Manufacturers Association (JSM) as well as the VDB, the association of German gunsmiths and firearms dealers, are still on the advisory board of the IWA and ideational sponsors. We asked Ingo Meinhard, VDB Managing Director, for his impressions of this year's trade show. Meinhard: "Our member companies arrived at this IWA with divided experiences. The more hunting-oriented companies were even able to record an economic plus in the last two years despite the pandemic, while the sporting guns and equipment dealers suffered heavy losses due to the closed shooting ranges."
The first IWA after the enforced break is hugely important there, but even with just under 1000 exhibitors, no one manages to visit all the booths. Good pre-planning is crucial there, but perhaps the concept needs to be reconsidered for next year. There is a trend among some large exhibitors to move to public trade shows, and traditionally many end-consumers also ask for access to the trade show closed to them again in 2022, at least for one day. They just want to see in person, touch, discuss about what they are supposed to buy soon. The argument that the customers would then take time away from the professional visitors at the exhibitors is hardly tenable. So if NürnbergMesse wants to maintain or even increase the attractiveness of IWA, a different orientation should be discussed with an open mind.
We at all4shooters.com continue to stay on the ball on the third day of IWA, and today you will again find many new products that caught the eye of our editors, photographers and video team on site.
As on previous days, this article will be continuously updated – please check back often!
Long guns at the IWA OutdoorClassics 2022
Fossari over-and-unders: from F.A.I.R., a new line of shotguns designed  to win  
Fossari, the new brand of shotguns is born from the experience that has distinguished F.A.I.R. for over 50 years as the second largest manufacturer of over-and-unders at international level. Designed for professionals or beginners who are looking for a quality gun to take up shooting, the new line includes three models for the different disciplines: Trap, Skeet and Sporting.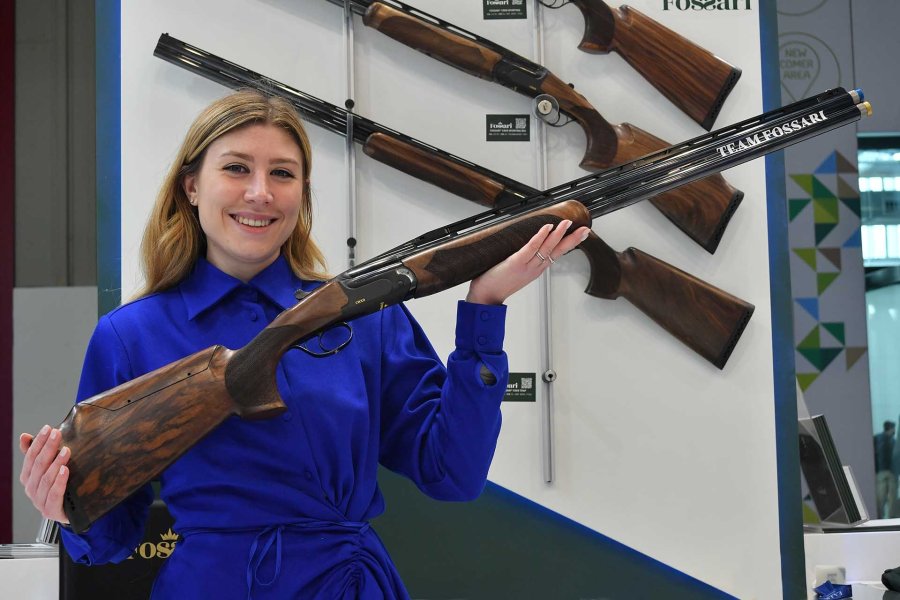 Franco Palamaro, © F.PALAMARO
If in order to imagine a great future it is necessary to have a proper awareness of the past, the new line of Fossari over-and-under shotguns designed for clay pigeon shooting and developed by the experience of F.A.I.R. is undoubtedly born under the best auspices. This company, which has celebrated its 50 years of history in the manufacturing of hunting and shooting over-and-under shotguns, has concentrated in this new project all of its in-house know-how. The new Fossari line integrates the most advanced technological solutions in a Boss action, in terms of features, dimensions, balance and weight. Everything has been studied with the utmost professionalism, in order to satisfy the technical needs of any shooter, be he/she a neophyte or a professional, who wants a quality gun designed to achieve high performance and to which he can entrust his commitment and concentration in order to win in this sport. In the sober elegance that befits a shotgun, the Fossari CRX 9 over-and-under is a robust shotgun with mechanical features designed for durability and performance over time.
Technical details of the Fossari CRX9 over-and-under: receiver and trigger group.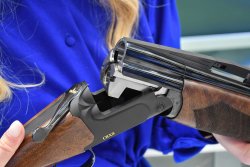 Franco Palamaro, © F.PALAMARO
Available in three versions designed for trap, skeet and sporting respectively, the Fossari CRX9 over-and-under is born from a receiver machined from solid billets, fitted with interchangeable hinge pins even for an exasperated use. We find the same attention in the forend iron, featuring an interchangeable numbered special steel insert, which allows to easily eliminate any parts play due to the intensive use of the gun and after many shots. 
The Fossari models also have a removable trigger group. The operation, which is easy to perform, is carried out without the need of tools simply by pressing the release button located in the upper part of the trigger group. As well as offering an obvious technical advantage, this greatly simplifies the ordinary and extraordinary maintenance.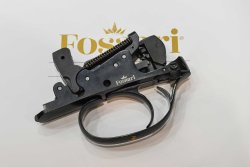 Franco Palamaro, © F.PALAMARO
Receiver, trigger guard, forend iron, monoblock and extractors are machined from forged billets. The adjustable XR-Trigger can be optionally requested on all Fossari versions. The adjustment of the length of pull is facilitated by a button located in the upper part of the trigger itself. 

The barrels are made of special tri-alloyed steel and classically drilled from a bar – a method that guarantees concentricity and strength at the same time. The chambers have a long X-Cones forcing cones, while the new XBores barrel drilling improves recoil reduction.
Internally, the chrome lining guarantees a longer life, resistance to corrosion and better homogeneous patterns.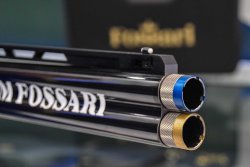 Franco Palamaro, © F.PALAMARO
A special mention goes to the new Tecnichoke HPS chokes of the Fossari over-and-under shotguns, designed to offer shooters 8 different choke parameters  for different disciplines. 
We are often accustomed to see interchangeable chokes placed only on the sporting versions of shotguns: all Fossari barrels can instead be equipped with these chokes with a length of 90 mm (70 mm internal) that, thanks to a smooth connection angle, improve ballistic performance. 
These new chokes undergo a special heat treatment to obtain maximum resistance and allow the use of steel-shot shells, and are internally and externally coated with a superficial anti-corrosion nickel-plating. 
Fausti Core side-by-side shotguns: construction quality within everyone's reach
With the Dea and Dea SLX models, the Fausti Core line of side-by-side shotguns can be the choice of a wide audience of enthusiasts who want a rugged yet refined shotgun at a more affordable price than the more exclusive models.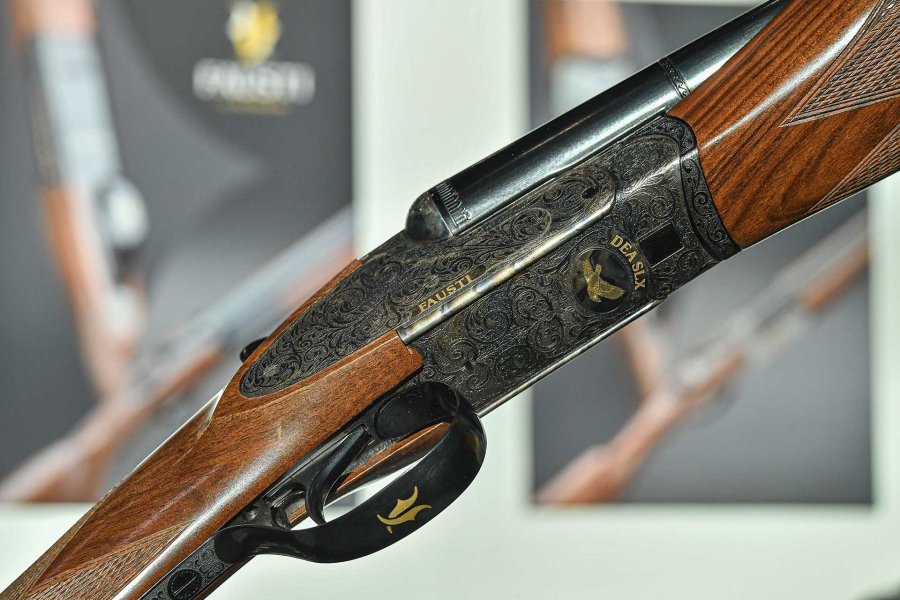 Franco Palamaro, © F.PALAMARO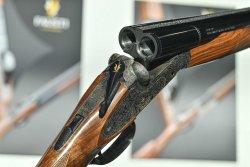 Franco Palamaro, © F.PALAMARO
Like the "top of the range" shotguns, the Fausti entry series also features an Anson & Deeley action, with scaled-to-gauge receivers machined from solid billets, as well as all the components. 
The Dea and Dea SLX shotguns are available in all the main hunting gauges, from the largest 12 ga to the smallest .410 bore. 
Old silver or color case hardening  receiver finishes distinguish the models, with gold inlaid wild  birds in flight on the receiver bottom. 
The different lengths of barrels available, starting from 60 cm for those who practice hunting in the woods up to 76 cm for those who instead face more challenging shots at greater ranges when hunting in open spaces or from hides.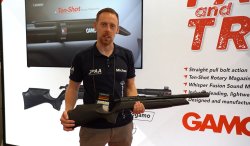 At IWA 2022, Spanish air guns manufacturer Gamo brought, among other things, the Arrow rifle, which is characterized in particular by its straight-pull bolt action with a 10-round rotary magazine. On the muzzle of the Gamo Arrow there is a silencer with proprietary Whisper Fusion Sound Moderation technology that ensures particularly quiet shots. 
The new Arrow features a fully adjustable two-stage adjustable trigger and is available in 4.5 mm (.177) and 5.5 mm (.22) calibers. The pellet exit velocity, according to the manufacturer, is 386 meters per second in 4.5 mm and 268 meters per second in 5.5 mm, for a power that in both calibers is close to 24 joules. With a full tank reload, the Arrow fires up to 90 rounds. The stock is made of glass-filled nylon. Production of the new Gamo Arrow carbine has already begun, so it will be available soon.
Video: Gamo: Arrow straight-pull bolt-action air rifle
This video has been hidden because of an external service (YouTube) that could potentially collect personal data.Allow video services for the duration of the visitAllow video servicesStop allowing video services
Handguns at the IWA OutdoorClassics 2022
Canik pistols in 9x19: Mete SFX and Mete SFT, Canik Red Dots MO1 and MO2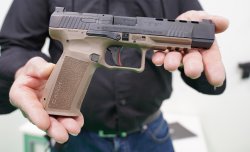 Canik pistols in 9x19 mm (9 Luger) serve as handguns in the Turkish Army and Special Forces. Over fifty thousand have already been delivered, with a good hundred thousand still to come. The Canik has won many comparative tests, including successfully passing tough climate and dirt tests. In addition to the balanced price-performance ratio, these are also of interest to civilian users. An Optics Ready package to accommodate red dot optics, two spare magazines with 18- and 20-round magazine, a holster, a tool and cleaning kit are included in the price. Also included, the Canik offers interchangeable backstraps for ergonomics that can be adjusted to almost any hand size, and are ambidextrous. A special rear sight (Co-Witness-Sight) allows for one-handed reloading. The coatings are Tenifer or Cerakote. The frame is made of glass-reinforced polymer. A 1913 Picatinny rail and a loaded chamber indicator can also be found.
The newest member of the Canik family is represented by the Mete model line. Mete is a Turkish male name that refers to a historical ruler, but also stands for "brave". Both the compact Mete SFT and the larger SFX are OR variants. Canik's own Mecanik MO2 red dot is slightly larger and intended for the SFX, while the Mini-Dot MO1 fits the compact Mete SFT. Both OR mounts sit in front of the rear sight, which is retained even after the dot is mounted. In Germany the Canik Mete SFX costs 799, euro, the compact SFT 699 euro. The Mecanik red dots cost 259 euro regardless of the model. Alternatively, the Trijicon RMRcc or the Shield RMS/RMSc fit. 
Optics at the IWA OutdoorClassics 2022
Nitehog is introducing two all-new optronic devices at IWA 2022 in Nuremberg: the feature-packed Gecko 35 Pro LRF monocular with a completely redesigned firmware that enables video recording and smartphone support as well as laser rangefinding, and Nitehog's first full-featured standalone thermal imaging scope, the Boomslang, with best-in-class sensor resolution and performance.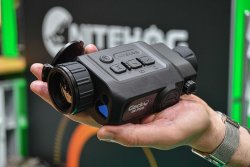 Let's start with the Gecko 35 Pro LRF: it comes as a compact monocular built for handheld observation (the manufacturer calls it a "spotter"). It features a 35K NETD, 12 μm thermal image sensor with 640x512 pixel resolution, an F/1.0 germanium lens with 35 mm focal length, and a fast 50 hz frame rate. The eyepiece features a 1024x768 resolution color OLED display that can change the hue of the image (Nitehog calls this "Ultra Clear Mode"), a cool hue and a warm hue for harsh weather conditions. The Gecko also has a laser rangefinder that displays data from the built-in digital compass and motion sensor with a range of 800 meters. It can also record A/V footage in real time on the built-in recorder with 32 GB of memory and supports smart devices via a free app and built-in Wi-Fi connection. Price and availability will be announced soon.
The Gecko weighs just 400 grams, measures 160x90x50 mm, and is IP67 certified for water and dust resistance.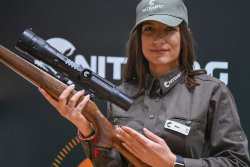 The Boomslang is also completely new to Nitehog, both as a product and as an optic type; it is the manufacturer's first dedicated thermal imaging riflescope. The Boomslang features a 60 mm focal length, focus tunable germanium lens that relays to a premium, uncooled 12 μm thermal imager with 640x480 resolution and an ultra-fast 60 Hz refresh rate for tracking fast-moving targets with native 3.2x magnification (2/4x digital zoom for up to 12.8x magnification) and a coverage area of up to 2372 m for a warm target 1.7 x 0.5 m in size.
The Boomslang features the same built-in Wi-Fi connectivity and smart-device app support and A/V recording capabilities as the Gecko, with the addition of automatic, recoil-based video capture. A USB-C port makes it easy to download footage and enables simple online firmware updates. The crosshairs can be changed and a range of shooting profiles are available. The Boomslang is powered by a standard 18650 Li-Ion battery, and mounting is via a ZM/VM rail. Battery life is over 6 hours of continuous use. all4shooters.com will be testing both optics in the near future, so check back regularly and follow us for more information!
Video: new two all-new optronic devices from Nitehog: The Gecko 35 Pro LRF and the Boomslang

This video has been hidden because of an external service (YouTube) that could potentially collect personal data.Allow video services for the duration of the visitAllow video servicesStop allowing video services
Ammunition at the IWA OutdoorClassics 2022

At Swedish ammunition manufacturer Norma, all new products for hunting as well as match and training have something to do with long ranges. In addition, there are two completely new developments in the areas of rimfire ammo and air rifle pellets. On the dedicated IWA page you will find a complete overview and exclusive videos from the manufacturer on the new products.

Accessories at the IWA OutdoorClassics 2022
Laser Ammo Smokeless Range, to hone your gun skills even at home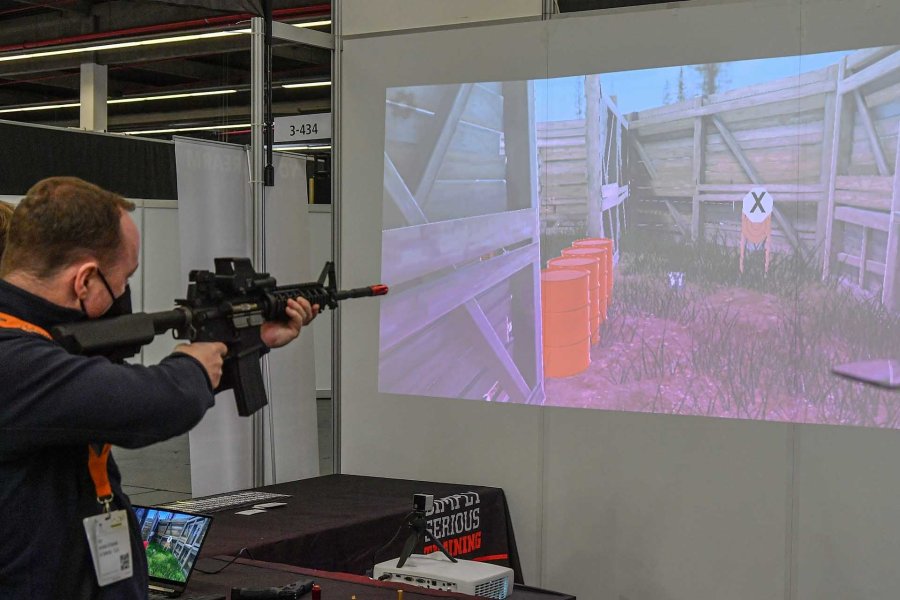 No smoke, no bangs – but useful training and quite a bit of fun: at IWA 2022 Laser Ammo showed the Smokeless Range, a full laser-based marksmanship and judgmental simulator for home, office or department use. The manufacturer claims it is "the best training tool to train for Use of Force, concealed carry, personal protection and police qualification," and "an amazing tool for competitive shooters to train for IPSC, Fast Draw and more."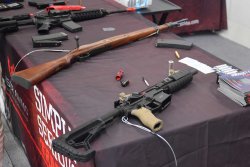 Franco Palamaro, © F.PALAMARO
Now in its enhanced 2.0 iteration, the Smokeless Range includes a high-speed camera, tripod and the license to the software. It can be used in conjunction with your own firearm – fitted with a SureStrike laser cartridge – or a recoil enabled training solution to practice. To dry-fire train, you just have to add a laptop computer, a projector and screen, or even a TV. Marksmanship drills include Transitional Drills, Tracking Drills, Speed Drills, Moving Targets and Matching drills, while recreational training drills include: Dueling Tree, Trap Shooting, Target Shooting, Can Toss and Bomb Blast.
With he Smokeless Range you can practice Fast Draw, IPSIC, IPDA, home defense or hunting skills with your favorite pistol, shotgun or rifle using the red or infrared SureStrike or any Laser Ammo recoil enabled training solutions – there is a fairly wide range of laser guns and recoil enabled training handguns/rifles to choose from in Laser Ammo's catalog. For airsoft pistols, you are required to use an infrared SureStrike Vibration Cartridge.
Prices for the Smokeless Range start from 787 euro (Smokeless Range 2.0 – Home Simulator), with further packages available for more complex training needs.
Recknagel: ERA SOB 2S and SOB 3D silencers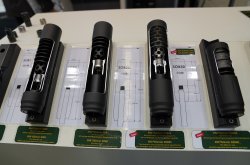 Recknagel introduces two new ERA silencers: the ERA SOB 2S, a "hybrid" silencer, features a core and baffle section made of highly tempered stainless steel. It is described by the manufacturer as "the resilient one". This makes it suitable for use in the shooting cinema as well as for magnum calibers. Its shell is made of high-strength aluminum with reinforced walls, coated to MIL-Spec. The average attenuation performance – determined by DEVA (German Research Center for Hunting and Sporting Arms) – is up to 31 dB. The ERA-Loc threaded bushing is interchangeable, with an optional quick-release ERA-Loc quick-release. A step-like geometry ensures less wear on the sealing rings. Including the threaded bushing, the SOB 2S damper weighs around 520 grams with a net length of 105 millimeters. 
The SOB 3D is extremely short and light. Recknagel itself calls it "the efficient one". It achieves its outstanding damping performance of 31 dB despite its extremely short design thanks to an integrated stainless steel mesh. The SOB 3S has no "first-round-pop". This is particularly important for hunting. It weighs only 326 grams and is available exclusively in .30 and 8mm caliber groups. The silencer can also handle magnum calibers from 58 centimeters barrel length. Like the SOB 2S silencer, the threaded bushing is interchangeable and it features the Step geometry.