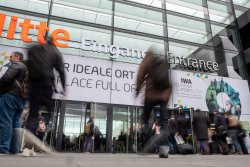 Thomas Geiger, © NuernbergMesse / Thomas Geiger
No sooner has the SHOT Show in Las Vegas closed its doors after an obviously very successful week (click here for reports at all4shooters.com) than all the activities of manufacturers, dealers, journalists and, of course, visitors are directed toward the upcoming IWA 2022 on the first weekend in March. The IWA OutdoorClassics (international trade fair for hunting, shooting sports, equipment for outdoor activities and security) and the Enforce Tac 2022 (trade fair for law enforcement) scheduled in advance from March 1-2 are – like all current events – also subject to the familiar Corona-related restrictions. Nevertheless, the planners of NürnbergMesse are confident. The Bavarian Minister-President also announced further relaxations of the Corona rules with immediate effect. This applies to cinemas and soccer stadiums and thus also to both upcoming fairs. So, a clear statement from NürnbergMesse: IWA and Enforce Tac (March 1-2,.2022) will take place!

These are the admission requirements for EnforceTac and IWA OutdoorClassics 2022

The ticket store is already open, as well as the accreditation for trade journalists (please note: here are the underlying accreditation guidelines).

Important info: as sorry as we are, for all other interested parties the IWA gates will remain closed. IWA OutdoorClassics and the associated EnforceTac are exclusively reserved for trade visitors. Children and young people under the age of 18 are not admitted to the trade fairs. After all, this is the only way to guarantee the event's competence as a leading international trade fair, the quality of the products and your successful visit to the trade fair. Here are the prerequisites what you must show (even with a ticket!) at the entrance – otherwise you may make the trip to Nürnberg in vain. And to make one thing clear: only those who are fully vaccinated (or have proven convalescent status) can come to IWA as visitors.

---
This is how NürnbergMesse protects visitors and exhibitors at IWA

The IWA hygiene concept (read here) goes far beyond wider aisles between the exhibition stands, which have also been redistributed; it has also been coordinated with the relevant authorities and has already been applied at other exhibitions. Thus, the 2G+ rule (vaccinated or recovered and additionally tested or boostered) will apply to IWA visitors (as of January 25, 2022), 3G (vaccinated, recovered or tested) will apply to exhibitors, booth personnel, booth builders, service providers, speakers and accredited media representatives, and FFP2 masks will also be mandatory in all halls for all IWA participants. Since proof of up-to-date tests could be inconvenient, especially for foreign visitors, NürnbergMesse offers several testing stations both on the IWA site and in the vicinity of the exhibition. In any case, all visitors as well as exhibitors and their employees must be registered in advance, so spontaneous day visits are unfortunately not possible.

The targets for IWA 2022 from March 3 to 6 in Nuremberg:
Products & Trends: discover the innovations that are exciting the industry. Test and try out the exhibitors' extensive product range! IWA is and remains what it has always been: an order show.

Community & Networking: IWA OutdoorClassics 2022 is the event of the year. New formats and extensive opportunities for exchange make the community experience for trade visitors and industry so unique.
Impulse & Knowledge: The IWA stage in Hall 6 combines networking and knowledge transfer. Top-class experts provide new impulses and present cutting-edge topics. So that the trade can advise its customers well and competently.
Print & online media platform: Of course, the media play an important role. This means that fans and those interested in buying also receive all the information they need on trends and new products. As always, the international team from all4shooters.com will be on site to report for you. Up to date – with text, pictures and many videos.
---
Video: a greeting by Nuremberg Mayor Marcus König to all IWA visitors in 2022
This video has been hidden because of an external service (YouTube) that could potentially collect personal data.Allow video services for the duration of the visitAllow video servicesStop allowing video services
+++ What is all4shooters.com doing for IWA? +++ We will continue to keep you up to date here and on our social media channels, and together we will pave the way to IWA 2022 through targeted, clear communication. But now it's also up to all exhibitors to finalize their preparations, familiarize booth staff with current conditions and also clearly communicate with their dealers that they will be present at IWA 2022. What the entire market needs now is clear communication and clear commitments. From all sides! A remarkable fact: the current level of exhibitors is 1,000 companies. And even if there were cancellations in the run-up, IWA and EnforceTAC 2022 will take place and we are looking forward to it.