Even more than a week after the start of IWA 2022, the novelties are not yet exhausted. In this final article, we show you more highlights from IWA OutdoorClassics 2022. In addition to new handguns and long guns, we were also able to discover exciting ammunition innovations. But get yourself an overview of novelties from brands such as Israel Weapon Industries (IWI) or from ammo manufacturer Baschieri & Pellagri.

As usual, we will successively provide you with informative videos on the new products at the end of this article.

New handguns from IWA OutdoorClassics 2022
Israel Weapon Industries (IWI): Jericho II and Masada self-loading pistols

Israel Weapon Industries brought two new pistol models at once: the second iteration of the well-known Jericho and the Masada. Named after historical sites in Israel, the two guns differ mainly in their trigger system: the Jericho II is hammer fired, while the Masada is striker-fired pistol.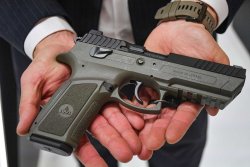 Franco Palamaro, © F.PALAMARO
The Jericho II differs from its predecessor, which is now forty years old, primarily in the grip material: unlike the popular classic, it is a pistol with a polymer grip frame. This now also offers replaceable backstraps, for example. IWI generally attaches great importance to ergonomics, and the new grip is correspondingly comfortable. It goes without saying that the controls can be used on both sides. However, in contrast to its predecessor, the slide has also gained some additional features: In addition to back serrations, there are now front serrations too – this makes it easier to load or check the loading status of the Jericho II. Finally, the trigger has also not been left as it was on the Jericho: in addition to a now more comfortable shape for the trigger blade, IWI has also been able to make it generally smoother and significantly shorten the reset. In addition to the full-size variant, Israel Weapon Industries also offers a compact version of the Jericho II.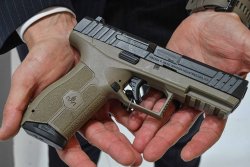 Franco Palamaro, © F.PALAMARO
The striker-fired Masada pistol also comes with a polymer grip frame. Again, interchangeable backstraps, ambidextrous operability and front and back slide serrations are standard. All variants of the Masada are also optics-ready. IWI offers base plates for just about every optic on the market. A loaded chamber indicator on the top provides additional safety. As an additional variant, the Masada is also offered with a threaded barrel for attaching silencers (Tactical Version).

Both pistols are available in various frame color options (besides black, FDE or Green for example).

Video: 
Israel Weapon Industries (IWI): Jericho II and Masada self-loading pistols
This video has been hidden because of an external service (YouTube) that could potentially collect personal data.Allow video services for the duration of the visitAllow video servicesStop allowing video services
Franco Palamaro, © F.PALAMARO
The Swiss company Phoenix manufactures sport shooting, defensive and professional use pistols with a very traditional design, inspired by the mechanical scheme of the CZ75 pistol (with internal slide guides) seen through the filter of a company that brings the quality of workmanship to the next level. Among the different models exhibited at IWA 2022, the Redback Gen2 available with steel frame and slide or with aluminum frame. Trigger is double action/single action – on request, the Redback Gen2 can have a single action trigger group. This compact pistol in 9x19 caliber is available with an optics-ready slide for the mounting of the mini-reflex sights or equipped with an adjustable rear sight from the Italian LPA. The front sight is fiber optics, easily replaceable with other types, while the magazine is a double-stack type. Grips, backstrap and the panels on the side of the frame are made of anodized aluminum in a striking orange shade. As is now customary, the slide cocking serrations are also present on the slide front. Inside the gun we find a recoil absorber that drastically reduces felt recoil, while the Match type barrel promises excellent accuracy. 
Franco Palamaro, © F.PALAMARO
The safety on the frame is ambidextrous while the magazine release button can be easily swapped. Based on the same platform, there is also a spectacular dynamic shooting model called the Raptor, designed for the Open division, where the level of customization is even more marked. The Raptor is equipped with an elaborate compensator, a single action trigger assembly, an aluminum magwell for easy magazine change and an oversized cocking handle inserted into the dovetail milling of the rear sight. 
The Phoenix Raptor has no iron sights but mounts a Trijicon SRO mini-reflex sight near the ejection port. Also used in this model is a super Match type barrel that promises accuracy worthy of a target shooting pistol. Retail prices are yet to be determined, but predictably will be somewhat steep.
New long guns from IWA OutdoorClassics 2022
Steyr Monobloc, the "one-piece" hunting rifle

The new Steyr Monobloc carbine owes its name to the fact that the barrel and the receiver the bolt slides in are machined from a single steel block. 
This gives the rifle an exceptional sturdiness and a perfect axiality between the tube where the bolt slides in and the chamber.
The barrel is hammer forged; then, and all metal parts are subjected to a DLC (Diamond Like Coating) treatment that protects against scratches, atmospheric agents and corrosion, while ensuring excellent smoothness of moving parts.
The rifle is completely modular: it is possible to change the bolt head in order to switch from one caliber to another and to replace the bolt handle, which can have a round or flat knob. Even the trigger group, featuring a set trigger, can be removed to make cleaning and maintenance easier. 
In order to guarantee the maximum safety of the gun, the firing pin is cocked and decocked by acting on a comfortable slide control placed on the receiver tang, behind the bolt nut.
The Steyr Monobloc is available with a polymer stock in four different colors, which combined with the leather inserts in eight colors – also easily removable and interchangeable – offers an impressive palette. 
For lovers of more classic-looking guns, the Monobloc's stock is also available in grade 2, 4 or 6 walnut wood. 
The recoil pad can also be fitted with a number of shims that allow the length of the stock to be adjusted to the length of the user's arms. 
The recoil pad conceals a cavity in the stock that can be used to store small accessories or a spare battery for the optic or rangefinder. Inside the stock, the action uses aluminum bedding blocks.
Video: the innovative Steyr Monobloc hunting rifle
This video has been hidden because of an external service (YouTube) that could potentially collect personal data.Allow video services for the duration of the visitAllow video servicesStop allowing video services
Ammunition at the IWA OutdoorClassics 2022
Baschieri & Pellagri Next: new biodegradable cartridges for clay pigeon shooting
A complete range of cartridges for clay pigeon shooting that, from the felt wad to the fully biodegradable cup, are aimed at guaranteeing the best results in a sustainable way to passionate shooters and professionals: Next, Next Fiber, Sporting & Compact Fiber are the new biodegradable shooting cartridges by Baschieri & Pellagri.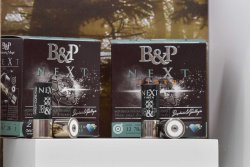 Franco Palamaro, © F.PALAMARO
The Green Core components developed by Baschieri & Pellagri in collaboration with the University of Bologna and capable of providing similar or superior performance than plastic materials, have led to the creation of 3 different cartridges that form the complete Next range. Eco-sustainable, but always competitive, these cartridges use the Gordon hull with its shock absorbing active base wad for recoil dampening, resulting in greater concentration and better results in the field. This is combined with lead shot with 5% antimony to ensure fast and tight patterns at medium and long ranges. Assembled with the Green Core components, the Next cartridges are available in three different loadings for the specific areas of use in the respective shooting disciplines.
We have the Next cartridge, a typical Trap cartridge with wad cup for medium and long range shooting with 28 grams of lead and shot available in # 8.5, 7 and 7,5. In addition to this, the Next Fiber can be an excellent solution in the first barrel, characterized by a felt wad and biodegradable couvette to optimize shots at medium ranges with a wider pattern distribution. The shot load remains the same, at 28 grams, and the available shot numbers are 7, 7,5 and 8.5. The third cartridge is more specific and designed for Compak and Sporting disciplines, also in this case with a 28 gram shot load, felt wad and biodegradable couvettes with # 7 and 7.5 pellets. The range of cartridges is currently available in 12 gauge, assembled with 70 mm cartridge cases and sold in packs of 25.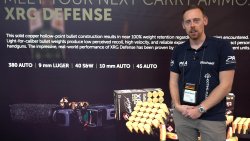 "Meet your next carry ammo": this is Sellier & Bellot's claim for their new XRG Defense cartridges. The XRG Defense (or (XRG-D for short) features a solid copper hollow-point bullet construction that, according to the manufacturer, results in near 100% weight retention regardless of the barriers encountered - it does not change its trajectory even after passing through a windshield. Moreover, the light-for-caliber bullet weights (100 grs for the 9mm) produce low perceived recoil, high velocity, and reliable expansion from today's compact personal defense handguns. Being all copper, the bullet is also lead-free, by the way.

The new cartridge was developed and tested by many law enforcement units and should be of great interest for civilians too – where HP bullet for self-defense and/or hunting are allowed by law, of course. XRG-D cartridges will reach the market in one or two months and will be available in the most popular handgun calibers:.380 Auto, 9mm Luger, .40 Smith & Wesson, 10 mm Auto and .45 ACP – it is worth noting that the "most popular calibers" here include the revived 10mm Auto.
Accessories at the IWA OutdoorClassics 2022
Umarex has completely renewed its offer of flashlights that now is developed essentially along three lines: everyday carry (EFC series), tactical use (TFC series) and headlamps (HLC). The German company has started over from the power supply and most flashlights now ship with 21700 rechargeable batteries or otherwise can employ them. The charging socket is now USB-C which allows for faster power transfer. Compatibility with 18650 rechargeable batteries and CR123 lithium batteries remains assured.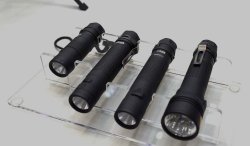 The EFC series consists of four models: EFC1 with 400 lumens output, powered by a CR123/16340 battery, EFC2 with 1000 lumens output, powered by a CR123/rechargeable 16340 battery, EFC2r with 1200 lumens output and powered by a CR123/rechargeable 21700 battery compatible with 18650 batteries, and EFC3 R with 3000 lumens output and powered by a 21700 battery. The model PFC1r featuring three LEDs and powered by three 21700 batteries reaches instead the power of 5000 lumens, which is remarkable for a flashlight only 149 mm long and weighing 680 grams.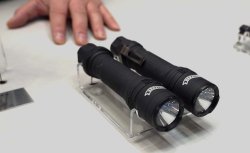 The professional model is declined in two versions: TFC1 and TFC1r. Dimensions and general characteristics are the same, with a 145 mm long aluminum housing, momentary and strobe light control and memory of the last lighting level set, but while the first has a power range of 5/50/300/1400 lumens that can rise to 1500 using a 21700 battery instead of a 18650 or a pair of CR123 batteries. The TFC1r version offers the user a power range of 5/50/300/1500 lumens and allows access to the strobe mode directly from the off condition. Both flashlights are supplied with two remote switches to allow them to be mounted on rifles and carbines of different lengths.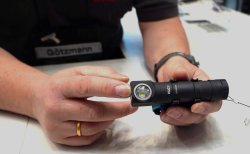 Interesting innovations also in the design of the HLC series headlamps: the white light with the main LED is controlled by a button at the base of the housing, while a secondary red light LED, activated with a separate switch, acts as a signal light. The cylindrical aluminum housing can be released in a blink from the headband attachment to be able to use the flashlight as any hand-held flashlight. Alternatively, you can replace the headband with a MOLLE system clip, again in the blink of an eye. The HLC1r white light output can be selected between 5/40/150 and 500 lumens and is powered by rechargeable 18350, 16340 or CR123 batteries, while the HLC2r, which can provide 5/40/150/500 and 1000 lumens output, is powered by rechargeable 18650 or CR123 batteries. For those who desire something less extreme, there is also the HLi1r model with 1/35/170 lumen white beam, 25 lumen red light and emergency flashing. The built-in rechargeable battery provides up to 170 hours of battery life. In this case, the housing is made of polymer with IPX6 waterproof level and the weight is only 45 grams. Retail prices for the Umarex flashlights are to be determined.
Video: Umarex: personal and professional flashlights for all uses
This video has been hidden because of an external service (YouTube) that could potentially collect personal data.Allow video services for the duration of the visitAllow video servicesStop allowing video services
Optics at the IWA OutdoorClassics 2022
ATN Binox 4T with integrated laser range finder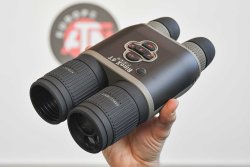 Franco Palamaro, © F.PALAMARO
A very well-known US manufacturer, ATN specializes in night vision and thermal imaging optical devices. The Binox 4T with integrated laser range finder is a very interesting offer, especially considering that the showcased version is entirely built in Europe and therefore free from the ITAR limitations that other U.S. based manufacturers must follow to be able to export.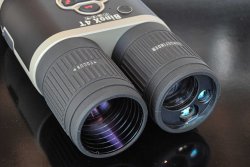 Franco Palamaro, © F.PALAMARO
Not strictly a new product as ATN introduced the Binox 4T Thermal Imaging at Shot in 2021, but a new product for IWA in this configuration and manufacture; as a matter of fact, the European build of this quite popular optronic device allows it to be full-featured, avoiding the strict, performance limiting, ITAR rules for U.S. export, with a 60 Hz 4th Gen sensor with a resolution of 384x288 pixels and a choice of three objective lenses with a native magnification of 1.25x, x2 and 4x which can be respectively digitally zoomed up to 5x, 8x and 18x. The integrated laser range finder allows measuring distances up to 1,000 m, and the information is complemented with a series of environment and position sensors, such as compass, E-Barometer, 3D Gyroscope.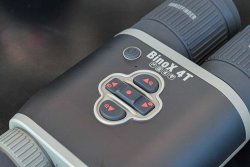 Franco Palamaro, © F.PALAMARO
This info can be both visualized in the HD resolution microdisplay and also delivered via WIFI/Bluetooth connection to the proprietary iOS and Android Obsidian app, or directly through the BIX (Ballistic Information Exchange) compatible ATN devices, such as a riflescope. Other features include A/V recording, dual live streaming to other smart devices (using the dual core CPU in the device), up to 16 hours of continuous use, and 3m-infinity focus range. The MRSP is also attractive starting at just below 3,000 euro.