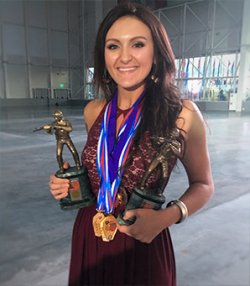 Representing the United States, Lena Miculek (Team SIG) recently earned multiple top finishes during the first ever International Practical Shooting Confederation Rifle World Shoot. 
Held at Moscow's Patriot Park in Kubinka, the Rifle World Shoot consisted of 591 competitors from 40 nations who competed in 30 stages over the course of a week. It is the highest-level rifle match within IPSC.

In addition to the team victory, Miculek battled through illness to claim multiple individual titles, including the Ladies Open shootoff and 1st place in the Ladies Open division. 

Using a SIG M400 Predator and SIG Elite Performance ammo, she also reached her goal of placing in the top 20 overall in the world, beating out many of the world's finest competitors, including her father, shooting legend Jerry Miculek. After a week of competition, the Louisiana native returned home with a pair of 1st place trophies and five gold medals.