A nice success for the CZ Team at the 9th CZ Extreme Euro Open, world's largest IPSC Level III shooting event that took place between 18th and 24th June at the shooting range in Hodonice near Znojmo, in Moravia. The factory team of Ceská zbrojovka Uherský Brod did best achieving gold in the large Production division, where after years of the CZ 75 SP-01 Shadow reign, this division has begun to be dominated by the new CZ Shadow 2 pistol.
With a total of 1,129 shooters from more than forty countries all over the world and with 30 challenging events requiring a minimum of 650 rounds from each shooter, 9th  CZ Extreme Euro Open has proved to be quite a popular event, notwithstaning very high temperatures well above 30 on the Celsius scale.

A faultless performance for gold winner
In the main event, Ljubiša Momcilovic achieved gold with his faultless performance. Ljubiša did not have a single miss. In the overall score he won over Eduardo de Cobos from Spain thanks to more accurate shooting: he had achieved 492 alfas (hits in the highest point zone) in comparison with de Cobos's 450.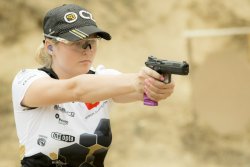 Robin Šebo also excelled with his CZ Shadow 2 pistol. In the main event his shooting composure was unsettled by two misses at the first stage which meant he was unable to catch up on his opponents' excellent shooting, achieving a somewhat unusual fourth place. However, he made up for it in the well anticipated Super Six duel finale, where he defeated a fellow shooter from the CZ Shooting team, Ljubiša Momcilovic.
There was yet another great result of the CZ Shadow 2 pistol: in the Lady Production Division, the Russian Maria Gushchina, shooting in CZ colours ranked sixth in the overall score from 315 shooters. And in the Super Six final match, Maria confirmed that she currently has no equal opponent.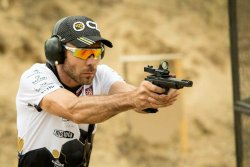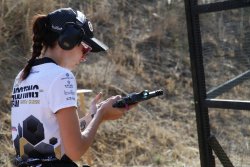 The CZ factory team shooters also shone in the Standard division where 215 shooters took part. With his CZ 75 Tactical Sports Orange pistol, Zdenek Liehne achieved a great second place after the 7-time European champion Eric Graufel, followed by his teammate, Petr Znamenácek in the third place.
A similar situation could be observed in the Open Division with 157 shooters. Miroslav Havlícek, a member of the CZ Shooting Team got bronze after Jorge Ballesteros from Spain and in second Martin Kamenícek from the Czech Republic.
In the Open Lady division, Martina Šerá got silver. She was only 30 points (1.19%) behind the winner, Lenka Horejší from the Czech Republic.

PRODUCTION Division
Ljubiša Momcilovic, CZ Shooting Team      100 %

Eduardo de Cobos, ESP                                  95,96 %
Pavel Torgashov, RUS                                     94,22 %
Robin Šebo, CZ Shooting Team                    94,20 %
PRODUCTION Lady Division
Maria Gushchina, CZ Shooting Team

PRODUCTION Senior Division
Lars Hangemann, CZ Shooting Team

STANDARD Division
Eric Grauffel, FRA                                             100 %

Zdenek Liehne, CZ Shooting Team                86,74 %
Petr Znamenácek, CZ Shooting Team            84,38 %
OPEN Division
Jorge Ballesteros, ESP                                      100 %

Martin Kamenícek, CZE                                     95,98 %
Miroslav Havlícek, CZ Shooting Team            94,33 %
OPEN Lady Division
Lenka Horejší, CZE
Martina Šerá, CZ Shooting Team
OPEN Division
Simo Partanen, FIN

Miroslav Havlícek, CZ Shooting Team, CZE
Petr Pijácek, CZ Shooting Team, CZE
OPEN Lady Division
Celina Pawlik, POL

Marika Koskinen, FIN
Martina Šerá, CZ Shooting Team, CZE
PRODUCTION Division
Robin Šebo, CZ Shooting Team, CZE

Ljubiša Momcilovic, CZ Shooting Team, SER
Miroslav Zapletal, CZE

PRODUCTION Lady Division
Maria Gushchina, CZ Shooting Team, RUS

Violetta Boehm, ITA
Jelena Savkovic, SER
STANDARD Division
Zdenek Liehne, CZ Shooting Team, CZE

Sebastian Nilsson, SWE
Daniele Antoniotti, ITA