For the 51st time the best sportsmen from the Old World gathered in Piancardato, the most picturesque corner of the hospitable Italian region of Umbria, to compete for the medals of the continental championship. 
As usual, the number of participants in the tournament exceeded five hundred. The athletes had to face a 4-day marathon. Among the participants there were living legends of shooting sports: "Universal Soldier" Richard Faulds from UK (Olympic Champion in 2000), George Digweed (world multi-champion) and Inna Alexandrova, the best of the best Russian women, who in the last few years gracefully marched from the catwalk to the podium.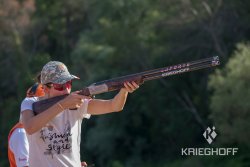 The terrain of  Umbria, and specifically in Piancardato, couldn't be better: a full variety of shooting scenarios.
The event organizers did everything to ensure that all the participants returned home full of enthusiasm and positive emotions.
This time, as well as during the recently concluded Emir Cup 2018, athletes struggled with all natural forces: wind, rain and variable lighting.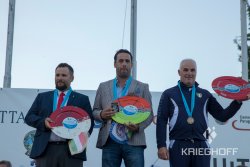 We will begin summarizing the event with congratulations to the Frenchman Charles Bardou who became European Champion with a result of 191/200. Silver medal for his fellow countryman Bastien Havart (190/200) and bronze for the Italian Giuseppe Calò (189/200). In the team competition Italy had no rivals. Silver for the French team and bronze for the British one.
In the ladies category, the Russian Alexandrova won another title becoming the 2018 Women's European Champion with a result of 177/200, followed by the Spaniard Beatriz Laparra Cuenca (177/200) and the Englishwoman Cheryl Hall (172/200).  
In the women's team classification, gold for the UK, silver for France, and bronze for Russia. 

Concluding our report from the 51st European Championship, we noted the traditionally high level of attention from the main shotguns manufacturers. Perazzi, Beretta, Rizzini sent representatives and service buses to Piancardato. All participants were able to service their weapons during the championship with the best Italian gunsmiths.