Developed and manufactured in France by Redcore S.A.S., distributed exclusively by ISDE and first showcased in November at the 2015 MILIPOL expo in Paris, the FLEM ammunition is an innovative solution that all professional (MIL/LE) needs for a less-lethal round conceived for modern defensive, tactical, riot control and protective neutralization of subjects with minimum bodily harm and risk of collateral injuries or damages.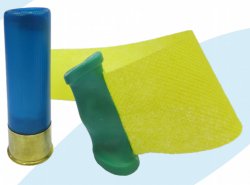 Reports of various law enforcement agencies show that spherical less-lethal ammunition, bean-bags or baton rounds can easily cause unwanted lethal effects or bodily harm to a subject; the consequences of the use of unsuitable less-lethal rounds can also be severe in terms  of negative public opinion, as well as under the political and financial point of view.
The innovative and patented design of the FLEM projectile has been conceived to minimize the risks of unwanted bodily harm or collateral damage; while it can still be dangerous, and even lethal, if fired at extremely close quarters, it has been specifically designed to offer no penetration, to prevent the risk of rebounds, to increase the interaction time between the projectile and the target upon impact and to absorb the energy overload.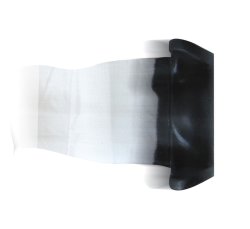 Loaded in a 12-gauge, 70mm (2.¾") shotshell − but 37/38mm and 40x46mm-SR variants are also in the works − the FLEM round consists in an elongated projectile manufactured out of a patented synthetic material and featuring a stabilizing fin that helps maintaining accuracy and stability while in-flight.
When fired, the FLEM projectile performs a 90-degrees rotation around its axis at a two-metres distance from the muzzle; it will thus provide a contact area larger than its overall diameter against the target; the rotation capability is ensured by its peculiar design.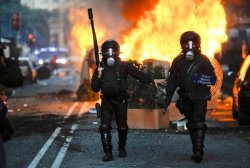 From the archives of all4shooters.com
Ad of today, all tests demonstated how the FLEM projectile outperforms rubber batons and bean-bags in terms knockdown capabilities, as its unusual shape provides less degradation in ballistic performance if compared with its most direct competitors. Depending from the variant and the weapon used, the FLEM's effective range goes between five and fifty metres overall.
Outside of the merely professional purposes, the FLEM round seems to have potential as an alternative for less-than-lethal personal, home and property protection, but as of today there is no indication on whether or not the FLEM ammunition will be made available to civilians.

This video has been hidden because of an external service (YouTube) that could potentially collect personal data.Allow video services for the duration of the visitAllow video servicesStop allowing video services