The US manufacturer Tipton offers a wide range of small and large tools for the maintenance of various firearms. Reason enough to get an impression of the brand. Therefore we decided to test two products from the range offered by the mail-order company STROBL.cz: the "Best Gun Vise" cleaning station for 147.73 euro and the "Rapid Deluxe Bore Guide Kit" for 37.27 euro.

When the equipment arrived from the importer STROBL.cz, the first thing to do was to set up the Best Gun Vise. This is done intuitively and does not really require the enclosed instructions. Only the correct position of the two different screw lengths has to be found out. The assembly was done in about ten minutes. Then we put the station in the right position for a bolt-action rifle and we could start cleaning the barrel.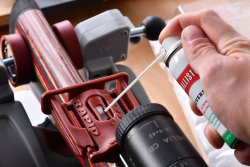 After the obligatory safety check of the rifle, we removed the bolt and chose the right chamber adapter among the four enclosed ones. Then the Bore Guide is inserted into the gun and locked into the bolt catch slot with the (length-adjustable) bolt handle. Now the trick is revealed: the rear part of the guide consists of two parts. Between them a patch can be inserted and exactly aligned into the guide. 
An opening in the upper part allows to soak the patch with different cleaning agents or lubricants. The cleaning rod keeps the patch exactly centered when pushing it through. This saves annoying waste of time with slipping patches. 
Our conclusion about Tipton Best Gun Vise and Rapid Bore Guide Kit from the STROBL.cz range:
The used bolt-action rifle was sitting bombproof in the station during the whole process. Due to the adjustment possibilities of the different elements, the user can easily change it for use with other firearms. The secure hold of a shotgun, an AR-15 type semi-automatic rifle and also a short carbine were no problem in the test. At the same time, the device made a secure impression throughout. On some elements, the plastic bent a little bit during fixing, but this did not harm the hold on the guns. The operation was intuitive. To sum up, with its cleaning station and the bore guide, Tipton offers an ingenious alternative to more familiar products.