A ballistic chronographer is an instrument conceived to measure the velocity of a bullet fired through a firearm, and is an essential tool for all sport shooters, whatever they shoot, from airguns up: hand-reloaders may find it useful, particularly for long-range shooting oriented loads, but it may also turn in handy for hunters who may want to check the performance of commercial ammunition.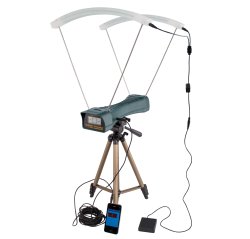 Battenfeld Technologies, Inc. - Caldwell Shooting Supplies
Leaving details aside, the knowledge of the muzzle velocity of a bullet allows the shooter to calculate its kinetic energy and trajectory; and there are many reasons why it may be paramount for a shooter to know such data.

As a mere example: a dynamic or practical sport shooter should always know whether or not his or her ammunition respects certain specifics; a hand reloader may confirm and refine the propellant doses according to the specs of his or her gun; a long-range shooter will be able to determine the ballistic drop factor according to his or her gun/ammunition combo more accurately; and so on.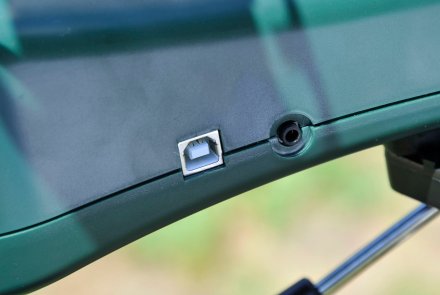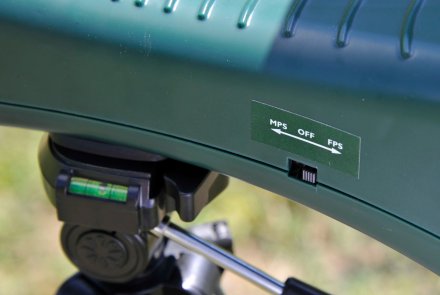 Most hobby-level ballistic chronographs essentially consist in a very accurate chronograph, an electronic circuitry set and two sensors placed at a very well determined and accurate distance between one another, which will detect the bullet's passage.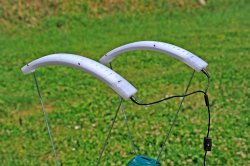 Most of those systems, nowadays, are based upon a variation of the Oheler Skyscreen layout: two optical sensors (photocells) will detect the shadow of the passing bullet on the screens installed above the device.
The first sensor starts the chronographer as the bullet passes over it, and the second sensor stops the chronographer likewise; the ballistic chronographer thus evaluates the velocity of the bullet according to the time it takes for the bullet itself to travel between the first and the second sensor.
Said velocity is measured either in feet per second (FPS) or in metres per second (MPS), and is generally displayed to the user through a very simple LCD display.
Caldwell Shooting Supplies − a Battenfeld Technologies Inc. brand − provided us with its Ballistic Precision chronographer in its Premium Kit cofiguration, which includes a plethora of optionals such as a set of power cables and infrared LED illuminators, an Android and Apple-compatible smartphone connection cable, a dedicated tripod, an external battery pack, an AC adaptor and a black nylon carry pouch.
The Caldwell Ballistic Precision Premium Kit

---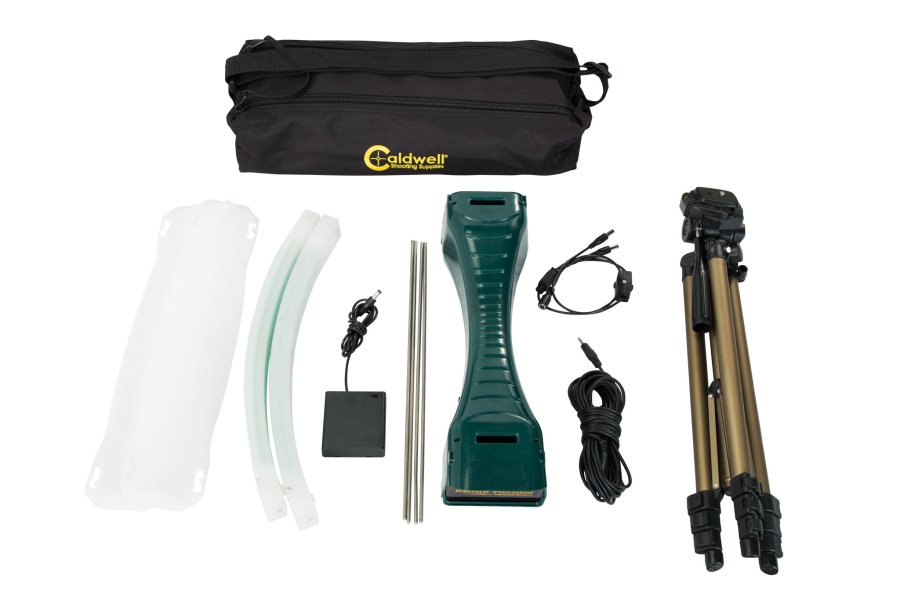 Battenfeld Technologies, Inc. - Caldwell Shooting Supplies
The Caldwell Ballistic Precision chronograph made a good impression: the green plastic frame may be very light and seem less than solid, but upon field-testing it proved to be more than sturdy enough, and very reliable. The sunscreens are held in place by metal rods, more or less standard in diameter, which can be easily replaced should the need arise; their joint-based design makes them very easy to install. The lower portion of the chassis features a threaded attachment point for the proprietary tripod or for a standard camera tripod; in the Premium Kit version, said attachment point comes already fitted with a polymer quick-detach interface.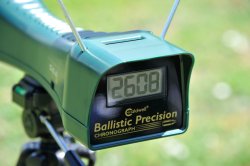 In our opinion, the factory-issued tripod is barely acceptable; most of times it will not provide the necessary stability level and in our tests it indeed caused the device to ripple despite being placed merely five feet away from the shooting stand. The problem is with its adjustable head, though, so there is no real danger that the chronograph may actually topple and fall.
The Caldwell Ballistic Precision chronograph should normally be placed five feet away from the muzzle, but in certain cases (such as when testing guns chambered for very high calibers, from .338 Lapua Magnum and above) it may be placed at a ten metres distance.
The position of the chronograph in relation to the shooter's position is a critical aspect when using one of those devices; the bullet must pass exactly over each one of the windows, and even the slightest positioning error will result in incorrect data.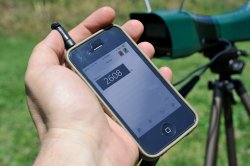 The four-digits LCD display isn't exactly very readable in certain conditions, such as − so to speak − when shooting from an indoors position towards targets placed outdoors; this and other similar display readability issues can however be solved by using the issued TRRS cable and a free-to-download application that can be installed on any iPhone variant or Android-based smartphone, allowing the use of said handheld devices to check the readings without leaving your shooting stand.
Another advantage of using a smartphone connected to the Caldwell Ballistic Precision chronograph and running the specific app is that it would allow the shooter to protect the device with ballistic plates, leaving only the sunscreens and their supports exposed.
The accuracy level of this cronograph appeared to be good enough; we tested it with high-quality RWS and GECO commercial rifle loads for which we already had solid data regarding all performance, including standard deviations.
Caldwell declares that each cronograph is factory calibrated, with a guaranteed accuracy of   +/- 0.25% thanks to an advanced 48 MHz processor.
The chronograph can be connected to a smartphone through a standard Audio minijack cable, which makes it compatible with basically any device out there − although the necessary application is currently available only for Apple iPhone and Android devices.
The app allows the shooter to perform several interesting tasks with the readings of the chronograph: instant check on detected velocity; insert notes (e.g., reloading datas); managing factors such as temperature, BP, average, standard deviation, maximum and minimum velocity levels detected; choosing between metres-per-second and feet-per-second readings; take note of the number of shots fired and the pattern spread; registering the data for each group and send them by E-Mail.