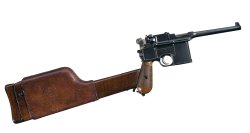 Adding a shoulder stock to a pistol is nothing new: long muzzleloading saddle guns often had provisions for adding a stock which turned them into a short musket, and guns like the Mauser C96 or the Luger "Artillery model" had holsters that turned into shoulder stocks while, in more recent times, some manufacturers sold a compact shoulder stock for the Glock. 
Accessories like the FAB Defense K-Pos, Hera Triarii or CAA Roni do much more than just adding a shoulder stock, though. They provide a forward grip for added stability, rails for mounting optical sights, tactical lights, allow the use of sound moderators where the law permits and provide holders for spare magazines.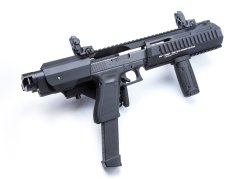 These devices have been mostly developed in Israel and adopted, under certification by state security departments, to equip private or semi-private security agencies.  
Since civilians can't own SMGs under israeli law, it has been said that carbine conversions are just a makeshift solution to bypass a legal problem, and their actual utility in countries where SMGs in semiauto version are legal is nil.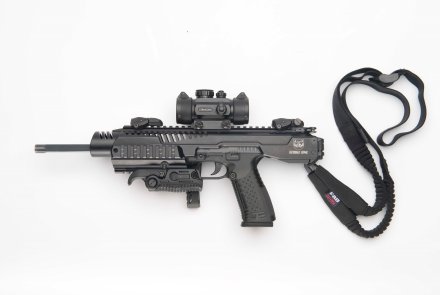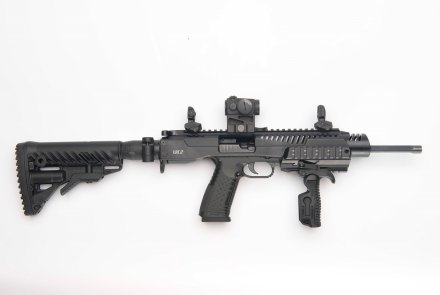 It is just not so. While a semiauto pistol-caliber carbine or semiauto version of an SMG has many advantages over a carbine conversion, there are also several advantages in choosing the latter over the former.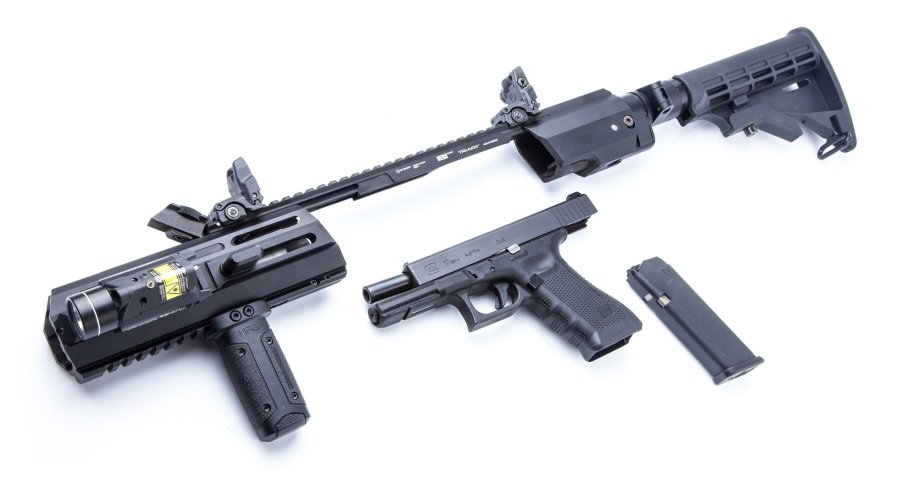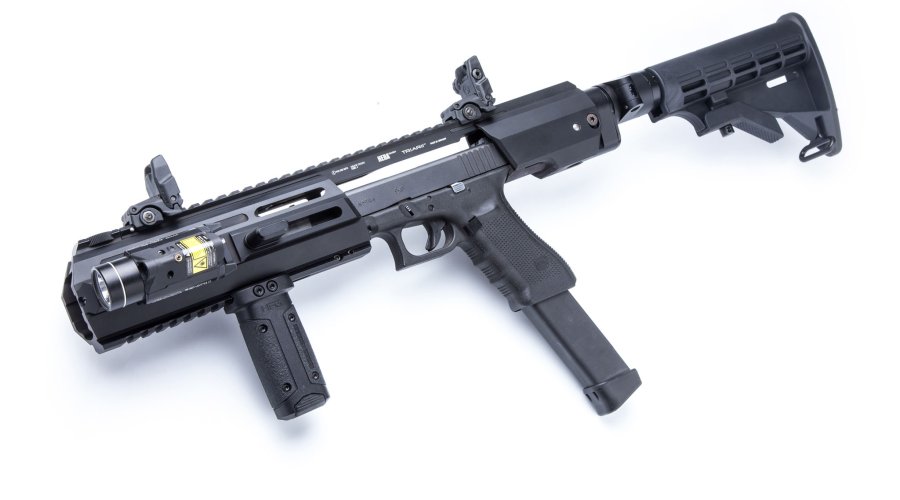 First, it doesn't count as a gun. Where legislation limits the number of guns a citizen can own, the conversion usually doesn't count against this number.  

Moreover, you can have both a carbine and a pistol at a fraction of what you'd pay for the semiauto version of an SMG.  
But there are also several operative advantages, which are more relevant than the legal ones.
First, although you still need training for long and short arms to use a conversion effectively, basic operation of the gun remains the same, greatly reducing training time.

Secondly, you still have the pistol, so you can train with the same gun both for pistol and carbine. Moreover, security personnel carrying a conversion and a secondary pistol for backup may use the same magazines in both weapons (for example using a Glock 17 in the conversion and a Glock 19 as a backup). 

Logistics is also simplified, as you basically use the same kind of gun, instead of completely different weapons. 
Conversions usually are also far more compact than pistol caliber carbines: a K-Pos with folded stock and forward grip is about the same size as a Mini-Uzi, but is lighter, and you can't easily mount an optical sight on a Mini-Uzi as on a K-Pos or Roni.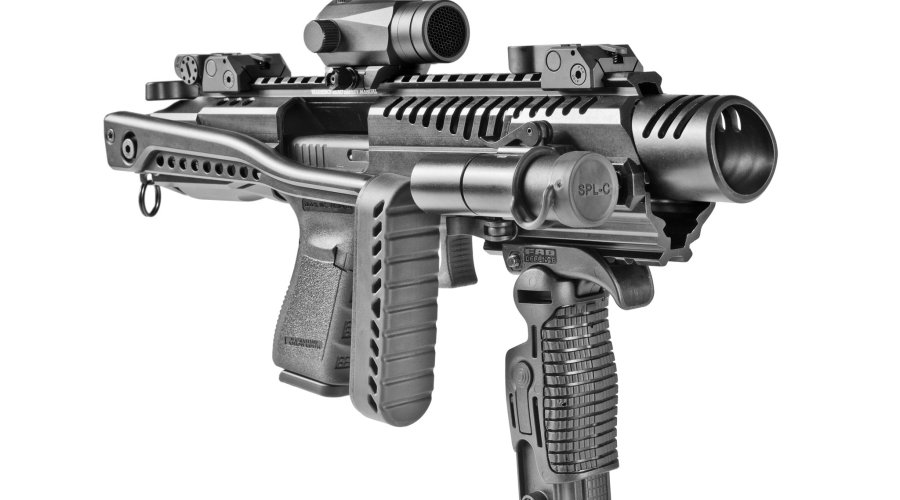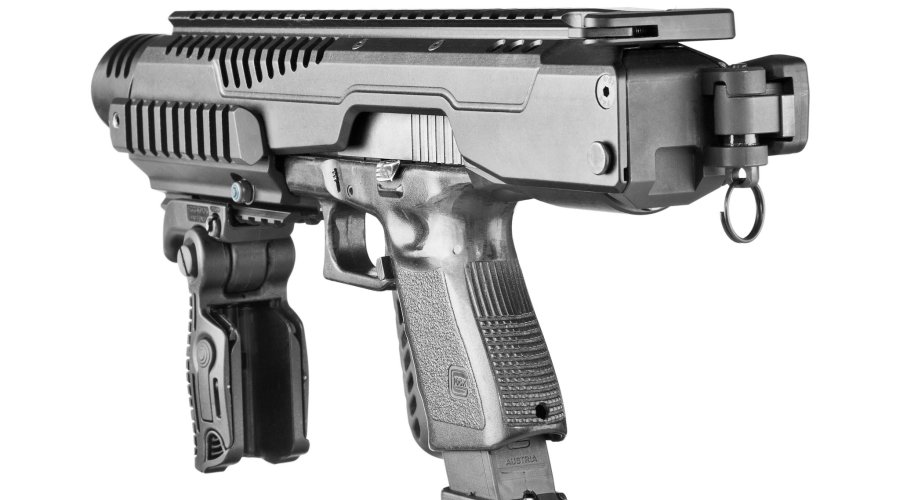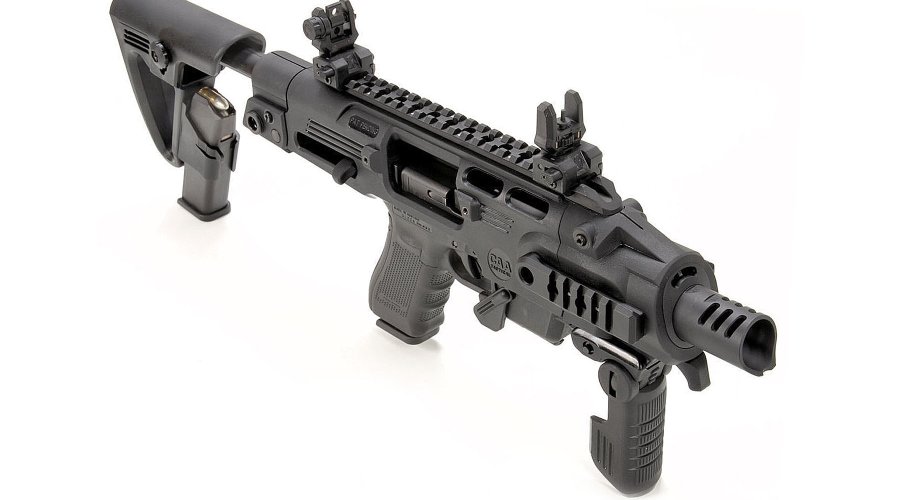 Considering that the use of full auto fire is dwindling, even where full auto weapons are allowed, due to rising concern for the safety of innocent bystanders and the increased emphasis on effective, aimed fire rather than suppression (which is still possible anyway, using large capacity magazines), conversion have an increasing appeal. 

So, while showing some limitations compared with semiauto versions of SMGs, the conversion has many advantages that make it desirable,  both for the civilian looking for some added fun at the range and the secuirty operator needing a way to improve accuracy, speed and ease of target acquisition in an efficient way which is also more unobtrusive than a pistol caliber carbine.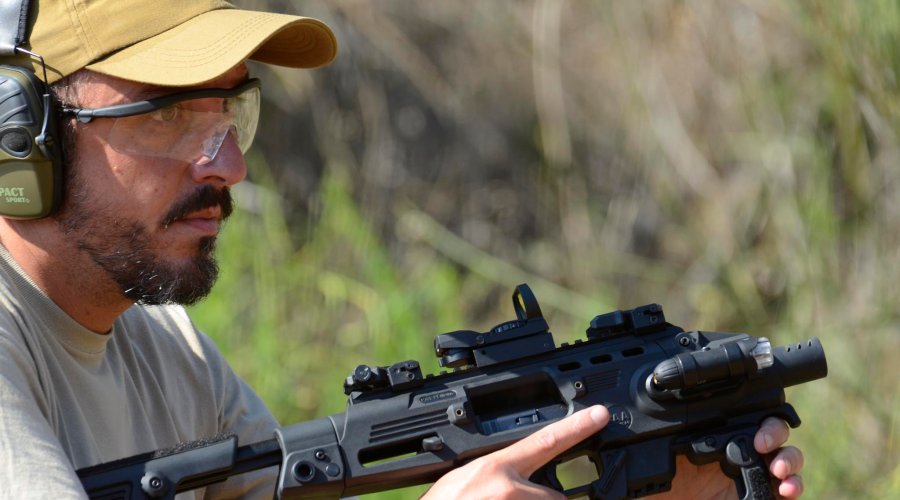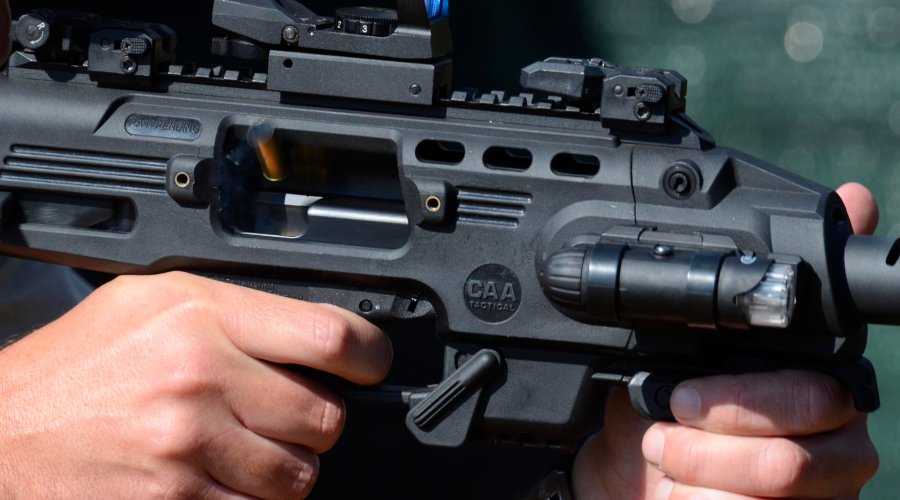 Obviously one shouldn't have unrealistic expectations: the gun that does the actual shooting is still a pistol, with consequent ballistic limitations, both in terms of power and accuracy. Again on the plus side, recoil will be very, very mild and easy to control, as will be the shaking, since the gun is of a locked breech design and therefore the reciprocating mass will be far lighter.