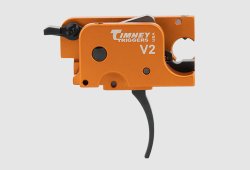 We already presented the CZ 9mm Scorpion EVO 3 S1 pistol caliber carbine in detail at all4shooters.com. Timney Triggers is now launching the Scorpion Gen2, a new drop-in trigger for this modern PCC (Pistol Caliber Carbine). Owners of a CZ Scorpion have endless modification options: stocks, grips, handguards, safeties, magazine releases and more have been designed for this gun.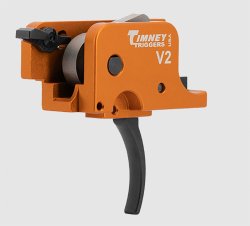 Now, with the Timney Scorpion Gen2, there is also an aftermarket trigger to choose from. The trigger's hammer, trigger shoe and disconnect have been precision-machined and heat treated to 56 HR. The trigger pull weight is easily adjustable from 3 - 3.5 lbs (1,360 to 1,587 grams) or 5 - 5.5 lbs (2,267 to 2,494 grams). The new Timney Scorpion Gen2 will initially be offered with a curved trigger shoe and is compatible with all CZ Scorpion models including the recently introduced – and primarily targeted for the U.S. market – Scorpion 3+ Micro. 
The trigger features a black oxide finish and NP-3 plated hammer. This provides maximum lubricity properties and thus also ensures the longevity that is touted on the part of Timney. The necessary quality is also reflected in the final step of the manufacturing process, where each trigger is hand-assembled, tested and calibrated for the specific gun model before leaving the factory.
---
Price and source for the Timney Triggers "Scorpion Gen2"
Ferkinghoff International is the official service point Europe for Tinmey triggers from the USA. In a strengthened partnership with Ferkinghoff, Timney is expanding its presence in Europe. Availability of products, good advice and after-sales service – these are the main advantages for all customers. The Timney Triggers Scorpion Gen2 (or V2) is available immediately from Ferkinghoff.
You can get this trigger now for 329,90 euro at the Ferkinghoff International website.