The Caldwell Lead Sled DFT 2: zeroing in long guns perfectly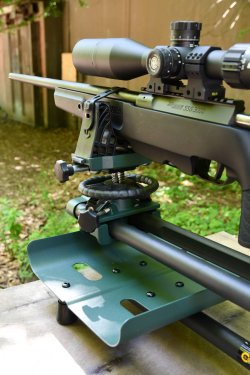 DFT stands for "Dual Frame Technology" at Caldwell and this eponymous detail was already noticeable when unpacking: it features a double frame. On this, the mount for the fore-end/handguard can be moved steplessly after loosening two latches. The mount itself is adjustable in elevation operating a wheel, laterally it can be adjusted by rotating a knob and shooting height position can be adjusted moving a foot at the rear end of the DFT 2. Fore-end or handguard is placed in a thick rubber rest with a kind of honeycomb structure and can be secured with a rubber strap. The buttstock is inserted in a sturdy L-shaped rest featuring a thick, soft rubber cap. This is designed to minimize felt recoil of the clamped shotgun or rifle.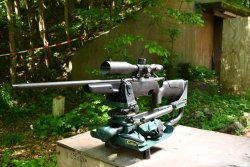 Also helping to reduce recoil is the possibility to weight the Caldwell Lead Sled DFT 2 with lead shot. Suitable weight bags are also available from STROBL.cz: they cost 8.89 euros and can be filled with 7lb/3.2 kg of sand or 25 lb/11.3 kg of lead. The Lead Sled DFT 2 can be loaded with a maximum of 99 lb/45 kg of additional weights. Nothing should actually move any more. The Shooting Rest itself brings another 11 kg on the scale. Assembled, the Caldwell Lead Sled DFT 2 is just under 30"/76 cm long and 12"/30.5 cm wide. 

At STROBL.cz, the Caldwell Lead Sled DFT 2 is currently available for 298.62 euros. For this price you get a massive and very stable shooting rest, which is adjustable in many ways. In addition to the English-language manual, the necessary tools for assembly (done in 5 minutes) are included. 
The Caldwell Lead Sled FCX: a shooting rest with 95% felt recoil reduction when firing rifles and shotguns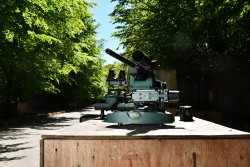 Caldwell promises a felt recoil reduction of 95% with the Lead Sled FCX. According to Caldwell, this is supposed to work by efficiently transferring the recoil energy into the frame of the rest. The high dead weight of just under 22 lb/10 kg also contributes to this. The weight of this shooting rest can also be increased with a filled weight bag. The matching bag is included and it fits exactly into the tray under the front rest and can be easily filled with sand or lead shot through a kind of hose.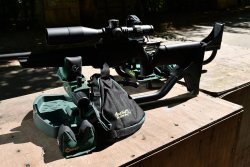 The Lead Sled FCX can be easily adjusted in length thanks to an adjustable tube between the front base and the rear frame part – by the way, it can also be conveniently disassembled into 2 parts for transport. Elevation adjustment is made via a rotary knob and is up to 10 cm. So that nothing slips, you can lock the height with another rotary knob. The fore-end/handguard is held in a front bag rest fixed by 4 screws. For wider guns, a second sandbag rest is included – our relatively wide photo gun, a SIG Sauer SSG 3000 Patrol fit wonderfully.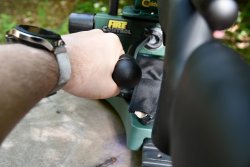 Now we come to the highlight of the FCX Shooting Rest from Caldwell that we tried out: the small control arm for fine adjustment of the front rest. Sitting or lying behind the gun, the FCX system allows you to smoothly adjust the front rest 360° and aim without making any major adjustments to the Lead Sled.

Like the Caldwell Lead Sled DFT 2, the Lead Sled FCX is built to a high standard. Add to that the extremely convenient fine adjustment via the Fire Control Xtreme, the good features, and the easier assembly/disassembly, and this shooting rest is a bit more expensive. You can get the Caldwell Lead Sled FCX at STROBL.CZ for 549,54 euro . A good price, for what it offers.
We have tried out the STROBL.cz shooting rests live on site and can say from our own experience: respect. These are well-made products that make sense for any reloader, because after all, you want to try out your self-loaded ammo together with your gun and get reliable results for accuracy. Both systems are also very well suited for shooting with long guns. Especially when retrofitting a silencer, you can check the change in hit point position without having to take the gun to the gunsmith every time. This is exactly what these Caldwell Shooting Rests are made for – and at STROBL.cz you have a good and reliable source where you can order them online at a reasonable price. 

---
You can learn more about Caldwell products and available accessories at the STROBL.cz online store.

And if you are wondering what are the advantages of ordering in the Czech Republic and what is the STROBL.cz online store, just read our company presentation