Article also available in other languages
Who hasn't thought, while hunting, shooting at the range, during a competition or just practicing a sport: "if only I could record what I see now…", in order to show our experience to our friends, cherish the memory of a unique experience (a safari in Africa, an important result in a match...) or simply to review and correct their own errors in any sporting activity?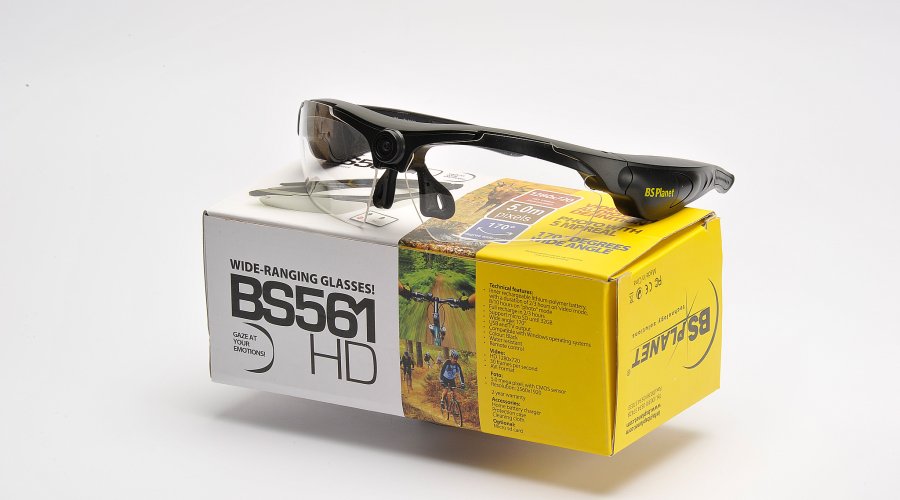 Go-Pro cameras, or in general any Action Camera - camcorders meant to record videos of what we just described and much, much more - however, do have the problem that, to be used as a personal point of view camcorder, require an awkward helmet or head harness. Which can also move, shifting the FOV, or, in our case of shooters or hunters, interfere with hearing and sight protection. On the other hand, of course, these dedicated action cameras do undoubtedly feature high quality, but also have a retail price that in some cases may be substantial.

BS Planet offers an interesting and clever product, which combines the function of Action Camera with video and audio recording on a Micro SD card with eye protection goggles: the BS Planet HD BS561.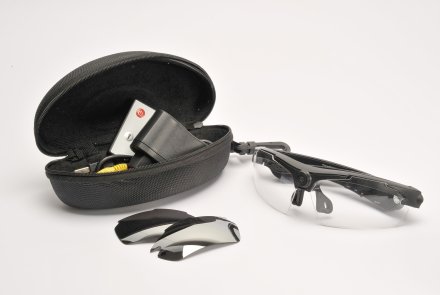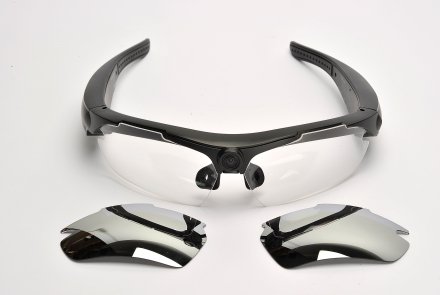 The objective lens of the camera is placed on the bridge, in the center of the goggles frame, in order to record right from the eye perspective of the user. There is virtually no collimation error in the video footage compared to what we see during the shooting, so we can even record the actual "sight picture" with the iron sights of the gun we are shooting; of course, this will not work with optical sights and riflescopes.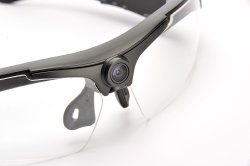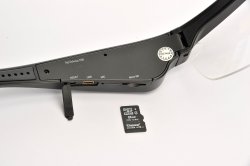 Now, to a more technical description of this interesting device.
Let's start from the goggles part: the BS Planet HD BS561looks superficially as a typical, albeit featuring a much more bulkier than usual frame, shooting eye protection, featuring a pretty standard lens replacement system requiring no tools, with polycarbonate lenses that are UV filtered and impact resistant.
Two sets of lenses are included, clear and mirrored shades for use under of bright sunlight conditions.
The "camcorder" part uses a focus-free, 5 megapixel sealed CMOS sensor camera that can shoot 1280 x720 pixels HD video at 30 frames per second in AVI format, and still pictures in JPG format.
Recording is done on a Micro SD card, which is not included, and the electronics supports Micro SD cards up to a capacity of 32 GB.
The integrated video lens features a 170 degree field of view in front of the user, which corresponds to a 15.4 mm super wide angle lens in a traditional 35 mm SLR camera.
The 350 mAH internal – and not user replaceable – lithium battery provides about two and a half hours of continuous video recording.
It takes about three hours to fully charge the internal battery. Considering that a 16 GB card holds about 3.5 hours of footage, while a 32 GB card holds more than 7 hours - far beyond the capacity of the internal battery, we suggest carrying a small USB portable battery charger, i.e for mobile phones, that will be invaluable to recharge the HD BS561 'in the field'. 
A small and convenient remote control (powered by a button lithium cell) is included to control still image and audio/video recording; the same remote can also be used to control playback of photos and videos stored in the Micro SD when the Action Cam Goggles are connected to a TV set.
The video quality is good, with a slight fish eye effect, and it also includes the audio track – which is barely acceptable, but considering how tiny the microphone capsule used is...
Finally, the BS Planet HD BS561 Action Cam Goggles are IP65 certified water-resistant: not submersible, but still able to sustain without damage medium and light rains and high levels of humidity, so typical of many hunting environments.
BS Planet distributes its products in most of the European countries. To check retail price and availability of the HD BS561 Action Cam Goggles in your area, please visit BS Planet international websites: