Real Avid is an American company that has achieved a leading position in the very crowded segment of firerms accessories, thanks to products characterized by good quality, reasonable prices and smart packaging.
Real Avid Accu Punch: features and price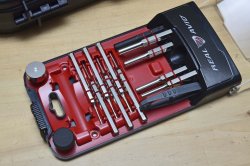 The "Accu Punch" kit is no exception. With a price of around 50 euro it lets you take home a box containing a hammer with interchangeable head faces, ten pin punches and a plastic pin alignment tool.
The hammer has a steel head and handle and offers the possibility of mounting four different interchangeable faces, depending on the job at hand and the material on which you're working on. The faces are in brass, steel, rubber and nylon. The handle is almost completely covered in polymer, with large areas of synthetic rubber that make the purchase very firm.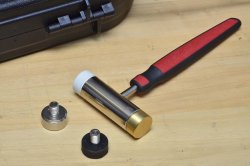 The package contains ten steel pin punches, equipped with rubber o-rings for added grip. The kit is complete with a plastic tweezer that allows you to position the pins correctly without having to use your fingers.
Everything is contained in a plastic case with a transparent lid. There is also a "Accu Punch" set version called AR-15, intended – as you can guess – for disassembling and maintaining the "Black rifle" par excellence.
This is a well-made kit and all in all inexpensive, which we advise to use in symbiosis with the "Smart bench block", a sort of small plastic anvil with holes that allow you to extract pins without risking to mark your gun.