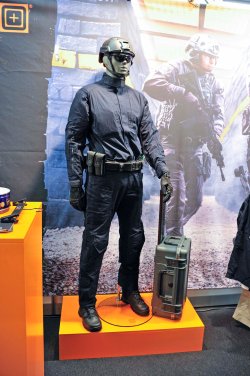 The U.S.-based 5.11 Inc. company – a global leader in tactical accessories and apparel – introduced its new uniform and professional/tactical clothing line to the European audiences at the IWA expo in Nuremberg.
The XPRT line includes ripstop combat pants and a combat shirt, both entirely manufactured in a new fabric dubbed NYCO Tactical – a specifically-conceived blend of cotton and cordura Nylon, jointly developed by 5.11 with the Cordura company. The NYCO Tactical blends the comfort and wearability of the cotton with the resistence of the cordura Nylon; it is a no-melt, no-drip blend, which offers considerably more resistance to abrasion than the Taclite ripstop fabric previously used by 5.11.
All the 5.11 XPRT line sports an outer Teflon finish to repeal grime and gunk; additionally, XPRT-line uniforms have been designed to be comfortable and allow the operator a full range of motion without restriction. Ergonomic pattern and sophisticated construction elevate the 5.11 Tactical XPRT uniforms to a whole new level.