5.11, Inc., based in Modesto (California), has been a worldwide leader on the tactical gear and clothing market since its inception in 2003. Its "5.11 Tactical Series" is upgraded yearly to comprise new products, gear and alternatives developed in collaboration with other firms or under input and feedback from the élite military, law enforcement and first responders professional community an the USA. The same goes in 2012, as the company is excited and proud to introduce a whole new tactical gear collection for the Spring/Summer season.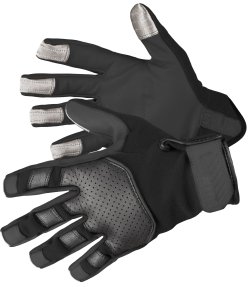 For all kinds of high-stake professional uses, ranging from tactical to industrial, the 5.11 Tactical Series now offers the series of ScreenOps gloves, comprising three variants. The "Patrol" and "Duty" models are entirely realized in goatskin, a very strong material which will however maintain hand and fingers sensitivity (Police officers, who must be able to perform pat-downs and still remain able to handle firearms or drive will mostly benefit from this feature), while the "Tactical" models also feature a perforated leather knuckles protection. The special feature that's common to all ScreenOps gloves is the patented Tactical Touch™ seamless fingertips, which will allow the user to operate capacitive touch-screens on tablets, iPhone and similar devices without having to remove them first. The ScreenOps gloves definitely offer extremely high levels of comfort, toughness and maneuverability, and can be considered between the top choices for tactical gloves on the market today.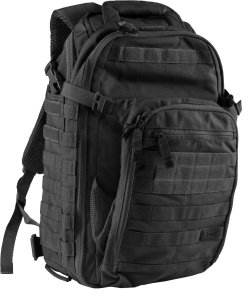 In the accessories and gear market, the 2012 offer from 5.11 Tactical Series definitely keeps an eye on all those professional operators and civilians alike who might need to transport heavy and important cargos on long distances while keeping them duly protected.
Under this point of view, the All Hazards Prime Backpack appears to be an excellent choice for nowadays' final user.
The All Hazards Prime Backpack has been developed in collaboration with the MACTAC ("Multiple-Assault Counter Terrorism Action Capability") instructors on the basis of their RUSH series of backpack. The All Hazards is made out of heavy duty fabric, is available in Black or Coyote Tan versions and features MOLLE interfaces all over its surface, side pockets, compression straps and a grab-and-go handle. Its external-to-internal dimensions ratio (11.5"W x 9"D x 20.5"H - 1968 cubic inches overall external dimensions Vs. 11.5"W x 7.5"D x 20.5"H - 1768 cubic inches main compartment dimensions) makes for most of its overall dimensions translating into payload space.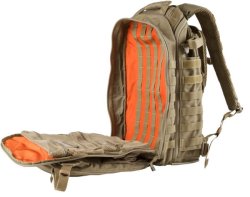 Aside from the interior main compartment with its web platform, the All Hazards Prime Backpack features two separate yet adequately protected pockets for tablet or laptop PCs and a further compartment that might either be fitted with a Camelbak-type hydration bladder or a tactical ballistic plate in order to provide additional protection to the operators' back. Furthermore, still under input from professional users, the All Hazards Prime Backpack has been outfitted with a series of tear-out pouches that will fit most of emergency medical kits available today to the military, law enforcement and first responders professional community, so to make them readily available.
Thanks to its design, 5.11 Tactical Series' new Ammo Mule bag results instead way more akin to an everyday use by both professionals and civilians, especially enthusiast shooters and competitors who will spend a lot of time at the range. The Ammo Mule is made out of the same high-strenght, black-coloured only fabric that composes the All Hazards Prime Backpack, and is primarily intended to transport ammo packs and loaded magazines, although it can be easily converted to contain other stuff (such as Laptops) and that offers a discreet compromise between dimensions and capacity with its internal compartment standing at 10.12"W x 3.88"D x 8"H (314 cubic inches). The Ammo Mule is completely compatible with the All Hazards Prime Backpack, as one of them can contain two Ammo Mules. The front organizer unzips a full 180 degrees for full access to internal mesh pouches. A fleece-lined and padded pocket provides protection for eyewear.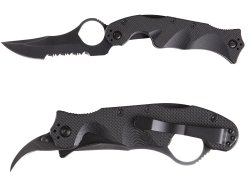 In the blades field, the 5.11 Tactical Series enhances its Double Duty series with two additional models both 9.7" total length, containing two locking blades made of AUS8 stainless steel with 3.7"combo edge main blades.
The Double Duty Karambit Blade features black, gripping-textured FRN scales and a reversible belt clip, plus a secondary small-dimensions Karambit blade in black oxide finish. This is a truly multipurpose tool with its single-edged serrated blade, almost a must for whoever might be searching for a purely professional tool.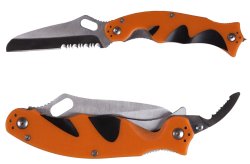 The Double Duty Responder has instead been conceived for daily carry and use by rescue operators such as firefighters, paramedics and first response teams.

The Double Duty Responder knife features orange FRN scales and rubber overmolding to prevent slipping in wet conditions and a single-edged satin finish blade with rear serrations, plus a secondary small wire-cutting blade that might make difference between life or death should the need arise to cut a seat belt in order to remove an unconscious traffic accident victim from a vehicle that might catch fire any minute.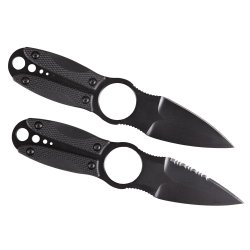 The SidePick Spearpoint Knife is an everyday carry/defense low-profile blade, built to be as light and portable as all such instruments shall be. Realized out of a single AUS8 stainless steel block, the SidePick Spearpoint Knife is barely 5.5 inches long overall and sports a 3.5 inches long, 4mm thick, single-edged, black-oxide blade that can either be had with or without wire-cutting serrations.
The SidePick Spearpoint knife is equipped with textured gripping, scratch-proof, black fibreglass-reinforced nylon (FRN) grip panels which will help handling and gripping such as the large hole under the blade will. The knife comes equipped with a Torx key for removal of the contoured and textured grips, and with a Paracord-style lace for boot or neck carry.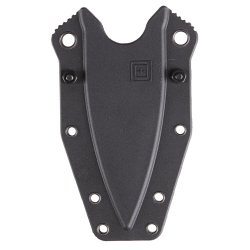 An almost essential optional for all SidePick Spearpoint Knife owners will be the UltraSheath™, the specifically designed SidePick sheath realized out of roto-molded plastic. The UltraSheath comes equipped with a reversible belt clip and is MOLLE-compatible, as well as adaptable with the lace given with the knife itself, for neck, ankle or boot carry. Extremely low-profile and lightweight, the Ultrasheath will provide a safe and invisible carry option for your SidePick Spearpoint knife, and features a 12 different angles option to be adjusted for a wide array of open or concealed carry options. The UltraSheath also provides safe retention of the blade, preventing loss or accidental self-inflicted wounds.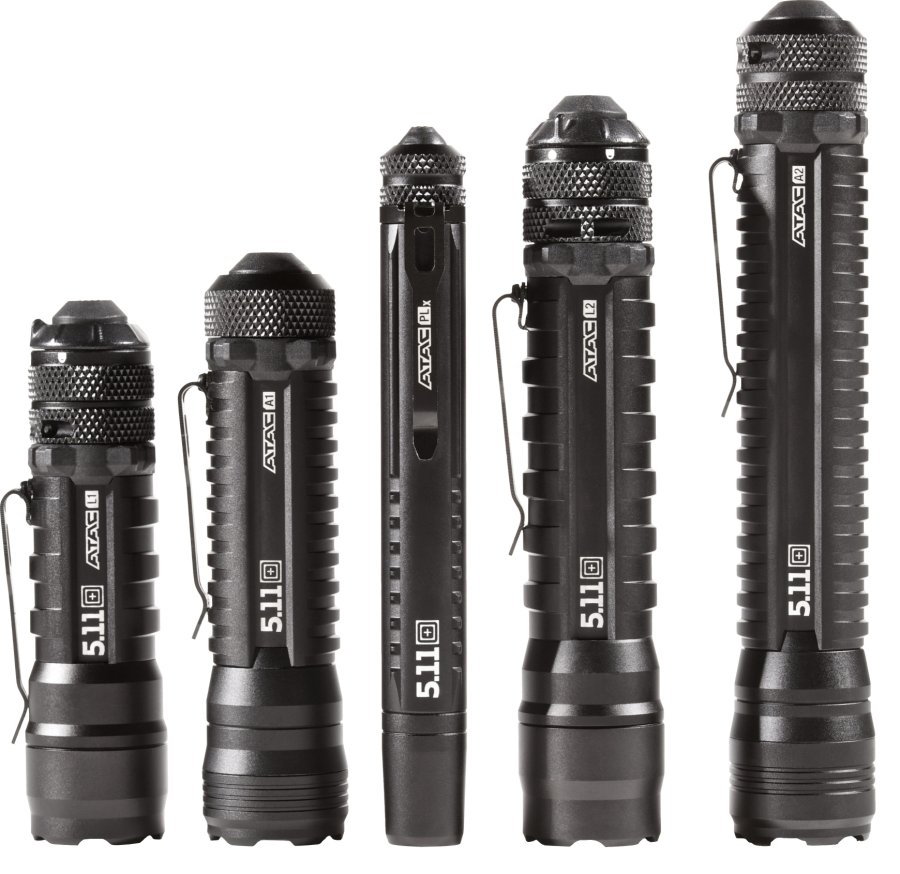 In the tactical flashlights field, the 5.11 Tactical Series will feature in 2012 a new line of pocket flashlights named ATAC, comprising five models, all made out of a machined aircraft-grade aluminium tube and equipped with a belt clip, a bottom on-off push-button that also acts as a light output regulator (allowing low emission, high emission and strobe), and a high-performance CREE XPG led. Performances vary according to the peculiar features of each model, yet all ATAC flashlights employ rechargeable Li-Ion batteries and offer an extremely intense and concentrated output that can reach up to 216 Lumen in the most powerful models, with a battery life that can reach as far as to 67 hours of continuous operation at the lowest emission settings.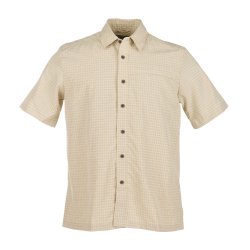 Yet, clothing has always been the main focus of the 5.11 Tactical Series, and one of its most successful lines is the Covert shirts series, specifically conceived for those who need to carry a concealed weapon even in "difficult" scenarios without having to worry that the gun might actually be spotted. 
By 2012, 5.11 Tactical Series' Covert Casual shirts line grows of an enriched series of models, now featuring short sleeves for hotter climates and for the Summer seasons. Its generous length and waist cut allows rapid draw from a belt holster, while users that carry their gun under the shirt itself will benefit from the RAPIDraw™ center placket with mock buttons that will keep the weapon concealed and impossible to spot through adherences or transparencies, yet keeping it ready and fast to draw when needed.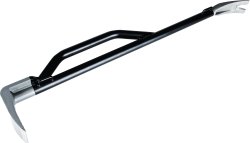 Last, the company has announced that in 2012 the 5.11 Tactical Series will also include a wide array of tactical breaching tools to provide forced entry through gates and doors (standard and reinforced) for military and law enforcement use, as well as car door openers for rescue and first responder units. The new, full-size, all-metal MultiBreacher, whose design will allow effective use even against safety doors, represents the main model of the new tools series, albeit other models will also be launched next fall, including the MiniRam, the compact MultiPry, the MultiSledge and the unique MultiDoor that allows training for different types of outward and inward opening doors with mechanical and hydraulic tools. An entirely new method of breaching, conceived by the team from Swedish Entry Tools especially for 5.11 and its breaching tools cache, allows public safety personnel to breach inward and outward opening security doors with speed whilst minimizing exposure.