Solutions to the challenges professionals, operators, and outdoor adventurers face in their everyday lives: this is what the 2020 product line by 5.11 offers its customers. The Californian company is very interested in the opinions and criticisms of its customers, who are held in high regard to make continuous product improvements.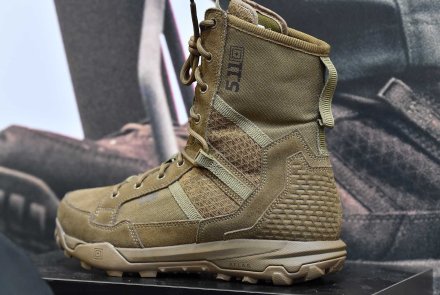 "Our product developers are problem solvers," explains 5.11's CEO, Francisco Morales. "Not only do we respond to feedback from our users, we also anticipate their needs. All of products in the 2020 line innovate around problems our consumers have learned to live with when they shouldn't have to".
New A.T.L.A.S. footwear by 5.11 Tactical
One of the flagship products presented by 5.11 at the SHOT Show is the A.T.L.A.S. footwear collection for Spring 2020. The product of several years of work, A.T.L.A.S. (All Terrain Load Assistance System) footwear enhances agility and stability, while adding cushion support.
The A.T.L.A.S. boots are available in 8-inch and mid-heights, all with the patented Echo and Force foam midsole that provides excellent flexibility and impact resistance. The A.T.L.A.S. plate also offers maximum torsion and stability control. One of the secrets of 5.11 is in fact the teamwork with a partner specializing in the development of high-performance foams. The A.T.L.A.S. boot is fitted with the new Ortholite outsoles that guarantee maximum grip even on slippery, oil-smeared surfaces. The uppers are highly breathable for maximum comfort.
A.T.L.A.S. boots by 5.11 are available in black or coyote dark, in sizes ranging from 35.5 to 48. 
The price of A.T.L.A.S. boots in the US is 149 USD.