If you're a hunter and you're looking for something less than usual, Savage has the right gun for you: the 212 and 220 Turkey model bolt-action shotguns, chambered in 12 gauge and 20 gauge respectively. Where permitted by law, bolt-action hunting shotguns are quite less common than side-by-side, over-under, pump-action and semi-auto shotguns. Savage already offered the 12 and 20 ga Turkey models but they were only available through special order directly from the gunmaker. The good news is that they're now available at any retailer as standard models.

Savage 212 and 220 Turkey, "built like a rifle"
"A smoothbore bolt-action shotgun platform built like a rifle" is how the manufacturer describes the Model 212 and 220. Both the 12 ga and th 20 ga versions are in fact built around the appreciated Model 110 rifle action (see here and here to know more about the Model 110 rifle series), which means they are machined from steel bar stock and secured three-dimensionally along their entire length by the AccuStock internal chassis. In both versions, the blued 22-inch barrel is free-floating and secured to the receiver using a Model 110-style locking nut that ensures shot-to-shot consistency. Savage's user-adjustable AccuTrigger provides a light and crisp pull.

What's more, just as in the  Model 110 rifle, the "Turkey" bolt-action shotguns feature the AccuFit system allows hunters to customize length-of-pull and comb height for precision. The  two-round magazine is detachable for quick loading.
Among the other highlights shared by the Model 212 and Model 220 bolt-action shotguns, the oversized bolt knob, an interchangeable extra-full turkey choke (Winchester choke thread), a one-piece synthetic sporter stock with Mossy Oak Obsession camouflage and a one-piece Picatinny rail for easy optic mounting. Barrel and action are carbon steel, with matte black finish.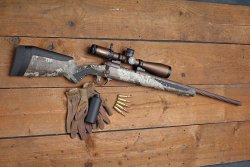 MSRPs in the US market are 779 USD for the 12 ga Model 212 and 695 USD for the 20 ga Model 220 – prices may vary in other countries.

What are the advantages of a bolt-action shotgun over other more conventional shotgun types? Admittedly, follow-up shots won't be as quick as with traditional shotguns. Yet, if you're already used to rifles, a shotgun that feels and handles like a rifle will be much more comfortable. And accuracy will benefit too.