The history of the Piotti brothers began almost half a century ago and has since continued with absolute passion, competence and precision. A workshop where guns are created for real, machined from solid steel blocks piece after piece; a tradition handed down from teacher to pupil, from father to son. Few guns per year that combine the classic with the modern, the most advanced technology with the manual skills of the past, representing a perfect combination of mechanics and aesthetics.
Piotti double shotgun in 20 gauge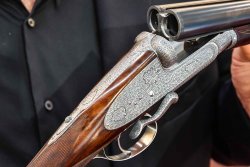 This year at IWA in Nuremberg they presented some of their most beautiful and elegant guns, starting from the 20-gauge shotgun with serpentine side lever.
This is an interpretation of the classic hunting weapon, but also a collectible item of rare beauty.
A H&H-type gun (with the difference in the serpentine lever) sporting precious woods, personalized engravings and select barrels.
Piotti bolt action rifle in .416 Rigby
Piotti is not synonymous only with smoothbore guns: Piotti is also Kipplaufs, Express and bolt action rifles, just like the .416 Rigby (10.6x74) model we examine here.
In this case the main features are the bolt handle completely machined from a solid steel block and, still from a single solid block of steel, the action and the optic mountings.
In addition, the magazine box sides are milled with a slight angle of bolt lift to improve repetition and the sight mounts are designed according to the length of the optics.
Safety and bolt are the classic and timeless Mauser 98 style, with some variations on request, while firing pins are turned and machined from special steel bars to the exact size of action. The select wood stocks and barrels are always guaranteed by the company's professionalism.