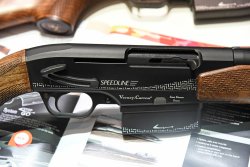 In a growing number of states it is forbidden the use of semi-automatic rifles for hunting. To facilitate those who were accustomed to semiautomatic and must switch to manual repetition, various systems have been studied, based on mechanical straight-pull with or without the automatic return of the weapon lock back into the firing position. 
This Verney-Carron is the quickest and most convenient system found so far.

After firing, the bolt piece moves back and is retained in the retracted position by a hold-open mechanism always active. A button unlocks the system and return the bolt in the firing position. The advantage of this solution is that the hold-open release button is replaced by a lever that is placed under the thumb of the right hand and can be operated without losing aims. The system, in a real game situation, is fastest of all the straight pull systems and duplicates the speed of a semi-automatic.