This year in Nuremberg Falco Arms presented an elegant and refined Stutzen version of its proven Alpine 1 Kipplauf rifle which, impeccable in its mechanics and intrinsic accuracy, has been aesthetically enhanced. 
Falco Arms Alpine 1 Kipplauf: a Stutzen rifle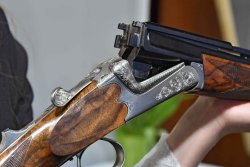 The action is released by a top lever, while locking is operated through upper bolt (Greener) with 2 compass-turn lug fitting. Cocking is manual and can be switched off via a button slide.
The trigger features a French-type Schneller system: a single trigger that, when pushed forward, operates the lightening mechanism with an adjustable weight from 0.2 to 1.1 lbs (100 to 500 g). The rifle has no metallic sights, but they can be added as optional thanks to an integrated 0.4 in / 11 mm rail, to which any mount can be easily applied. 
The proposed calibers are .308, .270 Win. and 7x65R, but many others can be chambered on request. As said, the new model is a Stutzen version, i.e. with full barrel wood forearm.

Falco Arms Kipplauf Alpine 1 Stutzen: technical data
| | |
| --- | --- |
| Calibers: | .308, .270 Win., 7x65R and others |
| Barrel length: | 19.6 in / 50 cm |
| Overall length: | 39.7 in / 101 cm |
| Weight: | 7 lbs / 3.2kg |
| Trigger: | Schneller (adjustable) |
| Sights: | 0.4 in / 11 mm integrated rail |
| Wood: | selected walnut  |