The Dea SLX side-by-side shotgun highlights the attention paid by the Fausti sisters to small calibers and the tastes of American hunters. Featuring elegant lines, with a light and well-proportioned design, the Dea SLX is a gun that allows fans of walked-up hunting to have fun while being immersed in nature without ever feeling the encumbrance of a gun that at the right time proves to be ready and effective. All the characteristics in full "Made in Italy" style of Fausti guns can be found in this classic side-by-side. The forged receiver machined from a solid steel block is the typical box-lock type, scaled to gauge and with Anson & Deeley locks. 
Fausti Dea SLX: details and features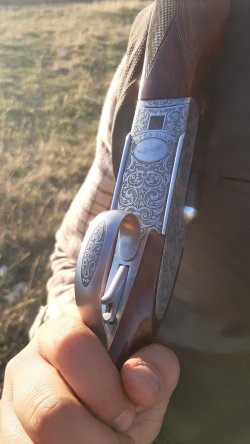 The Dea SLX side-by-side can be used in different types of hunting – it's perfect for grouse, partridge and pheasant hunting, and more generally for medium-range shots as typical of walked-up hunts with pointing or tracking dogs. The deep elegant floral and grouse engravings on the receiver bottom are laser-cut. The shotgun is available in 12, 16, 20, 28, 32 gauge and .410 bore. As always guaranteed by Fausti company, all the gun's technical features are implemented on customer's request. The hunter can choose between single or double  trigger and automatic or manual case extractors. 
Barrel length vary depending on the hunting types. The hunter can choose between 60-63-65-67,5-71-73-76 cm long barrels and also between internal or fixed chokes. The stock, available in pistol grip, English or Prince of Wales versons, is oil-finished type 3 A walnut. Recoil pad is available in checkered wood or rubber, in the classic coral color. English or semi-beavertail forends for better support are available, too. We at all4hunters are satisfied with the .410 bore Fausti Dea SLX we tested hunting quails and partridges with pointing dogs in the hills. The lightness of the gun allowed us to be always ready and accurate both in instinctive, close-range shots and in longer-range ones along the steep slopes of the wooded hills. We leave you with the images of this pleasant day made even more special by the beauty of the landscape and the wild birds that our dogs and the new Fausti side-by-side allowed us to conquer. 
Video: hunting quails and partridges with the Fausti Dea SLX side-by-side 
This video has been hidden because of an external service (YouTube) that could potentially collect personal data.Allow video services for the duration of the visitAllow video servicesStop allowing video services