Besides being a great classic, the traditional hammer side-by-side shotgun have always been a fascinating and intriguing object of desire for fine guns connoisseurs and hunters as well. That's because it evokes a time when hunting was a real life style and a tradition, an icon of the good old days even for those who never experienced them in their life but love hunting legends and symbols and would like to relive those experiences. 
As its name implies, the new Fausti side-by-side hammer shotgun model "Classico" is the answer to their wishes. The "evolution of a traditional yet refined style in its simplicity and minimalism", as claimed by the manufacturer, it "represents a return to the origins, to that long gone 1948 when the Fausti brand was born and the first Fausti shotgun, a hammer side-by-side shotgun, was completed." 
Fausti Classico, "antique future" shotgun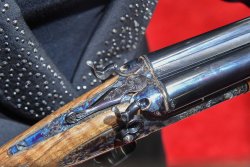 Franco Palamaro, © F.PALAMARO
Breathing life into the Classico hammer shotgun, the Fausti sisters knowingly wanted to offer their customers the same feelings and passion for that legendary world trough the concept of an "antique future". Traditions, innovation and craftsmanship, all merged in a masterpiece of modern fine guns following Fausti philosophy.
With a deliberate choice, the Fausti Classico is chambered in 20 ga only in the smooth bore version. The double rifle version comes in all calibers suited for driven hunting. 
The action is machined from a solid block of special steel and color case hardened with the traditional bone-charcoal system – even if the action can also come with an equally beautiful coin finish, if requested. Hand engraved and signed by the artist, the Classico proudly sports the Fausti family crest on the action back. The extra select wood of the English style stock with long trigger guard and the splinter forend add further elegance to the gun, which also features manual extractors. Stock dimensions and other features can be customized to meet any request, of course. Barrels are made from high quality material and are certified for the best ballistic performance.
The new model Fausti Classico is mainly made for the US-market. But as far as we could find out it will be also delivered to other EU-markets, but as far as we heard not to Italy.
---
For more information on the Fausti Classico over-under shotgun please visit the Fausti Stefano Arms website.
Find all the news from SHOT Show 2019 on all4shooters.com.