An evocative and quite elegant place on Lake Iseo hosted the celebrations of Fausti company's 70th anniversary. 
Since 1948, the fine guns identified with this brand have seen two generations follow each other and interpret with unchanging passion the tastes and desires of hunters who consider their gun not just as a tool but as a symbol capable of encompassing a whole world of culture and tradition.
The Fausti sisters, ambassadors of the hunting world and of the "made in Italy" style, wanted to retrace the fundamental stages of this success story with their friends, collaborators and journalists, showing on this occasion a limited series of guns celebrating their 70th year of activity.
Fausti Anniversary over-under and side-by-side shotguns
Anniversary is actually the name given to this limited edition of side-by-sides and over-unders numbered from 1 to 70.
In these shotguns we obviously find all Fausti's distinctive features and quality. The receivers of both models are machined from solid steel blocks and scaled in size to the gauge, that can vary from 12 to the smaller .410 bore at the hunter's choice.
The rounded surface of the "round body" receiver sports on the long side plates small English scroll engraving and the name of the 70 Anniversary series inlaid in gold, all handmade and signed by the master engraver.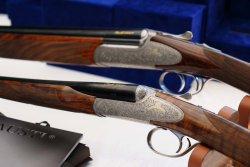 Each technical feature of these guns can be customized according to the tastes and needs of the hunter who can choose a side-by-side or an over-under with single- or double trigger, manual or automatic ejectors, English, pistol-grip with cap, or prince of Wales stock and forend, all strictly in 4A type select walnut wood and oil-finished.
As for the barrels, too, the hunter can choose between different lengths from 60 - 63 - 65 - 67.5 - 71 - 73 - 76 – 81 cm and also fixed or interchangeable chokes of different values.
The 70 Anniversary series confirms the willingness of the Fausti sisters to provide enthusiasts with guns of concrete elegance that are able to satisfy the aesthetic taste and give satisfaction to those who love and live hunting.