Weatherby's Hush Edition hunting rifle series was introduced back in 2018. Already available in 257 Wby. Mag., 300 .Wby. Mag., 6.5 Creedmoor and 6-5-300 Wby. Mag., now the appreciated American gun manufacturer adds a further caliber option to the series with the 7mm Rem. Mag.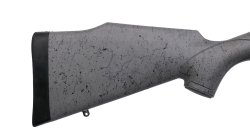 The Vanguard Hush Edition was born from a collaboration between Weatherby and Hush, a brand created to raise awareness about hunting/fishing access and conservation initiatives. According to the manufacturer, these "sleek, lightweight, and incredibly accurate" rifles brings "years of experience together". All Vanguard rifles are in fact guaranteed to shoot a 3-shot group of .99" or less at 100 yards (sub-MOA) from a cold barrel when used with Weatherby factory or premium ammunition within two-years of verified purchase date to original purchaser.
Weatherby's Hush Edition rifles details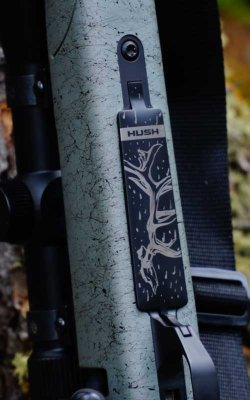 As all Weatherby products, the new 7mm Rem. Mag. Version is beautifully crafted and obviously shares all the most distinctive features of the Hush Edition series, that is: a full graphite black Cerakote finish on barreled action to prevent corrosion, cement gray stock base with black webbing for texture and appeal, and an adjustable match quality two-stage trigger. The laser engraved Hush logo stands out on the hinged floorplate.
 The #2 contour cold hammer forged barrel are straight fluted, available in 26″ (28″ OAL with additional Accubrake purchase) length for magnum chamberings and 24″ (26″ OAL with additional Accubrake purchase) length for non-magnum. The 1/2x28tpi threaded barrels also include both a seamless thread protector and Accubrake ST for the shooter's preference in shooting style.
The one-piece machined bolt body is fully enclosed in a bolt sleeve. The injection molded Monte Carlo stock features textured forearm and grip areas, right side palm swell and a Vanguard Recoil Pad. Recoil lug is integral. Magazine capacity is 3+1.
Price in the US for the Weatherby Hush Edition rifles is $999, any caliber you choose.