It's the first new Weatherby bolt-action centerfire rifle in over 50 years: the Model 307 is finally here. Designed and tested in Sheridan, WY, the Model 307's name is inspired by the local "307" phone area code. A customizable 700 footprint rifle platform, the Model 307 features a 2-lug, fully cylindrical action design purpose built "to accommodate the vast offerings of stocks, triggers, rails, mounts, and magazines that exist in the marketplace". This gives the builder unlimited ability to build a truly custom rifle. Moreover, Weatherby Guarantees sub-MOA accuracy from a cold barrel for all Model 307 rifles.
Weatherby Model 307 highlights and models
The Model 307 is meant to complement the historic Mark V and Vanguard lineups. A fluted barrel, fluted bolt with tool-less disassembly, TriggerTech trigger, all-new bolt release button above the receiver stock line, together with the detachable Magpul magazine, are some of the highlights of the new rifle.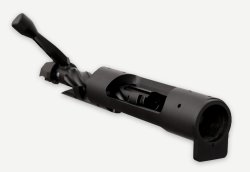 In detail, the 3-piece bolt design can be taken down without any tool, while the TriggerTech trigger is claimed to provide true zero-creep break, extremely short over-travel. It is also externally adjustable (down to 2.5 lb). Precision cut stainless steel components ensure consistent trigger pulls from shot to shot in a corrosion resistant package. 
The new bolt release button was designed to sit high on the receiver to make sure it fits Rem 700 aftermarket stocks and chassis for a stronger, safer and quicker removal. As for magazines, the Weatherby Model 307 is compatible with a variety of 700 platform bottom metal options. Safety is a two-position type: mounted on the right side behind the bolt handle, it allows for safety unloading the rifle while in the safe position.
This video has been hidden because of an external service (YouTube) that could potentially collect personal data.Allow video services for the duration of the visitAllow video servicesStop allowing video services
The Model 307 series is initially available in two versions, the Range XP and the Alpine MDT. For builders, Weatherby also offers the action only.

The Model 307 Range XP is equipped with an M16-style extractor for positive extraction and smooth cycling and comes with a universal Accubrake (the muzzle has suppressor-ready threads). The efficient radial design of the brake helps to evenly disperse gas and – according to the manufacturer – reduces felt recoil by up to 53%. The lightweight vertical grip stock that includes an adjustable cheekpiece and adjustable length of pull providing a custom fit for the shooter. Touch points have a non-slip texture.

The rifle is fed from a Magpul removable magazine and is compatible with AICS magazines. The magazine release lever located on front of the trigger guard. Available in short and long actions, the Range XP is chambered in the following calibers: .240 Wby Mag, .243 Win, .257 Wby Mag, .270 Win, .280 Ackley Imp, .30-06 Sprg, .300 Win, .308 Win, 6.5 Creedmoor, 6.5 Wby RPM, 7mm Rem and 7mm PRC. The Model 307 Range XP has an MSRP of $1,199.

The Model 307 Alpine MDT (MSRP: $2,999) sports an MDT's lightweight (just 26 oz/737 g) HNT26 Chassis System, which is their first purpose-built hunting rifle chassis. The chassis is constructed of a magnesium alloy stock, carbon fiber forend, carbon fiber pistol grip, and carbon fiber buttstock. It includes a v-block bedding, adjustable length of pull, adjustable comb, and AICS magazine compatibility. The forend has an integral ARCA rail for easy attachment of a tripod or a foldable buttstock. The buttstock is foldable.
The Alpine MDT comes standard with externally adjustable TrigerTech field trigger and PEAK 44 Picatinny rail. Chamberings available are: .240 Wby Mag, .243 Win, .257 Wby Mag, .270 Wby Mag, .280 Ackley Imp, .300 Wby Mag, .300 Win, .308 Win, 6.5 Creedmoor, 6.5 Wby RPM, 6.5-300 Wby Mag, 7mm Rem, .28 Nosler, .300 PRC and 7mm PRC.
The Model 307 Builders Action only is priced at $750. The action is tapped and ready for scope mounts or a Picatinny rail, is threaded for 8-40 screws and is compatible with Stiller/Savage mounts. The bolt knob is threaded (5/16×24 thread pitch) and ready for an aftermarket knob of your choice.