The Vanguard Synthetic Green is the latest addition to Weatherby's popular Vanguard hunting rifles llineup. Color aside, the Synthetic Green features the Monte Carlo Griptonite stock, pistol grip and forend inserts, and right side palm swell for shooter comfort and control that also characterize the standard Synthetic version of the Vanguard rifle. The Griptonite stock is designed to repel the harshest conditions. As for quality and accuracy, it is worth mentioning that all Vanguard rifles are guaranteed to shoot a 3-shot group of .99" or less at 100 yards (SUB-MOA) from a cold barrel when used with Weatherby factory or premium ammunition within two-years of verified purchase date to original purchaser.
Weatherby Vanguard Synthetic Green features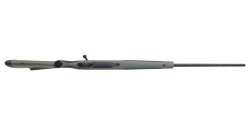 "The fastest, flattest shooting rifle on the market" according to the manufacturer claim, the Vanguard combines modern synthetic materials with Weatherby raised-comb Monte Carlo design. The pistol and forend insert provide a firm, non slip grip. All Vanguard rifles also feature a specially-fit, low density recoil pad that significantly reduces felt recoil.
Barrel (26" long for magnum chamberings & 24" for non-magnum and 240 Wby Mag) is hammer-forged, while the action includes a one-piece machined, fluted bolt body and a  fully enclosed bolt sleeve to redirect high-pressure gases and brass particles in the event of a case rupture or pierced primer. Three gas ports also allow high-pressure gases to escape laterally in the event of an accidental case rupture. The bolt longitudinal flutes reduce weight and bearing surface area, while eliminating binding for smooth action.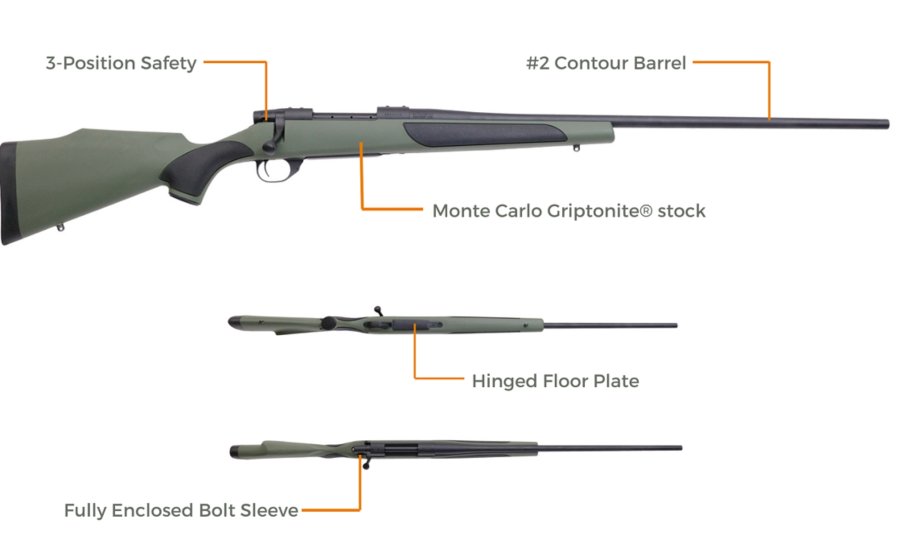 All metalwork has a bead blasted matte finish. The "Creepfree" two-stage trigger is match-grade and fully adjustable down to 2.5 lb – each trigger is hand-honed and factory tuned. A 3-position safety, integral recoil lug and hinged floorplate completes the features list.
Weatherby Vanguard Synthetic Green is available in 16 calibers, including .223 Rem., .243 Win., .30-06 Sprg., .308 Win.,  6.5 Creedmoor and 7mm Rem. Mag. Regardless of caliber, price is the same, at 619 USD.