By the way, this is not a first contact with the Haenel Jaeger 10 in shooting practice, after all – we had already tested a Haenel Jaeger 10 Varmint Sporter in the past, which also appeals to sports shooters. Since then, the already lush model range has grown even further. The most affordable model, the Haenel Jaeger 10 with synthetic stock and iron sights, as well as the variant presented here, with no rear sight and front sight, are available for about 1100 euros.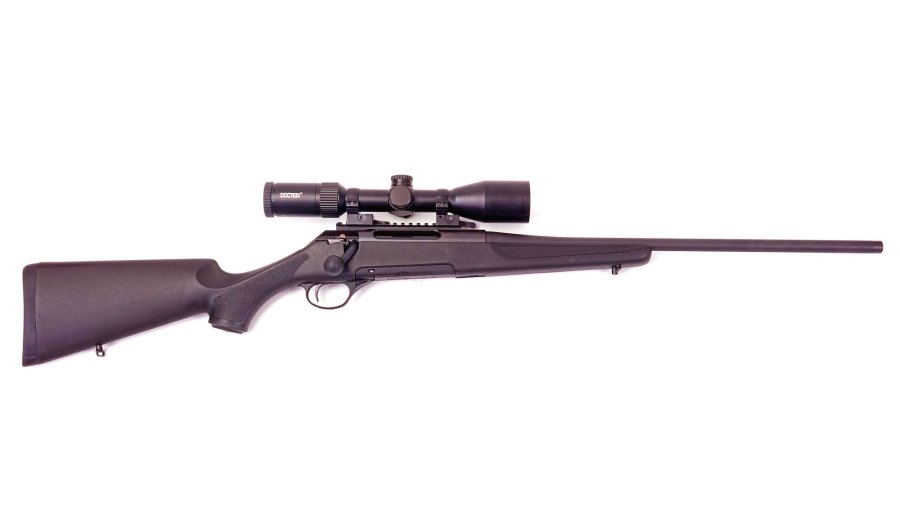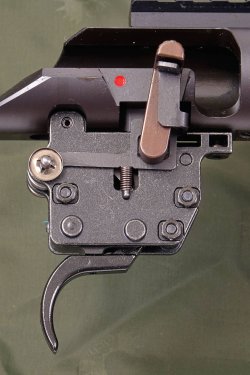 Haenel Jaeger 10: a good companion from the budget segment?

Compared to many other low-budget bolt-action rifles, the German Jaeger 10 is quite elegant with a slim, pleasing silhouette. The nearly enclosed, round forged steel receiver has a cutout on the underside that corresponds with a recoil lug set into the synthetic stock with low tolerances, which makes for a clean action bedding. The bolt head locks with six lugs in two rows. The bolt handle, with its strikingly long, rearward-curved stem, has a 60-degree throw. A 22"/560 mm long, cold-hammered barrel with an outer diameter of 0.67"/17 mm at the muzzle and 1-12" twist in the .30-06 test caliber sits in the receiver.
In addition, all Jaeger 10 standard and compact versions are fitted with removable open sights and M15x1 muzzle threads as standard. The manufacturer refers to this modular approach as the i-Sight System.


The sophisticated Haenel trigger
The single-stage trigger with set trigger is exciting, as such a feature is not likely to be found too often on bolt-action rifles in this price range. The combined trigger assembly breaks after overcoming just under 1300 grams of pull. The set trigger even sent the bullet on its way when you had only put 174 grams with your trigger finger. Such a low trigger pull weight with such good characteristics is normally only found on much more expensive match guns. The fiberglass-reinforced, anthracite-colored synthetic stock is kept simple and should be ideal for hunting use with its slender, easy-to-handle design.
Haenel Jaeger 10 price and specs
| | |
| --- | --- |
| Model: | Haenel Jaeger 10 |
| Price: | From approx. 1100 euro |
| Action: | Bolt-action with 6 lugs in 2 rows, 60 degree opening angle |
| Barrel: | 22"/560 mm long barrel with 1-12" twist, 0.67"/17 mm outer diameter and M15x1 muzzle thread |
| Stock: | Synthetic stock with soft rubber pad and sling swivel studs |
| Magazine: | Box magazine with a capacity of 3 cartridges |
| Trigger: | Single-stage trigger with set trigger option, measured pull weights: 1280/174 grams |
| Safety: | 2-stage safety, conveniently located on right side of the action. Bolt is released at the push of a button |
| Overall Length: | 42.9"/109 cm |
| Weight: | 107.5 oz/3050 grams |
How does the Jaeger 10 bolt-action rifle perform at the range?
Prior to the range visit, the bolt-action rifle was fitted with an EAW 365 roll-off mount and a Docter V6 2-12x50 scope. The rifle was tested for shooting performance in the seated-up position using a front rifle rest and a rear sandbag with eight .30-06 ammo types, fairly divided into four factory and four handloads, with bullet weights ranging from 110 to 170 grains. Here, we succeeded in producing groupings below the 0.78"/20-millimeter mark at 100 meters with three types of ammunition. We achieved 0.67"/17 millimeters with the 147-grain RWS Cineshot and 0.70"/18 millimeters and 0.74"/19 millimeters with two handloads of 57.0-grain Ramshot Hunter propellant paired with 168-grain Nosler Ballistic Silvertip and 165-grain Hornady InterBond bullets, respectively.
We were able to realize these good results even though the thin forend did not really fit perfectly into the rifle rest. What this means for the shooter can be seen well in the 10-shot group with the RWS 147-grains Cineshot shown. Eight shots formed a good group here, but there were two flyers here that were always on the lower left. However, we could see both flyers well in the target image and thus they were accounted for as shooter errors. These errors came about because the right hand had to control the stock, and the rifle then turned too much to the left in some cases. During testing, we did not give the thin hunting barrel of the Haenel Jaeger 10 a break, so that 50 to 60 rounds were easily fired in one hour. The gropings achieved in this way are more than respectable for use in hunting.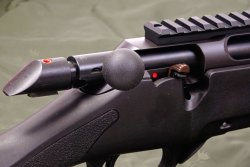 Test conclusion on the Haenel Jaeger 10
Not only young hunters, but also experienced hunters could enjoy the German hunting repeater. It is a light, all-weather rifle with a smooth, rubbing-free bolt action and solid workmanship, function and shooting performance. On-line you can find a Haenel Jaeger 10 Compact in three popular hunting calibers with a mounted AKAH scope 2.5-10x50 with illuminated reticle for 1398.82 euros. And at Frankonia, you can get the Jaeger 10 Timber LX with class 4 walnut stock and classy features for as little as 1367 euros. Well. what more do you want?