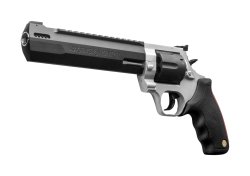 Taurus introduced the Raging Hunter revolver line chambered in .44 Magnum caliber last year. Now, the Brazilian firearms manufacturer has just presented a .357 Magnum version of its big-bore wheelgun designed for short to medium range hunting scenarios.
The original .44 Magnum Raging Hunter won the 2018 American Hunter Handgun of the Year Golden Bullseye Award for its reliability, innovative design, and value and is a massive six-shot revolver featuring a double action / single action trigger and a two-piece barrel design with a steel sleeve shrouded by an aluminum housing. The new addition, the .357 Magnum Raging Hunter, shares these features but also boasts a seven-shot cylinder.
Taurus .357 Mag Raging Hunter, available in three barrel lengths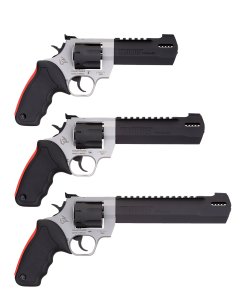 Among the other technical characteristics, in common with the whole Raging Hunter revolver line, the .357 version is equipped with a factory-tuned porting and gas expansion chamber that aids in recoil management, being designed to disperse gases directionally reducing muzzle lift and delivering quicker target acquisition. This also allows for fast follow-up shots. Moreover, the soft rubber grips with a red cushioned insert along the back help making shooting more comfortable and controllable.
The rear sight is fully adjustable for those who favor open-sight shooting, or an optic can be mounted to the integrated Picatinny rail on the barrel housing. Front sight is fixed.
The Raging Hunter comes in two frame colors, matte black or stainless. Both feature matte black barrels and cylinders.  
The new Taurus Raging Hunter in .357 Magnum is available in three barrel lengths: 8.375", 6.25", and 5.125" (213 mm, 159 mm and 130 mm). As for the prices, the company hasn't released any info yet. But as a reference, the .44 Magnum versions are in the 900 USD range.