The 2018 edition of the HIT Show attracted about 40.000 visitors who crowded the exhibition area of 36,000 square meters divided into five pavilions. And for the 2019 edition the exhibitors, coming from 24 countries and 4 continents, increased by 14%. These statistical data do not fully convey the idea of this event, that is important even at European level because unlike other events of international importance, such as the SHOT Show and IWA, this one is open to the public and therefore allows all fans to visit the booths of their favorite brands. But that's not all: HIT is not only a "booth container", but it also offers enthusiasts and media the opportunity to participate in courses on firearms handling (handguns and long guns), optics, law conferences, dog competitions, awards and a whole series of events, that make HIT Show 2019 a can't-miss event for fans.

We at all4shooters certainly couldn't pass it up and here is a selection of the most interesting, new or trendy products we have seen, handled and tested at the fair.

Armi Chiappa: the Double Badger grows in size and becomes a hunting gun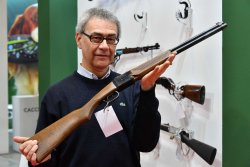 Franco Palamaro, © F.PALAMARO
The Brescia-based company is famous for its offer of non-conventional sporting and hunting guns. In addition to the complete line of Rhino revolvers, characterized by a barrel aligned with the bottom most chamber of the cylinder, Armi Chiappa presented at HIT Show 2019 a new version of the Double Badger break-action rifle. The previous models featured a smooth barrel in 20 ga or .410 Magnum and a rifled barrel in .22 Long rifle or .22 Magnum. Now for the first time the Double Badger is available with a rifled barrel in caliber .243 Winchester. The most striking feature of this gun is the possibility of being folded almost completely, reaching a length of about 21.2 in / 540 millimeters. Weight is 84.6 oz / 2.4 kilograms. Price is 619 euro.
Beretta Group: new DT11 Black Edition EELL over-under and social media for a constantly growing company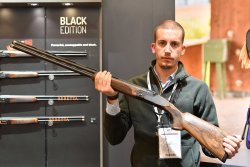 Franco Palamaro, © F.PALAMARO
Among Beretta new products, the DT11 Black Edition EELL over-under shotgun is worthy of special attention. The extra-deluxe version of Beretta's top-of-the-line competition shotgun pushes the use of carbon fiber to the highest level, featuring striking carbon fiber details such as side plates, trigger plate / trigger guard and top rib. Stock is select walnut grade 4 with hand-made, fine-pitch checkering. Add to this premium-grade Steelium Pro barrels and B-Fast balance system. As you might have guessed, the price for this authentic "flagship gun" is a hefty one – from 15,318 to 16,111 euro depending on the specific version.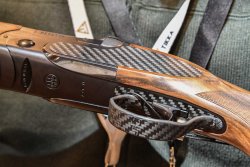 Franco Palamaro, © F.PALAMARO
Always very attentive to the world of social media, Beretta also organized several events to actively involve visitors, among whom the "Become a hunter-influencer for a day" event had considerable success. The huge booth of the company from Gardone Val Trompia from Saturday hosted many of the Beretta team's shooting champions, starting with Riccardo Filippelli, Skeet World Champion, and Silvana Stanco, world bronze medalist, the European Sporting Champion Martina Maruzzo, the world Compak sporting champion Michael Spada and the Sporting World Junior Champion, Cristian Camporese.
With them also Francesco Nespeca, the first world champion in para-trap, SG category, and Roberto Vezzoli, bronze medalist at the IPSC World Shotgun Championship. It must also be remembered, that Beretta does not mean only Beretta branded products, but all the Holding's brands, such as Sako, Tikka, Burris, Steiner Optics, Stoeger Airguns, Victrix and Uberti, with an offer ranging from sniper rifles to replica western guns.
Fratelli Poli: custom-tailored rifles
The Italian company Poli was founded in 1966 by Paolo Poli and today the family tradition continues with his sons Tiziano and Pierantonio, together with their collaborators. The growing success of the hunting and shooting models produced by Fratelli Poli Armi required the internal training of highly specialized personnel to meet the demands of the market. 
Fratelli Poli Armi produces – with artisanal techniques – hunting rifles whose names recall precious stones. And specifically for small calibre lovers, this year Fratelli Poli introduces a new Amber version in 28 gauge. Based on the same receiver of the .410 bore version, the new side-by-side shotgun features special steel integral dovetailed barrels with English-style rib. Entirely hand-engraved with a custom pattern, it also comes with grade 3 or 4 oil-polished, hand-chequered wood stock. The overall weight of the new 28 ga Amber is 2200 g: barrel and chokes are customizable at the customer's request. Being an artisan gun built entirely to the customer's own measure, it makes no sense to add further details. Besides the production of fine rifles under its own brand, Poli armory also deals with the restoration and repair of other brands' gun.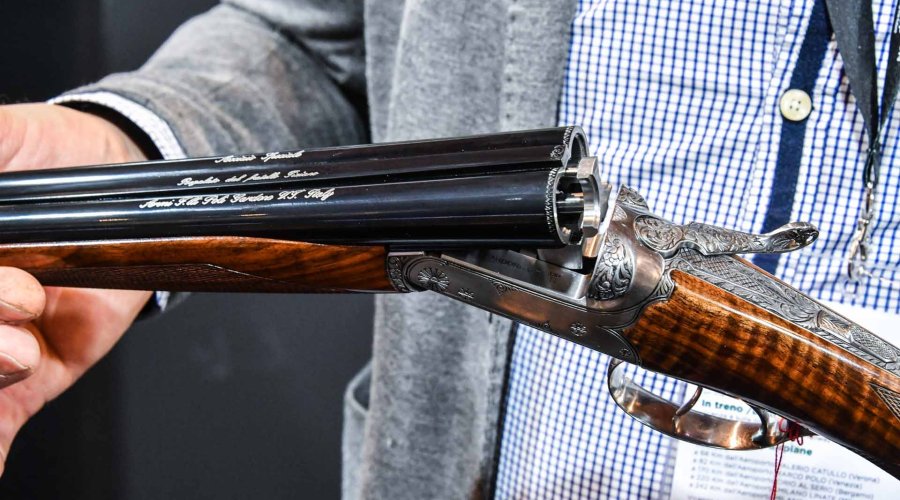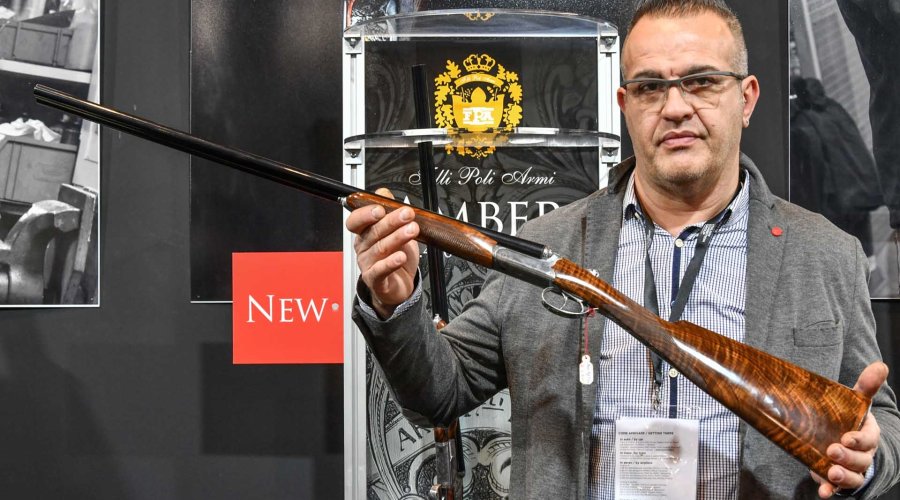 RUAG Ammotec Italia: New Short Rifle cartridges from RWS and many more interesting products from GECO, Norma, Rottweil and other distributed brands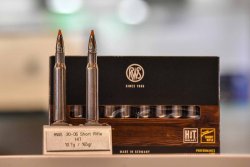 Franco Palamaro, © F.PALAMARO
Let's have a look at the highlights at the booth:  the most common form of hunting with rifled guns in Italy is the wild boar driven hunting, where the most used guns are semi-automatic rifles like the Benelli Argo and the Browning BARs with 510 mm barrels (and even shorter barrels on compact models) chambered in .30-06 and .308 Winchester. The RWS Short Rifle ammunition series is optimized for maximum performance in short barrels.
They are loaded with a propellant that can burn faster, ensuring the same bullet push as longer barrels with a more progressive powder. This combined with the excellent performance of the balls available, the lead-free HIT and the lead-construction Speed ​​Tip Professional, ensure clean kills and a very high stopping power in all shooting conditions. A further beneficial effect of this special load is the reduced muzzle flash when firing.
At present, the RWS Short Rifle ammunition is available in .300 Winchester Magnum with 165 gr (10.7 grams) Speed ​​Tip Professional or HIT bullets, .30-06 with 165 gr (10.7 grams) Speed ​​Tip Professional or HIT bullets, 308 Winchester with 165 gr (10.7 grams) Speed ​​Tip Professional or HIT bullets, 8x57 IS and 9.3x62.
And we detected a new product, now distributed by RUAG Ammotec Italia: Fluna Tec. It's a complete line of innovative gun care and gun coating products from a highly innovative Austrian company. More to come soon.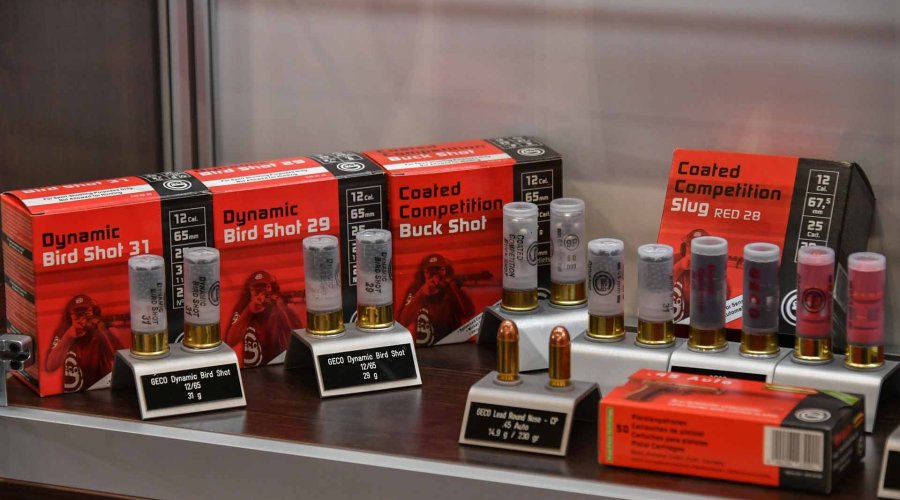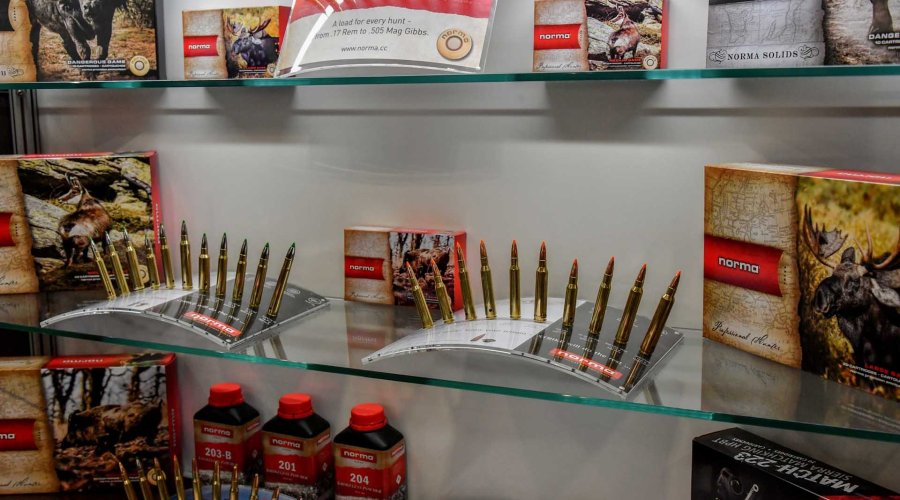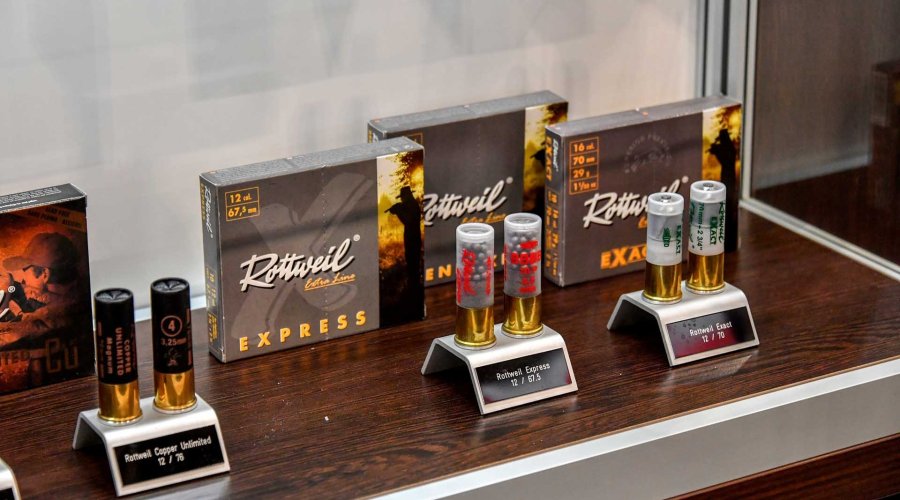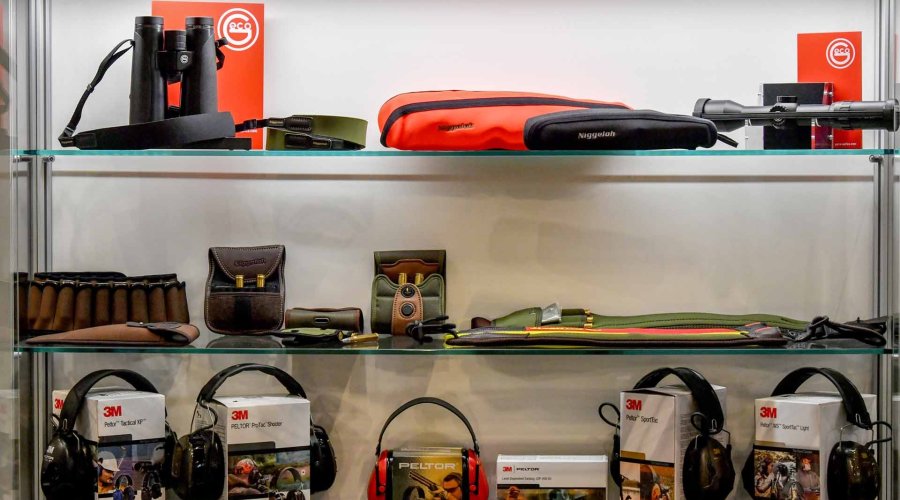 Fiocchi Ammunition: new .22 LR cartridges for sports shooting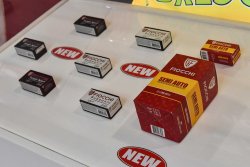 Franco Palamaro, © F.PALAMARO
The Italian based company from Lecco chose the HIT Show 2019 to introduce a cartridge series in caliber .22 Long Rifle caliber intended for competitive sports shooting. The highlight is the Target Shooting range, which includes ammo for training and competition, both with long and short guns. Let's start with the .22 LR Official 300 with 40 gr LRN bullet and a V0 of 300 meters per second, suitable for the of Free Pistol, Standard Pistol and short barrel rifle disciplines. The .22 LR Official 320 pushes a 40 gr LRN ball at the initial velocity of 320 meters per second and is dedicated to all long barrel rifle disciplines. The .22 LR Official RF 280, still with a 40-grain ball, develops a muzzle velocity of 280 meters per second and is specific for rapid fire pistol competitions. The .22 LR F300 is a cartridge dedicated to the Standard Pistol, Free Pistol and short barrel rifle disciplines. It pushes a 40 gr LRN bullet to 300 meters per second. The difference with the Official 300 is that thanks to stricter selection criteria it can give superior performance.
The same applies to the .22 LR F320 which ensures better performance than the Official 320.
Finally the .22 LR TT Rapid Fire with 40 gr LRN bullet features a velocity of 280 meters per second and has been specifically designed for training for automatic pistol competitions.
The other novelty presented by Fiocchi is quite different: the .22 Long Rifle Semi Auto which, as the name suggests, has been expressly designed for long and short semi-automatic guns, for recreational, informal and hunting purposes, wherever the law allows the use of the .22 LR cartridge for hunting. The profile of the 40 gr LRN bullet has been designed to offer maximum reliability. The muzzle velocity of the new Semi Auto load is 360 meters per second, with an energy of 168 joules, enough to ensure a correct cycling.

Also new is the .22 L.R. Target Sport, a cartridge that can be used indifferently in pistols and rifles, suitable for both shooting training and more general purposes. The lead-shaped LRN 40 gr lead bullet is pushed at velocity of 320 meters per second, with an energy of 133 joules measured at 2.5 meters from the muzzle. In the same range we also find the .22 LR Subsonic  cartridge with a 38 gr LRN hollow point lead bullet at a speed of 310 meters per second, suitable for recreational shooting and, where permitted by law, vermin control and hunting thanks to the significant stopping power guaranteed by the expanding bullet.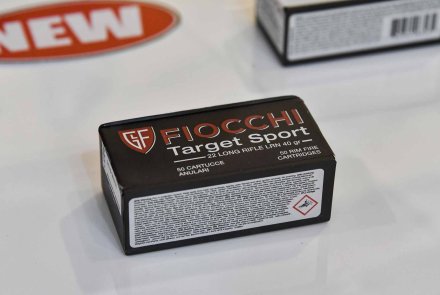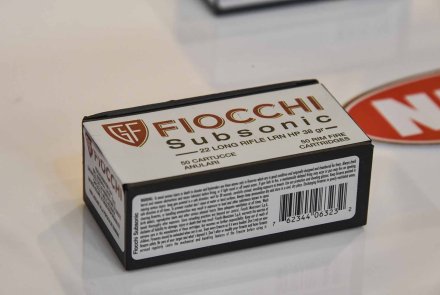 Crispi Lapponia Evo GTX, the all-around boot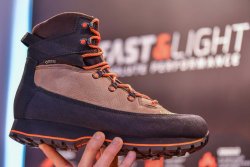 Franco Palamaro, © F.PALAMARO
Crispi Sport is a Italian company established in 1975 as a mountain footwear workshop that over the years has seen its market grow by becoming exclusive in its market niches, and today is one of the most sought-after companies on an international level in many EU markets. Among these market niches there is also that one of hunters for whom the company based in Maser (northeastern Italy) manufactures highly functinal footwear.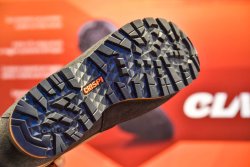 Franco Palamaro, © F.PALAMARO
Recommended for those who love stalking in plains, hills and low mountain areas and for hunting with dogs in rough areas, the well-known Crispi company presents the Lapponia Evo GTX boots. A light and flexible footwear thanks to the Nubuk leather upper and the optimization of volumes, they allow the hunter to feel free to move and assisted in walking even in muddy or rough terrain. Completely water-repellent and breathable thanks to the Gore-Tex membrane and shock-resistant thanks to an innovative shock-absorbing sole insert and a high tread.
F.A.I.R Leisure Xligth Beccaccia over-under shotgun in 28 ga
For hunters who love the lightness and the challenge of small bores, at HIT 2019 F.A.I.R introduces a 28-gauge over-under shotgun in the Leisure range dedicated to woodcock hunting. The Leisure Xligth Beccaccia 28 model, as its name implies, had been designed with particular attention to the distribution of weight – that does not exceed 81.1 oz / 2.3 kg – using an Ergal 55 light alloy body with nickel finish and a golden woodcock-themed engraving.The mechanical characteristics of the F.A.I.R "made in Italy" guns with 24.4 in / 62 cm barrels machined from bars and a 70 mm chamber with internal chrome lining are the same as usual, in order to keep their performance unchanged over time. 
The over-under is shipped with a set of 5 internal and interchangeable Technichoke Hunting XP 50 chokes. The trigger unit is a selective single type and shell extraction is automatic. The oil-finished pistol grip stock and the Schnabel forend are select European walnut. The Scottish checkering is manufactured with fine-pitched lasers with a double grip for an always safe and accurate aiming. The new 28 gauge F.A.I.R Leisure Xlight Beccaccia over-under shotgun is sold to the public at a competitive price of 1,529 euro including VAT.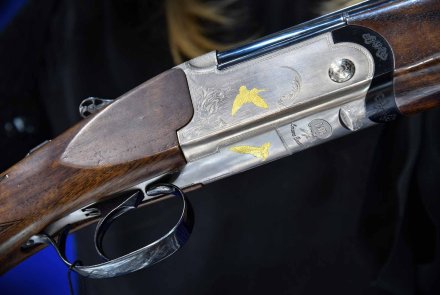 Baschieri & Pellagri: Semi Magnum shotgun cartridges and new Big Game buckshot cartridges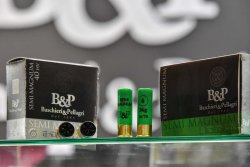 Franco Palamaro, © F.PALAMARO
Among the innovations presented by Baschieri & Pellagri at HIT 2019, the 16 ga Semi Magnum cartridges are of considerable significance. The new cartridge features a 36 g load which is particularly heavy for this gauge and is therefore recommended for shooting at medium and long ranges. Loaded in a 70 mm case with plastic wad and container, it is sold in packs of 10 pieces available with number 7, 6, 5 and 4 lead shot. The 16 gauge Semi Magnum cartridge develops the remarkable velocity of 395 m/s.

Other interesting additions regard the Big Game line for hunters who can hunt ungulates in Europe with buckshot cartridges. There are three new Baschieri 8 and 10 buckshot cartridges:
Big Game 8 Pallettoni (11/0) Copper Plated - Extra Velocity: a special cartridge with eight 8.6 mm copper plated pellets in a wad-container. The speed is extremely high and pellet concentration is extreme even at long ranges.

Big Game 10 Pallettoni (11/0) Copper Plated: a cartridge with ten 8.6 mm copper plated pellets in wad-container. The speed is high and pellet concentration is well distributed even at long ranges.
Big Game 10 Pallettoni (12/0) Nickel Plated. This cartridge holds the largest pellets of the line: ten 9.1 mm nickel plated pellets. Extremely powerful in impact and in residual energy on the game even at medium/long ranges.