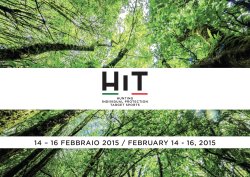 All all4shooters.com's followers know the name of Raniero Testa all too well: a Browning-Winchester contract shooter, he holds an astounding certified Guinness world record in clay shooting: twelve hand-launched clays shot and destroyed with a 12-gauge autoloading shotgun in a single solution before they can hit the ground. Raniero Testa also holds a world record in rifle shooting: five ground-based targets hit with a Browning BAR semi-automatic rifle in one second.
Raniero Testa repeated his world record multiple times in the last couple of years, and remains undisputed up to date; participating and attending to several national and international meetings and conventions, the Italian shooter quickly became a celebrity and a role model for many other young shooters to take inspiration from.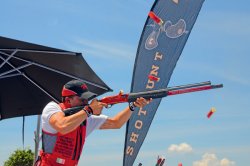 This weekend − February, Saturday 14th thru Monday 16th − Mr. Raniero Testa will participate to the HIT Show − dedicated to hunting, individual protection and target sports − taking place at the Vicenza city fairgrounds in northern Italy as a successor to the Hunting Show − to which Mr. Testa himself was often a well-regarded guest − and to the defunct EXA expo, the previous trade show of the Italian civilian gun industry, which HIT intends to replace with a more modern and innovative format.
Raniero Testa will be signing autographs at the Browning-Winchester booth all through the three days of the HIT Show, and will have his Guinness-certified record-holding Winchester SX3 12-gauge autoloading shotgun with him − the gun that he used to establish and maintain his clay shooting world record.

The sample that will be showcased by Raniero Testa at the HIT Show has already been sold to an otherwise unspecified "sheik" from Dubai, in the United Arab Emirates; Raniero Testa will indeed soon travel to the UAE, to re-establish once again (and possibly to beat!) his own Guinness-certified world record.