Even experienced hunters, birdwatchers or sport shooters have to do some research when they want to purchase a new optical device. They have to compare tables with measured values, select a nice design, and the new optic should also have the latest technology. In addition, it should be worth its price, and in terms of the performance offered, it should also serve for many years as for as sustainability. With the product advisor, Swarovski Optik asks you step by step about the most important criteria for a purchase decision. If, in the meantime, another point seems more important to you, you can always go back a step and continue the decision-making process from there.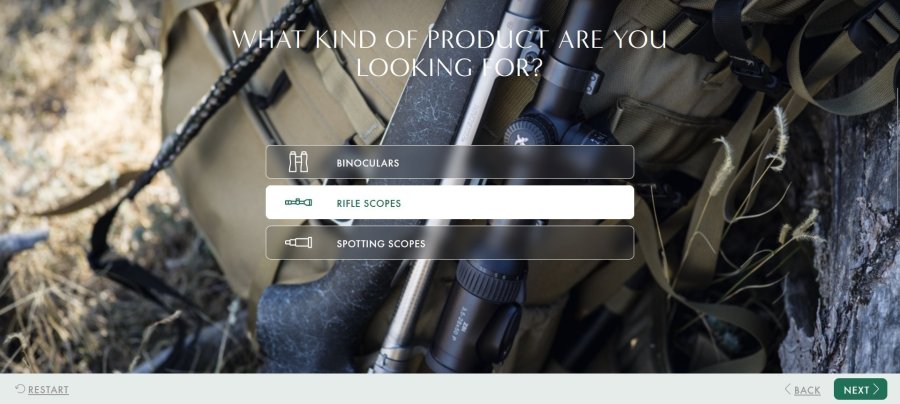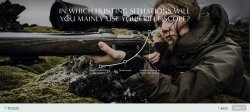 Swarovski Optik first offers the three product groups binoculars, riflescopes and spotting scopes for selection. After clicking on it, you go to "Next" at the bottom right. In our example, we have chosen the golden mean, riflescopes. To sort these by intended use, they ask, "In which hunting situations will you mainly use your rifle scope?". Because the most all-round usability possible is an important feature in order to be able to use the new riflescope often. So, think about what situations were or are still to be mastered in the last hunting season (or already foreseeably planned in the next one). For example, if you use your riflescope for different types of hunting, high-quality optics and a high zoom factor are ideal. When hunting from a raised hide, you need one that provides good visibility in low light conditions. For driven hunts, on the other hand, a large field of view is essential. A comfortable eyebox, a small, lightweight as well as ergonomic design that is comfortable to handle are advantageous for this type of hunting. Lastly, for mountain hunting or long range hunting, scopes with higher magnification are ideal. In addition, high-quality optics and the appropriate zoom factor are crucial. 
Through all selection criteria: the Swarovski Optik Product Guide takes many a decision off your hands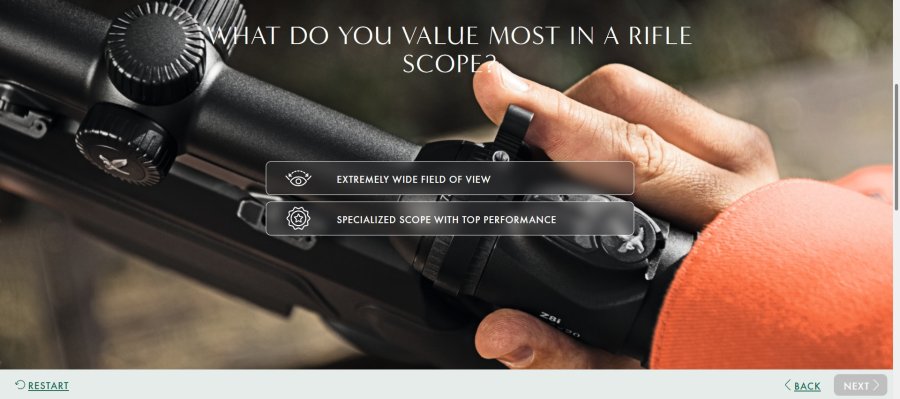 The next decision concerns the optic features that you value most in your riflescope – for example, technology nowadays allows you to have important ballistic facts calculated automatically. Then choose the top item on this question: The Swarovski dS 5-25x52, for example, automatically displays the correct aiming point if desired and all relevant data in real time in the high-resolution. Manual adjustments to the riflescope are no longer needed, greatly simplifying shooting at a wide range of distances for the hunter. The precisely measured distance, the angle of fire, the magnification selected, air pressure, temperature and the ballistic data for your personal firearm-ammunition combination are used to calculate the aiming point. The data of your firearm-ammunition combination, as well as the display configuration are entered via the dS Configurator App. Afterwards, both the determined ballistic curve and your individual display configurations are transferred directly to the dS via Bluetooth quickly and easily.
However, if you are more of a traditional hunter who relies on his knowledge and skills and prefers to seek the highest accuracy, you may arrive at the X5i 5-25x56 P L 1/8 MOA, which has similar features to the above model, but is manually adjusted.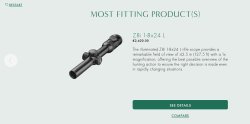 After the final questions about the desired reticle and mounts (ring mounts or Swarovski rail mounts?), the Product Guide presents you with the ideal model. If available in the online store, you can order the new riflescope directly (and, of course, return it if you are not satisfied, as is generally the case with online purchases). Or you can use the dealer search to find a specialist dealer near you, where you can examine the selected model in detail.

Click here for the Swarovski Optik Product Guide.

Click here to go to the Swarovski Optik dealer locator.
Two further service offers from Swarovski Optik for all customers
If you would like to check how good your existing optical devices still are, also in relation to a planned new purchase, you should take the self-test offered by Swarovski Optik.
Under "MyService", Swarovski has recently started offering its own help area, with a comprehensive knowledge database of over 350 articles on general topics, product information, repairs and much more. You can also use the database without registering. With a short registration Swarovski Optik customers can extend their warranty for one year, book repairs or even buy spare parts for repair at home.