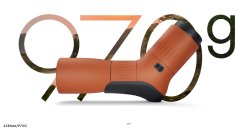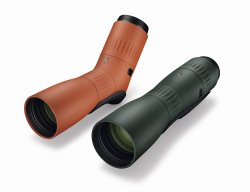 These two modern spotting scopes are further away from the historical and bulky telescopes of seafarers and pirates than the privateer's crew is from the nearest harbor: the two compact ATC and STC spotting scopes, which the Austrian optics specialist Swarovski presented just a few weeks ago, are probably among the shortest and lightest scopes in the world, if one compares the optical performance they provide.
The range of use of spotting scopes begins where binoculars could no longer be used because of the lower magnification. The optically (almost) identically equipped models ATC with angled view and STC with straight view work with a variable magnification of 17x to 40x and an extremely bright 56-millimeter objective lens. So if you need the greatest possible attention to detail in nature (or even in sports), you can also use such optical giants in small format. The proven Swarovision lens technology known from many Swarovski products has also been integrated here. Field flattener lenses deliver an almost flat, absolutely distortion-free image – right to the edge. The two models offer a field of view of 62 to 34 m, depending on the magnification, although it should be noted that scopes with high magnification and thus narrower field of view also require a certain amount of practice when "aiming" at the object being searched for.
Operation and handling: Swarovski ATC and STC spotting scopes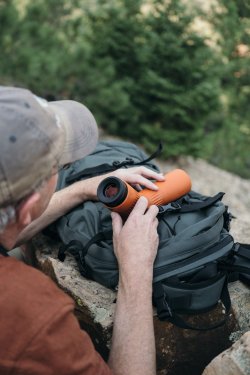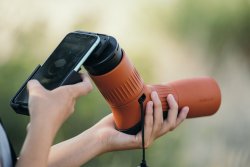 But the new ATC/STC duo not only impresses with its outstanding optics. The ATC's angled view facilitates observation when the user can look into the eyepiece from above – typical for the low parapet on a shooting range, for example. The STC, on the other hand, has advantages when looking straight at the "target"; it can also be aligned somewhat faster as a result. Another added value is the practical operability. A half-shell provides a stable support for the scope even without a tripod (for example on a backpack, a bag or on a support at the shooting range). This allows unimpeded turning of the focusing and zoom wheel at all times. A carrying strap is Included for the scope.

Like most observation optics from Swarovski Optik, the new compact spotting scope can be easily connected to a smartphone using the Variable Phone Adapter (VPA). This means that observations, for example of the bird world, can be immediately recorded as an image or as a video.

The two ATC/STC models (17-40x56) are available in three different versions. The version with angles view (ATC) is available in green and burnt orange, the one with straight view (STC) in green only. An important difference to the much more expensive, but also larger Swarovski spotting scopes of the ATX and STX class: The ATC/STC is built in one piece and therefore cannot be separated into eyepiece and objective modules, so there are no interchangeable eyepieces. The recommended retail price for both models is 2,190 euros. 


Swarovski ATC and STC specs and price

| | | |
| --- | --- | --- |
| Model: | Swarovski ATC (angled view) | Swarovski STC |
| Price: | 2,190 euro | 2,190 euro |
| Colors: | Burnt orange and green | Green |
| Magnification: | 17-40x | 17-40x |
| Effective Objective Lens Diameter: | 56 mm | 56 mm |
| Exit Pupil: | 3.4-1.4 mm | 3.4-1.4 mm |
| Eye Relief: | 20 mm | 20 mm |
| Field of View at 1000 m: | 62-34 m | 62-34 m |
| Field of view in degrees: | 57-71° | 57-71° |
| Shortest Focusing Distance: | 3.4 m | 3.4 m |
| Diopter Correction at ∞: | > 5 dpt | > 5 dpt |
| Light Transmission: | 88% | 88% |
| Objective Filter Thread: | M 58x0.75 | M 58x0.75 |
| Weight: | 970 g | 980 g |
| Length: | 258 mm | 285 mm |
| Waterproofing: | Up to 4 m | Up to 4 m |
| Functional Temperature: | -25 to 55 °C | -25 to 55 °C |