The renowned Austrian manufacturer Swarovski Optik introduces the latest member of the Z8i scope family in the form of the new Z8i 3.5-28x50 P. Described as the "perfect high-performance companion for challenging hunts", the new riflescope is designed to offer excellent performance over long distances and versatility.
Features of the new Z8i 3.5-28x50 P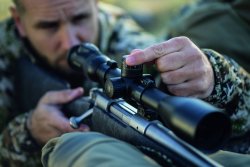 Andre Schönherr, © Swarovski Optik
Among its features, the light weight (23.5 oz / 665 g) – which makes it perfect for mountain hunting – and a 28x magnification with a 8x zoom range. According to the manufacturer, the outstanding optical display performance and uncompromising image definition over the entire field of view enable maximum detail recognition at all levels of magnification, with extraordinarily high detail precision even over longer distances.
The ballistic turret flex (BTF) can be used as either an elevation or windage turret: 70 tangible clicks help the hunter to set distances precisely, while the personalized ballistic ring (PBR) offers even more individuality. The throw lever (TL) makes it quick and easy to adjust the zoom ring and the scope lens protector (SLP) prevents dirt getting into the objective and eyepiece lenses. 
The Z8i 3.5-28x50 P is 15" / 380 mm long and shares the same features of all the Z8i series, such as a slimline 30-mm (1.2-in) central tube, an ergonomic illumination unit with large operating features for quick and reliable handling and the SR mounting rail for quick and easy fitting. Besides the 3.5-28x50 P model, the Z8i family includes five other models for different hunting priorities:
Z8i 0.75-6x20 (see our article here) is ideal for driven hunts, offering 30% more field of view thanks to VIEWPLUS 0.75x magnification.
The Z8i 1-8x24 is the highest performance rifle scope for driven hunting, featuring a 42.5m (127.5ft) field of view with a 1x magnification for rapid target acquisition
The Z8i 1.7-13.3x42 P is a versatile rifle scope offering a compact design for driven hunting and stalking
The Z8i 2-16x50 P is a all-rounder, suitable for stalking, as well as hide and driven hunting
The Z8i 2.3-18x56 P rifle scope offers razor-sharp images even in poor light conditions and at twilight
The new Swarovski Z8i 3.5-28x50 P will be available from selected retailers from September 2, 2019. MRSP is 3877 USD.

Swarovski Z8i 3.5-28x50 P: technical data
| | |
| --- | --- |
| Magnification: | 3.5-28 |
| Effective objective lens diameter (mm): | 28.5-50 |
| Exit pupil diameter (mm):  | 8.1-1.8 |
| Exit pupil distance (mm) (Eye relief):  | 95 |
| Field of view (ft/100 yds / m/100 m):  | 36.3-4.5 / 12.1-1.5 |
| Field of view (degrees):  | 6.9-0.9 |
| Field of view, apparent (degrees):  | 24 |
| Light transmission (%):  | -3 to +2 |
| Twilight factor acc. to ISO 14132-1:  | 93 |
| Impact point corr. per click (in/100 yds / mm/100 m):  | 0.36 / 10 |
| Max. elevation / windage adjustment range (in/100 yds / m/100 m):  | 50.4/25.2 / 1.4/0.7 |
| Parallax correction (yds / m): | 55-∞ / 50-∞ |