When Swarovski Optik introduced the NL Pure 42 in the summer of 2020, we were thrilled by the particularly wide field of view (up to 71° for the 12x42), the compact, haptically and ergonomically sophisticated design, and the new accessory options such as the forehead rest. Features that Swarovski has now transferred into an even more compact design.

We asked Carina Schiestl-Swarovski, CEO of Swarovski Optik, for whom the NL Pure 32 is intended: "Pure Nature Love - the NL Pure enables visual experiences of unprecedented intensity. With the 32 mm version, we are addressing all ambitious birder and outdoor enthusiasts who want to become one with nature – no matter where they are. With the NL Pure 32, nature enthusiasts can discover the beauty of their surroundings anywhere, anytime."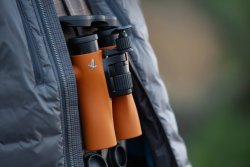 Of course, the same optical system used in its larger siblings guarantees superior image quality for the NL Pure 32. SWAROVISION is the name of the technology for absolute color fidelity, high light transmission and recognition of the smallest details. With a field of view of 65° for the 8x32 (150 m / 1000 m) and 69° for the 10x32 (132 m / 1000 m), the compact 32 binoculars also come close to the values of the NL Pure 42. In addition, the NL Pure 32 features highlights such as the ergonomic "wasp waist" for an optimal and comfortable grip, and the optional forehead rest makes long observations even more pleasant.

Swarovski Optik is also proud of the sustainability of its products. For example, the manufacturer believes it minimizes ecological impact through the long service life and lasting value of its products – we like to believe that, since many Swarovski optics do their job for generations. Binocular bags made of recycled polyester and the "Soap & Brush" cleaning kit consisting of a wooden brush and vegetable soap are intended to make a further contribution.
As 8x32 you get the NL Pure 32 at a price of 2390 euro. The NL Pure 32 10x32 is available for 2440 euro (prices may vary in different countries). Both binoculars can be purchased at specialty stores as well as in the Swarovski Optik Online Shop.
Of course, the compact models are also very well suited for use in hunting – especially thanks to the particularly wide field of view and the very detailed image. Smaller dimensions and less weight are also good arguments for all hunters who value the highest performance. No wonder what Swarovski says about the new compact model: One for everywhere. Groundbreaking optical performance – packed into the smallest possible package. The best field of view in the class included.
Birding in India with wildlife filmmaker Sandesh Kadur and author Surya Ramachandran and the new Swarovski Optik NL Pure 32:



Swarovski Optik NL Pure 32 specs and price

| | | |
| --- | --- | --- |
| Model: | Swarovski Optik NL Pure 32 8x32 | Swarovski Optik NL Pure 32 10x32 |
| Price: | 2390 euro | 2440 euro |
| Color: | green or orange  | green or orange |
| Magnification: | 8x | 10x |
| Objective Lens Diameter: | 32 mm | 32 mm |
| Exit Pupil Diameter: | 4 mm | 3.2 mm |
| Exit Pupil Distance: | 18 mm | 18 mm |
| Field of View at 1000 m: | 150 m / 1000 m  | 132 m / 1000 m |
| Field of View Apparent: | 65° | 69° |
| Shortest Focusing Distance: | 2 m | 2 m |
| Diopter Adjustment: | ± 4 dpt | ± 4 dpt |
| Light Transmission: | 92% | 92% |
| Interpupillary distance: | 54-72 mm | 54-72 mm |
| Twilight Factor according to ISO 14132-1: | 16.0 | 17.9 |
| Dimensions (LxWxH): | 144x130x65 mm | 144x130x65 mm |
| Weight: | 22.57 oz/640 g  | 22.57 oz/640 g |